2014 Mazda Club Sport 3 Concept
hatchbacks | mazda | November 10, 2013
---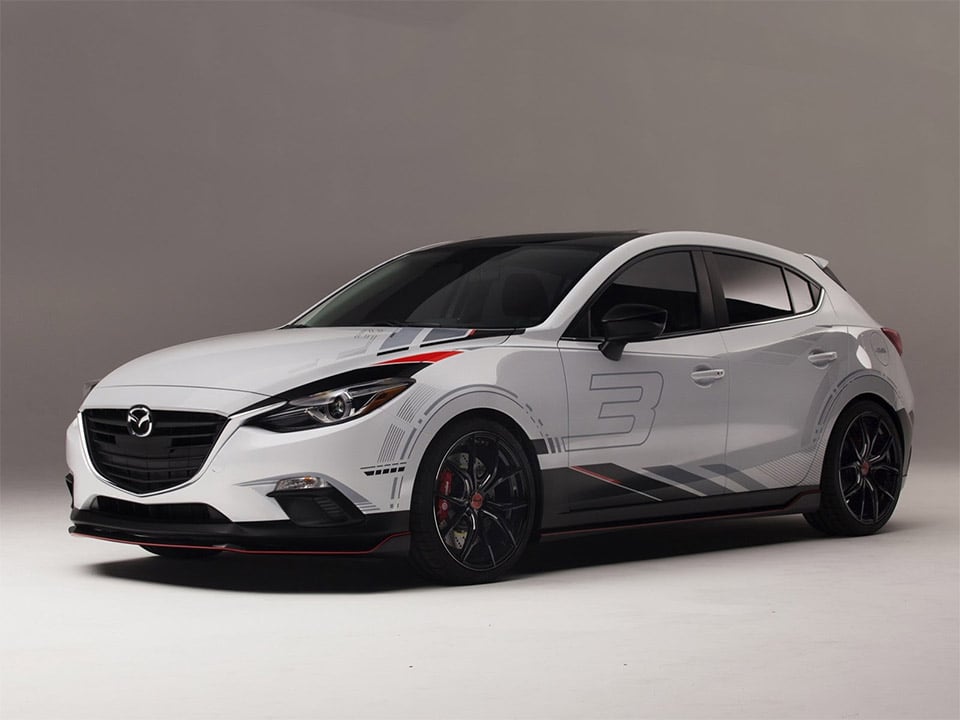 While the Mazda3 on its own isn't what we'd call a sporty car, the company managed to make a good showing at the 2013 SEMA show with this tricked out concept which looks less like your neighborhood pizza delivery vehicle and more like a serious hot hatch.
The Club Sport 3 Concept starts off with a sporty paint scheme with varying shades of grey stripes and red vinyl accents, along with a track-worthy "3" on the side. But this little Mazda doesn't just have a shiny coat of paint. It's been upgraded with a Wavetrac limited-slip differential, Brembo brakes, Racibng Beat exhaust and a set of Rays 20-inch wheels, and Bridgestone Potenza RE-11 track tires. Inside, it's been fitted with red leather seats and door accents, as well as aluminum pedals.
Under the hood it's got the same SKYACTIV-G 2.5-liter engine found in the top-of-the-line stock Mazda3, but it's had its manual gearbox swapped with the one found in the CX-5 SUV. It's not going to break any land speed records, but the design team did a great job turning this frog into a prince.