2014 Jaguar F-Type V8 S Review
jaguar | November 22, 2013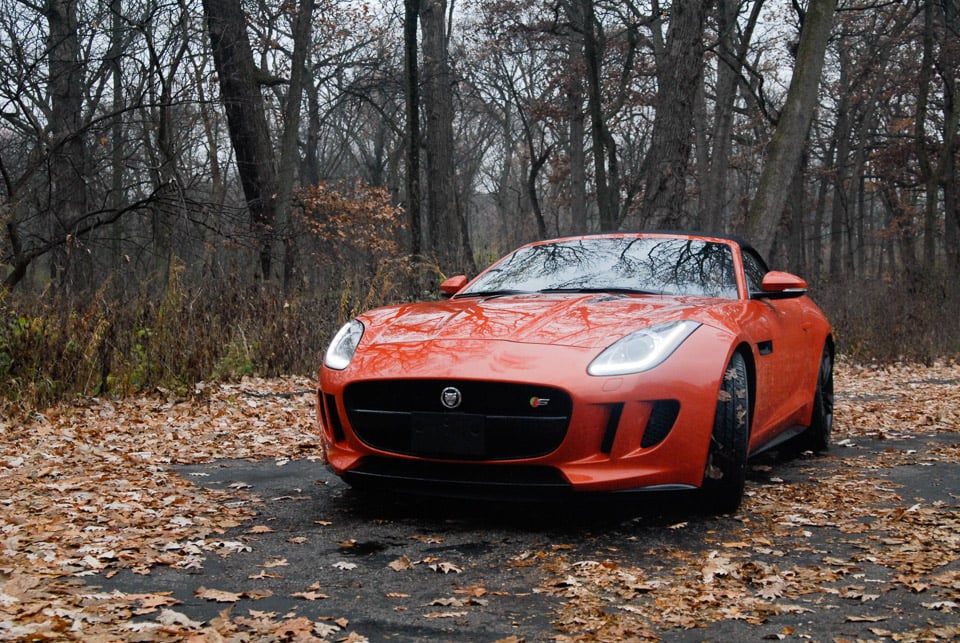 2014 Jaguar F-Type V8S

Powertrain: 495hp 5.0L Supercharged V8, 8-Speed Automatic Transmission
0-to-60 Time (secs): 4.2 secs.
1/4 Mile Time (secs): 11.6 secs. @ 122mph
Top Speed (mph): 186mph
City/Hwy/Combined MPG: 18/23
Curb Weight (lb): 3671 lbs.
Wheelbase (in): 103.2 in.
Total Length (in): 176 in.
Width (in): 75.7 in. (80.4 in. w/mirrors)
Base Price (USD): $92,000
Price as Tested (USD): $104,770
There's no denying the Jaguar F-Type is one of those cars that generates an emotional response from the first second you lay eyes on one. But is its beauty more than skin deep? I've had the opportunity to drive the F-Type V8 S for a while and put it through its paces. The F-Type is Jaguar's first real effort to bring back the thrills – both visual and mechanical – found in the classic E-Type, arguably one of the greatest cars ever designed.
Exterior
What can I say? From the outside, the F-Type is a real stunner. In my car's particular case, the curvaceous body is enshrouded in a sexy orange paint called "Firesand," an exclusive Jaguar color that makes me grin from ear to ear. As you walk around the exterior, the car has a confident look that says it's ready to play. The front-end is highlighted by a flattened oval grille with a honeycomb mesh inside and a Jaguar emblem dead center. On either side of the grille, you'll find large, functional air intakes.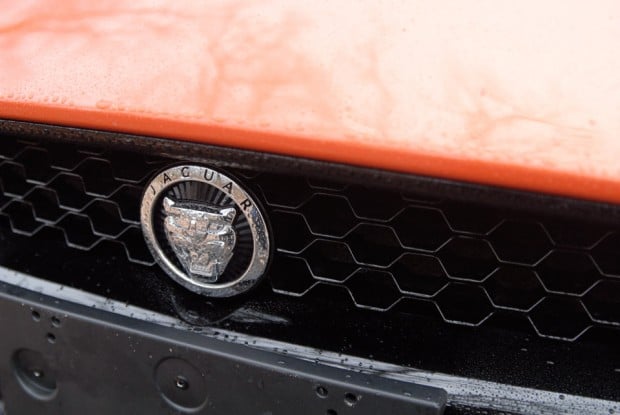 You'll also find a pair of air intakes on the hood, and on each side, right behind the front wheel wells. One of my favorite design elements of the F-Type's front-end are its modern xenon headlamps, which are accented by LED running lights, which not-to-subtly form a "J" shape.
While LED lighting is showing up on just about every car these days, I think Jaguar's execution here is some of the best, and the LED point sources are barely visible, which looks much more finished than most in my opinion. When turning, the bottom edge of the LEDs doubles as a yellow turn signal.
Moving around the side of the car, you'll notice sweeping lines along the doors that draw the eye from front to rear, along with enhancing aerodynamics. The mirrors complement the design as well, and offer built-in turn signal indicators. They also automatically fold in when the car is switched off.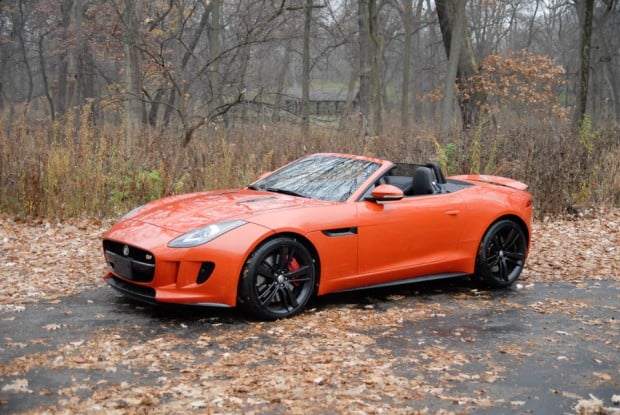 Another neat touch are the door handles, which retract flush with the body of the car when locked, and only pop out when you're ready to enter or exit the vehicle.
As you reach the back of the F-Type, you'll find a rear section which is integrated with the bumper cover, providing a clean, and refined look. Set to either side of the license plate bracket, are a pair of skinny LED tail lights, which pay a subtle, if not hyper-modern homage to the lights on the original E-Type.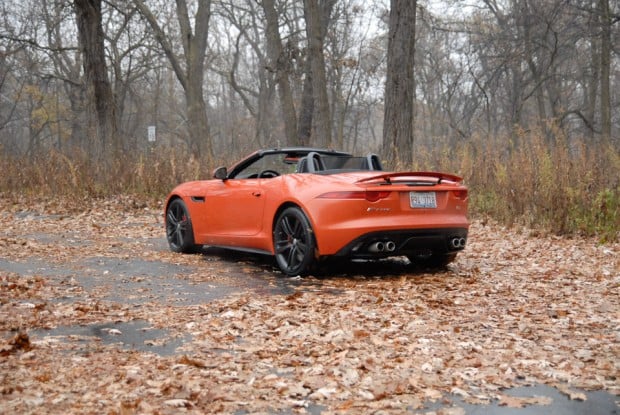 Below the bumper, there's quad chrome exhaust ports where some of the magic of the F-Type happens. (The V6 and V6 S models have dual exhaust ports, centered below the license plates instead). The Jag's trunk lid also has a built-in spoiler, which automatically deploys at 60mph to increase downforce and decrease lift by over 200 pounds.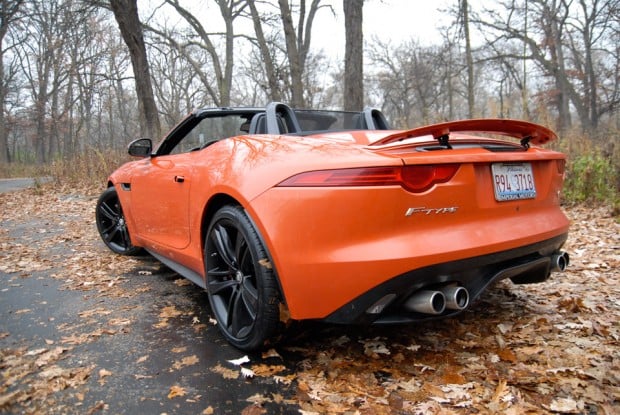 With the top down, you can see a pair of functional roll-bars behind each seat, along with a screen which reduces wind inside the passenger compartment. The top retracts flush with the trunk lid of the car, and there's no need for a tonneau cover. Incidentally, the convertible top drops in just 12 seconds (including the time for the windows to roll down), and can be opened or closed at speeds up to 30mph. With the top up, all of the lines of the car remain intact, though I find it does take on a more squat look than when the top is down.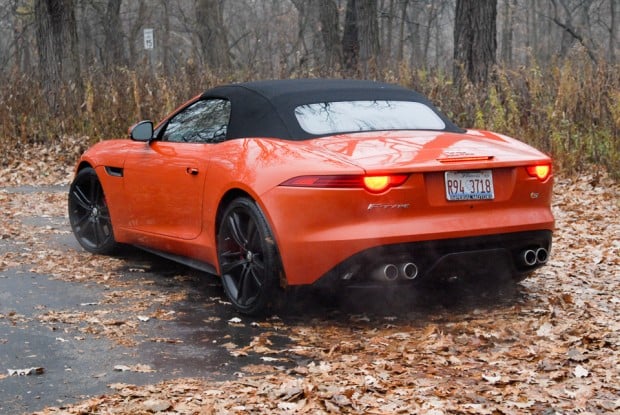 There are numerous exterior options – in my case, the car has a gloss black trim package, which accents the grille and its surround, front and aero splitters, hood and side louvers, bumper edges and roll bars in shiny black. Also along for the ride in my car are the optional 20″ black Cyclone wheels. In base configuration, you'll get 20″ aluminum alloys that don't look half bad either.
Interior
Like the E-Type, the F-Type is a proper two-seater. There's no half-assed "rear seat" that gets stuffed into so many of today's convertibles, yet serves no practical purpose. This creates an interior cabin that's focused on the driving experience. It's cosy, yet surprisingly comfortable. Jaguar designers were thoughtful in every aspect of the cabin, providing a driver-centric experience for the pilot, without losing thrills for your single passenger.
One thing you'll immediately notice inside the F-Type is just how luxurious the finishes are – at least if you opt for the "extended leather pack" and the performance seats that are in my car. With this trim level, there are stitched leather soft-touch surfaces throughout – from the dash to the doors to the seats. And in my case, the seats have accent orange stitching which matches the Firesand orange exterior paint – a sharp touch, without being tacky.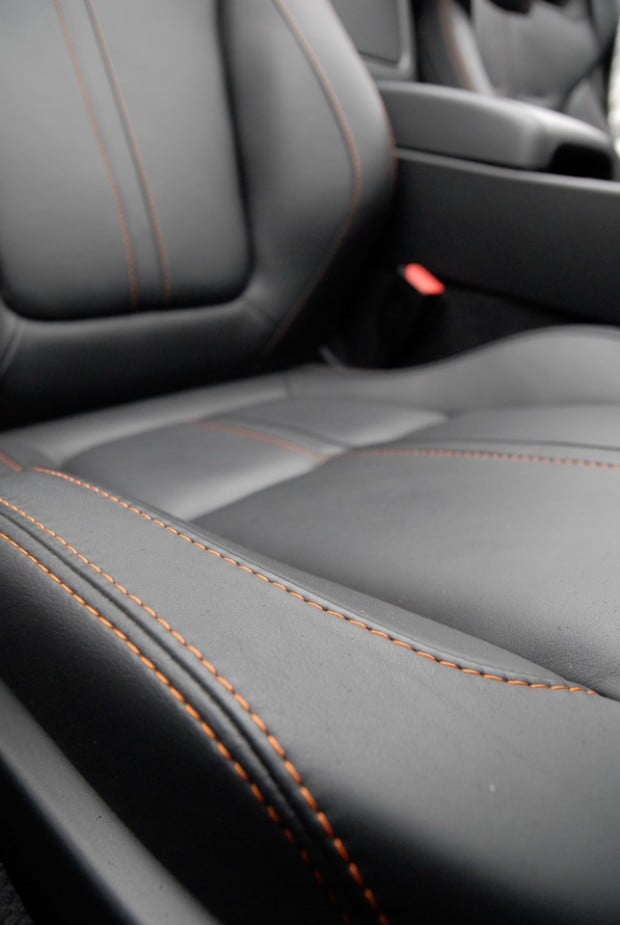 The performance/sports seats are a must as far as I'm concerned, as they not only look great, they cradle your entire body with comfort and support. It doesn't hurt that they have a 14-way adjustment system that lets you tweak everything from the height and angle of the seat back to the height and width of the lumbar support and back bolsters.
Sitting in the driver's seat, it immediately feels like a cockpit – with large analog gauges for your speedometer and tachometer, with a 5-inch LCD information display set in between. The steering wheel offers electric adjustable height, which ties to the seat memory system. You can choose from a few different steering wheel options, but I prefer the sport model with the flat bottom edge.
If you're sitting on the passenger side, you'll notice a handle to your left so you can hold on during tight turns, which also serves to separate the passenger area from the driver's area, and conceals a section of the car's colorful ambient LED lighting system. Speaking of LED lighting, pretty much every light in the F-Type is LED, and I love the touch-sensitive reading lights – it's a minor feature but still very slickly implemented.
Controls are thoughtfully placed, with media system and cruise controls on the steering wheel, thumbtip controls for lights and wipers, and some of the best designed climate control knobs in recent memory. Each one has a built-in display which indicates the desired temperature, and turning the outside of the knob adjusts the target temp. When pushed, these knobs double as controls for the heated seats when – assuming you opted for the climate pack.
Another cool thing – that you have to show off to every new F-Type passenger – are the retractable center vents, which tuck neatly inside the dashboard until the climate system determines you need them. They then slowly reveal themselves, popping out of the dash like the head of a turtle who's been hiding in the sand.
Inside the passenger compartment, you'll find a decent amount of storage, with dual cupholders, a flip up leather armrest (with a USB port and second 12-volt jack inside), a wide glove box, and a small storage compartment nestled between the driver and passenger seats on the back wall of the cabin. If you opt for the premium package, these compartments all lock when you lock the doors or put it in Valet mode.
In terms of trunk space, you're not going to find much. It's enough to hold about a dozen plastic grocery bags, or a small set of golf clubs – assuming you don't have really long shafts on your drivers. It's actually quite manageable for a road trip if you travel with soft-sided bags instead of hard luggage. The reason for the odd shape is because Jaguar decided to put the washer fluid and battery in the back in order to help with weight distribution – not a bad idea – just not ideal for storage. As a result of the small trunk, the car doesn't come with a spare tire or a jack, and instead has an electric air compressor which can fill a damaged tire with sealant in about 7 to 10 minutes.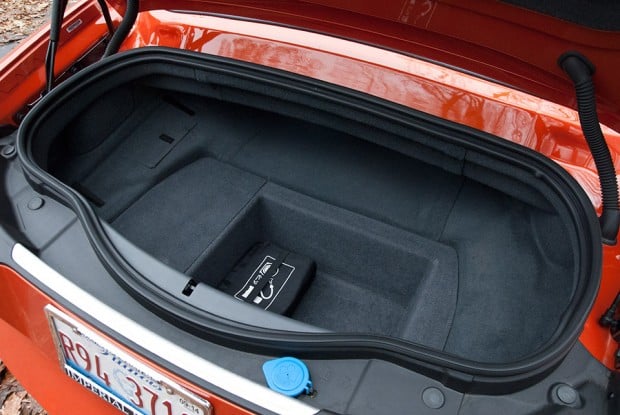 Drivetrain/Engine
So it looks great, and it's luxurious, but has it got what it takes where it really counts? Just pop open the hood and you'll see the V8 S' massive 5.0-liter V8 that pretty much takes up the whole engine compartment. That's always a good sign for me. This supercharged power plant pushes out a massive 495 horsepower, along with 460 lb-ft. of torque. I'd say that, plus its front-engine, rear-drive setup qualifies this as an honorary muscle car.
Cranking up the engine, you'll immediately realize that the F-Type is ready for action. The quad-exhaust releases what can only be described as a gearhead's dream sound on ignition, and it only gets better when you accelerate – especially beyond 3000 RPM. With the selectable active exhaust feature turned on, the F-Type opens its exhaust baffles and emits a sound that will rattle your teeth, and wake the neighbors. By default this feature is switched off, though so you won't be too much of a menace unless you want to be.
All of this power and muscle is joined up to an 8-speed automatic transmission, made by Germany's ZF, who also equips transmissions for BMW, Maserati, Porsche and Mercedes-Benz, so the F-Type is in good company there. This particular model is called a "QuickShift," which is able to switch between gears in a fraction of a second, besting all but the most skilled manual shifters. The transmission's control system is also smart enough to automatically changes its shift plan depending on the demands of the driver. That said, Jaguar has no plans to release a manual version of the F-Type.
Of course, you can always override the automatic mode, and use either the steering wheel-mounted Ignis paddle shifters, or flip the console-mounted shift lever into manual mode and shift from there. If you flip the car into Dynamic Mode – manual shifting will remain active if used, along with other things which I'll discuss in the ride and handling section below.
The shift lever itself takes a little getting used to. It's got a joystick-like trigger on front which you depress when you want to shift gears, and you push forward for Reverse, and pull backwards for Drive. Putting the car in park just requires a press of the "P" button on top of the shifter.
Ride/Handling
I've driven the F-Type on tracks, highways, urban and country roads, and overall I'm impressed with its abilities in each of these environments. It's definitely not the quietest car on the planet, as its exhaust and handling is tuned for performance driving. With the top up, it's surprisingly pleasant and well insulated for long road trips, and I didn't feel fatigued even after hundreds of miles behind the wheel. I did find the ride to be a bit less harsh with the included Pirelli P Zero summer tires than with the all-season Toyo Proxes 4 Plus tires I also tried on the car, but if you plan on driving the F-Type in the Fall or Winter, you'll need to go for something like that for added traction.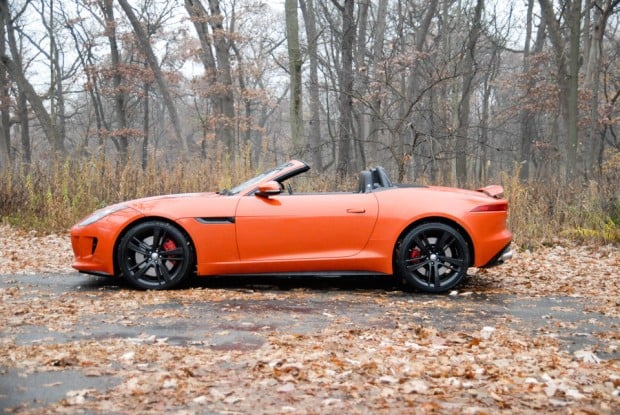 Speaking of traction, the V8 S does have one thing going against it in this department – it's almost got too much torque for its size. So starting up, you'll want to feather the gas a bit if you want a clean and straight takeoff. This is especially pronounced in the rain, but this is to be expected from a muscle car afterall, right? If you're looking for a little less torque, but all of the style – you might also want to look at the V6 S model.
At least Jaguar does everything in its power to help you control the F-Type once you're out of the starting gate. The car is extremely stable and responsive, partially thanks to its aluminum double-wishbone suspension, and electronically adjustable dynamic dampers. Jaguar's Adaptive Dynamics system measures body motion and pitch every 1/100th of a second and automatically tweaks the dampers accordingly. The system also constantly monitors steering wheel position to help predict body roll rate, and sends that feedback to the dampers. In my experience, I found the F-Type to have an almost imperceptible amount of body roll in even the most aggressive of steering situations. There's also just a tiny bit of understeer, but it's also negligible. That said, it is still a bit of a handful around sharp corners, as its tail wants to wag with such extreme amounts of torque. On the other hand, drifting around corners is a blast.
Another great thing about the F-Type is that while many manufacturers are moving towards electric power steering systems, Jaguar decided to stick with hydraulics. This provides tight, sporty steering which really puts you in command. The also car has a torque vectoring system which subtly applies braking to help with sharp cornering, as well as an electronic active differential, which work in concert to ensure the right amount of power is going to each wheel.
To really get the most out of the F-Type, switch into Dynamic Mode – which tightens the steering and suspension, raises shift points, and also forces the dynamic exhaust on. You can actually configure which settings are enabled or disabled within the interface as well, as well as view data on G-forces, braking and acceleration history. It's also got a handy stopwatch feature with a lap timer. Another fun touch – the dash lights turn an devilish shade of red when you enable Dynamic Mode.
Performance
Off the line, the F-Type V8 S wants to run wild. It's got tremendous acceleration, frequently surpassing Jaguar's quoted 4.2 second 0-to-60 mph rating. While I never managed to get it faster than 4.0 seconds. Other reviewers have managed times in the high 3's. Top speed for the V8 S is 186mph, which is electronically limited. On the track, I pushed the car to 137 mph which was the highest I could go before I had to slow for a turn. The car held up perfectly, and didn't flinch. In fact, it really wanted to go faster.
Of course you'll need big brakes to stop this beast hurling down the road, and thankfully, Jaguar includes its "Super Performance" 15-inch ventilated disc brakes with the V8 S. These offer impressive stopping times of around 105 to 110 feet going from 60-to-0 mph.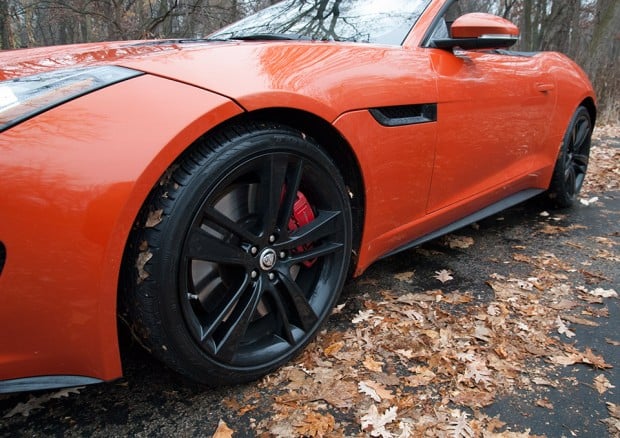 Fuel economy for the F-Type V8 S is rated at 16MPG in the city and 23MPG on the highway, with a combined 18MPG rating. Surprisingly, that's the exact number I got after hundreds of miles of driving. Not bad for a car with almost 500 horsepower. If you want to get better mileage, you can also leave the "Intelligent Stop/Start" feature enabled, which automatically turns the engine off when sitting at idle, and restarts it in under 300 milliseconds when you take your foot off the brake. Personally, I loathed this feature as I made me feel like I was stalling at every intersection. I wish there was a way to permanently disable it, but you need to turn it off every time you start the car. Though I found switching into Dynamic Mode disabled this "feature" for up to six hours at a time.
No matter how you slice it, these are impressive figures for a car which weighs nearly 3700 pounds and has a 5.0-liter V8. Speaking of which, how do you make an all aluminum car weigh so much, Jaguar? Must be all the nifty high-tech bits.
Technology
On the subject of technology, the F-Type is pretty well loaded in most of these departments. I already mentioned the adaptive dynamics, electronic differential and active exhaust systems, but it also has a variety of high-tech conveniences inside. Even in its base configuration, you'll get a 7-inch touchscreen navigation system, cruise control, keyless entry and start, Bluetooth hands-free phone and music control, and a 380-watt 10 speaker Meridian sound system. My car was upgraded to the 770-watt version with a dozen speakers, more than enough to blast through the din of the exhaust and wind with the top down. The sound system also has dynamic volume control which adjusts sound levels automatically based on ambient noise conditions.
Other tech options on the car reviewed here included HD Radio and Sirius satellite radio, a built-in garage door opener, and the "Vision" pack, which adds adaptive front lighting, front and rear parking sensors and a rear camera, and blind-spot monitoring in the mirrors. If you're spending over $90,000 on a car, you're going to want this package, as it significantly reduces the risk of accidents, dings and scratches on your precious ride.
Pricing and Options
Base price for the Jaguar F-Type V8 S starts out at a sizeable $92,000(USD). At a bare minimum, you'll want to opt for the Performance Pack ($2,950), which includes the performance seats, configurable dynamic mode, selectable active exhaust, and a few more superficial enhancements like red brake calipers and black trim inside. I also think the Vision Pack ($2,100) is critical if you ever plan on parking the Jag in a garage or parallel parking space. Other features like the pricey light up Jaguar door sills for $1,925 and the $1,200 extended leather pack aren't critical, but are aesthetically pleasing.
All tolled the pimped out F-Type V8 S covered here in the review had a sticker price of a wallet busting $104,770.
Summary
There's no question in my mind that I love the F-Type. It's an object of desire in every way. Not only does it look stunning, it accelerates and drives like a bat out of hell. It's fast, loud (in a good way), and beautifully appointed inside and out. It's surprisingly comfortable and spacious for driver and passenger, and a whole ton of fun to drive.
That said, it's an expensive car, and not for everyone. It doesn't stick to the corners like a Porsche, but on the other hand it has way more character and drama, in my opinion. Right now, there aren't many F-Types on the road, so people stop and stare when you pull up in one, so it's definitely not a car to own if you want to go unnoticed. It's massive exhaust note won't help you in the stealth department either.
One other fun fact about the F-Type V8 S. As much as it's a British car – it's assembled at Jaguar's famous Castle Bromwich plant in the U.K. – it's also a German car. In fact, 53% of the parts in the F-Type are made in Germany, with 41% coming from the U.K. and just 2% from the U.S. and Canada. Sure it's still a British engineered car, but it's good to know that it's got some German bones too.
For those of you out there who want everything in an F-Type other than the drop-top, Jaguar recently revealed the 2015 F-Type Coupe.