Alpina BMW B4 BiTurbo Coupe
alpina | bmw | November 25, 2013
---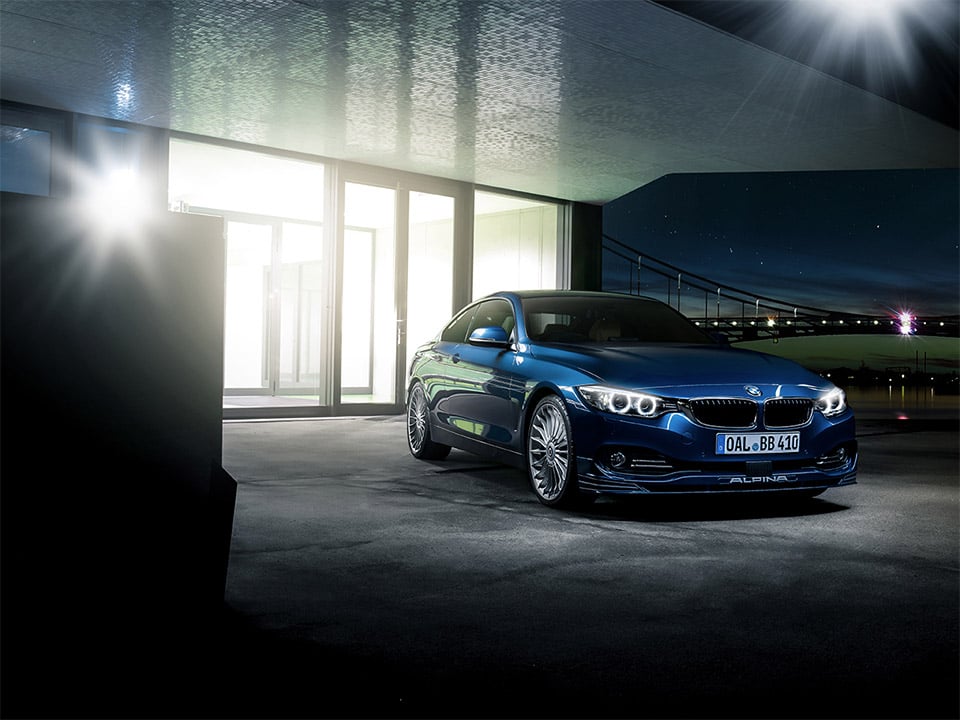 Alpina BMW B4 BiTurbo Coupe

Powertrain: 410hp 3.0-liter 6 cylinder, 8-Speed Automatic Transmission
0-to-62 Time (secs): 4.2 secs. (RWD), 4.0 secs. (AWD)
Top Speed (mph): 189 mph
Curb Weight (lb): 3560.47 lbs (RWD), 3703.77 lbs. (AWD)
Total Length (in): 182.68 in.
Width (in): 71.85 in.
Alpina's take on the recently unleashed BMW 4-Series Coupe, the B4 BiTurbo has a 3.0 liter, straight six twin-turbo engine that's been tuned to produce 410hp. Choose from a rear-wheel drive or all-wheel drive configuration, both with 8-speed ZF Switchtronic transmissions, which help it pull away from 0-to-62mph in just 4.0 seconds with the AWD on the 4.2 seconds with the RWD.
In addition to the engine mods, its suspension has been sport tuned, and it's got large 14.6″ front disc brakes and 13.6″ rears with Alpina blue calipers. Exterior refinements include Alpina front and rear spoilers, 20-inch wheels with more than an healthy serving of alloy spokes, and a quad sports exhaust system. Inside, you'll find custom Lavalina leather upholstery and Alpina floor mats.