Volkswagen VWvortex SuperBeetle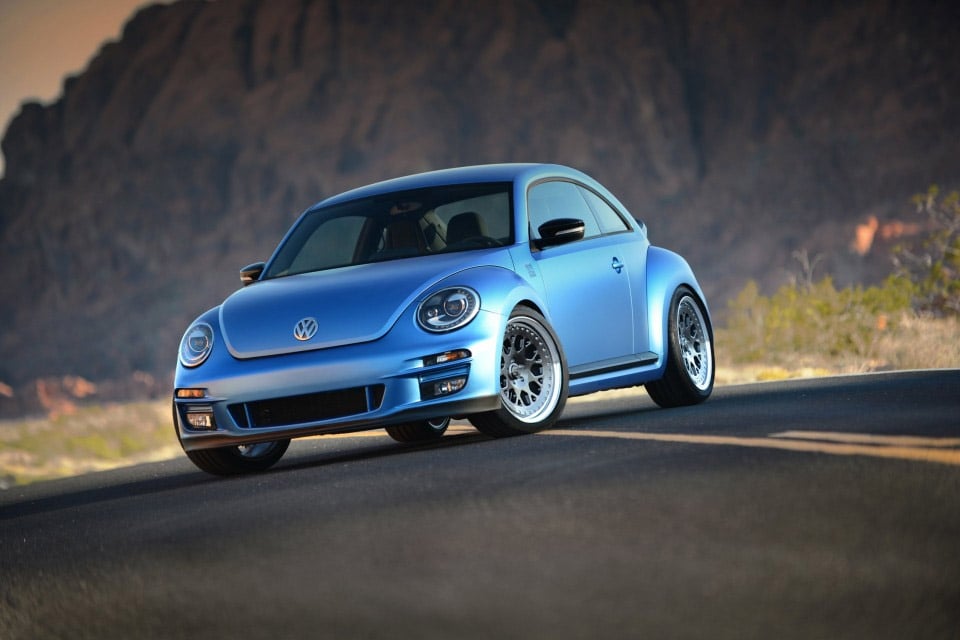 The VWvortex SuperBeetle is a special project car built by Volkswagen's skunkworks team to celebrate the Beetle's 75th anniversary and, as far as Beetles go, it has a lot going on. Fitted with a 500hp 2.0-litre turbocharged four-cylinder TSI engine and all-wheel drive, it's got the potential to be a strong performer. The car also features a custom spoiler made by FMS Automotive and 19″ 3-piece Formula TR wheels. The performance upgrades include an upgraded ECU, cylinder heads and intake manifold, an APR RSC Turboback Exhaust System, a DXD Racing Stage III clutch and Volkswagen Racing Short Shifter, and a H&R Adjustable Coilover Suspension.
The car's finish isn't painted, but is done with a ORACAL Series 970RA Wrapping Cast: a lightweight paint alternative vinyl film that covers exterior of the project car in a stunning Matte Azure Blue Metallic.
Although the car was first introduced at SEMA 2012, the folks at BBC's Top Gear recently took one out for a spin, so have a look at what that had to say about it. They summed it nicely: "It's a ruddy loon, is what it is."