Detroit Electric SP:01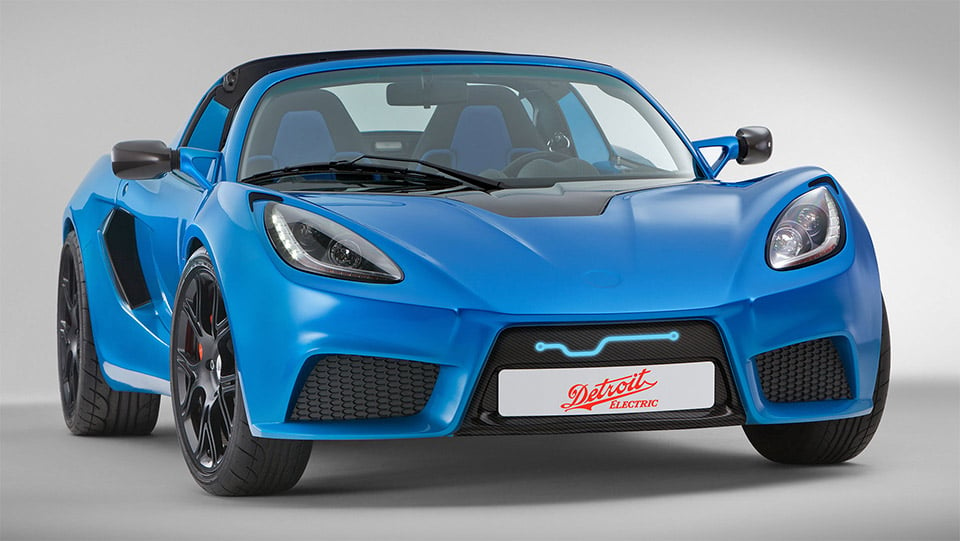 Detroit Electric SP:01

Powertrain: 201hp electric motor drive, 4 or 5 speed "manual" or 2 speed automatic
Curb Weight (lb): 2403 lbs.
Wheelbase (in): 90.55 in.
Total Length (in): 152.76 in.
Width (in): 68.93 in.
Price as Tested (USD): 155 mph
While Tesla shifts its focus from its Roadster to luxury and everyday rides, the SP:01 is grabbing for the ring in the high-performance electric arena. This American-made sports car is claimed to be the world's fastest production electric car, with a top speed of 155mph. It's powered by a pair of 37kWH batteries and a 201 hp motor, which help propel it from 0-to-60 in just 3.7 seconds.
It's also a great looking vehicle, with looks reminiscent of the Lotus Extige, on which it takes much of its design inspiration. The lightweight two-seater is expected to offer a driving range of around 150 to 180 miles, depending on driving conditions. Charge time is rated at 4.3 hours with a high current charging station, while a standard EU outlet is expected to charge the SP:01 in 10.7 hours – a bit long, but it's not clear what sort of charge time a proper level two home charging outlet will result in.
To round out its sport handling, the SP:01 offers fully independent double-wishbone suspension, gas dampers, coaxial coil springs, AP Racing front brakes and Brembos on the rears.
Detroit Electric has yet to ship a production vehicle, but expects to during 2014. For more information, you can sign up on their website.