2014 Brabus MB E63 AMG Wagon 850 6.0 BiTurbo
amg | brabus | mercedes-benz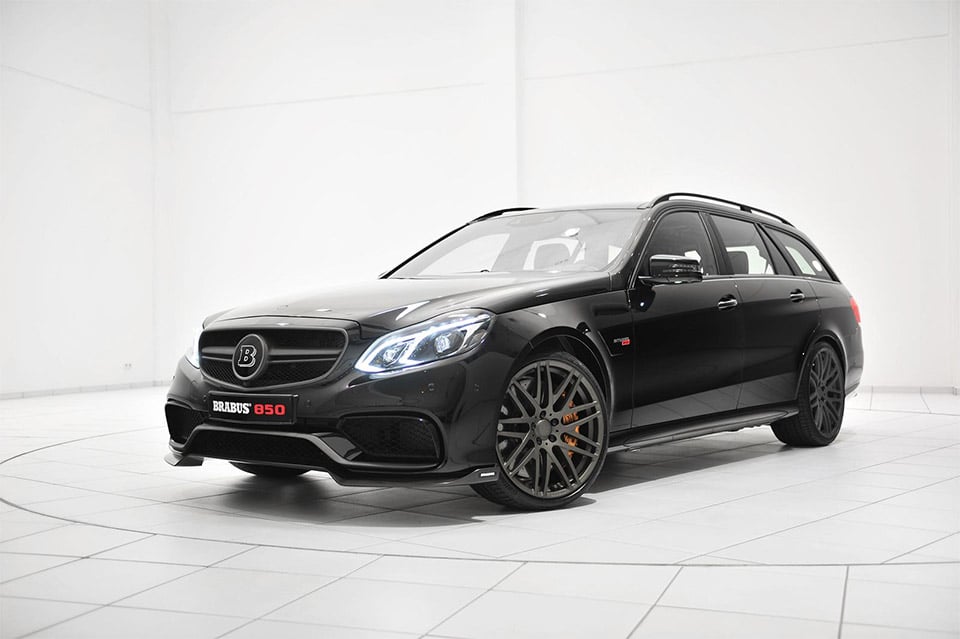 2014 Brabus Mercedes-Benz E63 AMG Wagon 850 6.0 BiTurbo

Powertrain: 850hp 6.0L twin-turbocharged V8
0-to-62 Time (secs): 3.1 secs.
Top Speed (mph): 217mph (186mph with limiter engaged)
Germany's Brabus is known for taking already luxurious, high performance vehicles, and accentuating both of these traits. They specialize in tuning Mercedes-Benz and AMG cars, and their latest upgrade package transforms the 2014 E63 AMG wagon into what could be the beastliest station wagon ever.
By increasing the displacement of the stock V8 5.5-liter twin turbo engine by about 500 cc, installing larger compressors and custom exhaust manifolds, Brabus was able to push this grocery hauler on steroids to an astounding 850 horsepower and 849 lb-ft. of torque. Yes, kids, that's 265 more horsepower than the stock E63 AMG wagon. And that crazy amount of torque had to be electronically limited from an insane 1,069 lb-ft. in order to prevent the car from destroying itself. With the Brabus kit in place, 0-to-62 mph times for the wagon are rated at an incredible 3.1 seconds, with a top speed of 217mph if you go for the track tires.
Inside, this very special wagon, buyers can choose from upgrades like bespoke leather, Alcantara and other luxury trim items, but at the end of the day, the Brabus 850 wagon is all about power.