Audi Expecting New Baby: Q1 Compact SUV
Audi has announced it will be developing a new baby sister to go along with its current Q family of SUVs: the Q1 will be joining the Audi Q3, RS Q3, Q5, SQ5 and Q7 in 2016. Although all we've seen is one vague artist's concept sketch, the Q1 is to be built on Audi's innovative, transverse, front-engine, front-wheel drive MQB platform in Ingolstadt where the A3, A4 and other vehicles are made. It's clear that the Q1 draws inspiration from the Audi Crosslane coupe concept which was shown off about a year ago (shown below).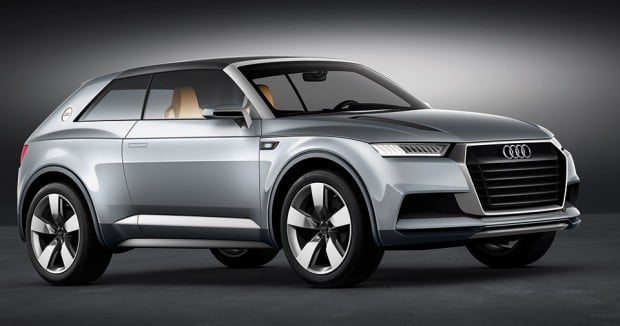 The Q1 will join Audi's successful Q5, which had already seen 194,430 units delivered by the end of October 2013, 17% more than the prior year-end period. That means that the SUV models make up about 28% of Audi's total production volume for the year, a number that is expected to rise to 35% or more by 2020.