Review: 2014 Lexus IS 350 F SPORT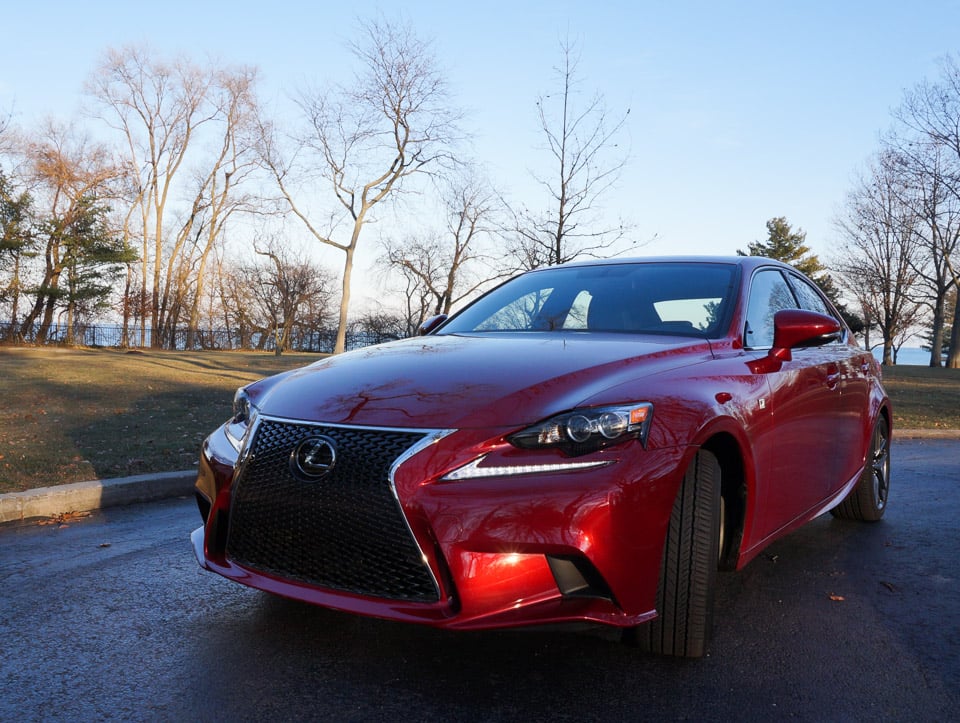 2014 Lexus IS 350 F SPORT

Powertrain: 306hp 3.5-liter V6, 8-speed automatic (RWD), 6-speed automatic (AWD)
0-to-60 Time (secs): 5.6 secs. (RWD) / 5.7 secs. (AWD)
Top Speed (mph): 143 mph (RWD - limited) / 131 mph (AWD - limited)
City/Hwy/Combined MPG: 19/26 (21 combined)
Curb Weight (lb): 3,737 lb.
Wheelbase (in): 110.2 in.
Total Length (in): 183.7 in.
Width (in): 71.3 in.
Base Price (USD): $43,435 (RWD) / $45,230 (AWD)
Price as Tested (USD): $50,164
I've driven a number of Lexus vehicles over the years, and while they've been well made, comfortable and luxurious, they've generally not been all that sporty – except maybe specialty cars like the LFA or the CCS-R. And while the IS F is a powerhouse, it doesn't exactly exude sportiness from the exterior. I'm quite happy to say that with the arrival of the 2014 IS 350 F SPORT, Lexus finally has mass-production vehicle that combines what we've come to know and love about the Japanese luxury brand with a dose of much needed youthful exuberance.
The IS line starts out with the IS 250, which is a very pleasant everyday driver, but won't necessarily get your blood pumping on a track. On the other hand, the IS 350 and IS 350 F SPORT are horses of a different color, both equipped with a powerful 306 horsepower V6. The F SPORT takes things a step further, adding adaptive variable suspension, aggressive styling cues, sport wheels, sport seats and other upgrades.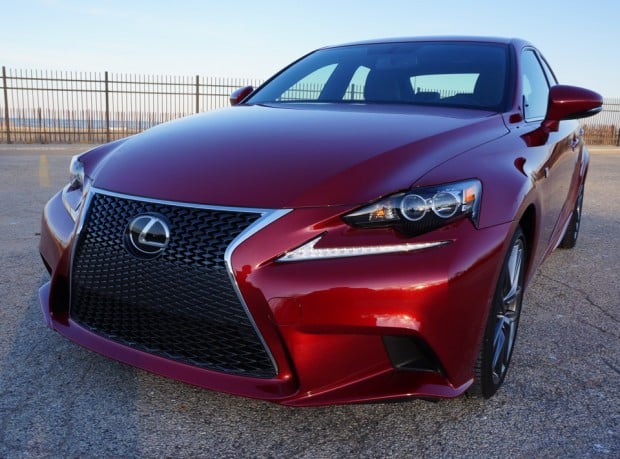 Exterior
The first thing you'll notice about the IS 350 F SPORT is its grille. How could you miss it? It's a take on Lexus' iconic new "spindle" design, pushed to its limits. While it looks fairly serious from the side and back, its massive honeycomb black grille tells you this car is ready to play too.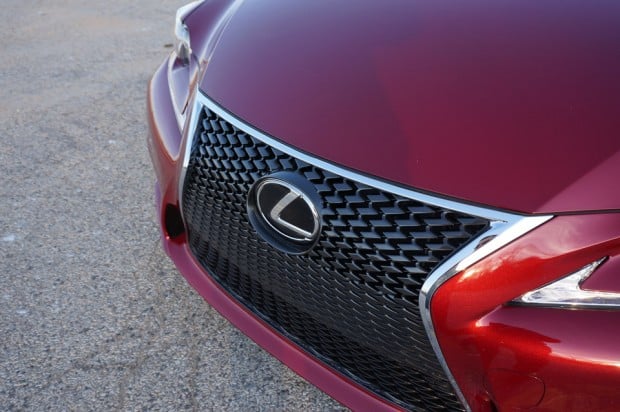 The front-end of the F SPORT model also has larger cooling ducts to channel airflow to the front wheels.
The IS series as a whole had a pretty substantial design overhaul for 2014, adding a sweeping curve along the bottom of the doors, giving its nose decidedly sharper angles, and adding sharp, angular creases to its rear end. All of these changes give the car a much more sporty and youthful look from the outside than past models.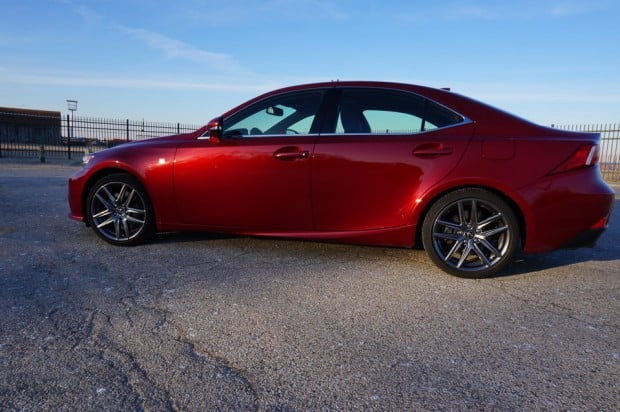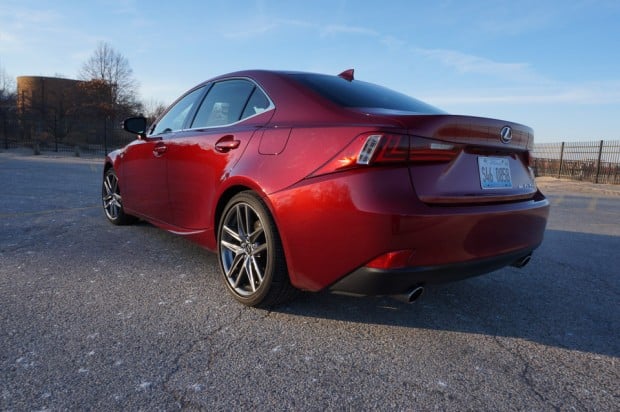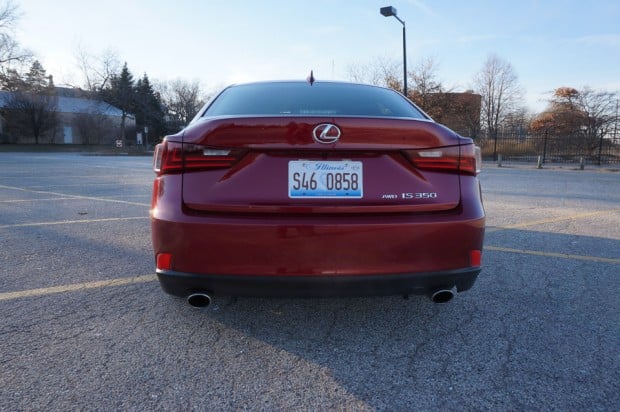 LED daytime running lights and LED tail lights are standard on all IS 250 and IS 350 models for 2014, while the F SPORT package also gets dual-projector LED headlights. Oddly enough, the F SPORT is the only IS model that doesn't have fog lights – which I'm assuming was an aesthetic decision.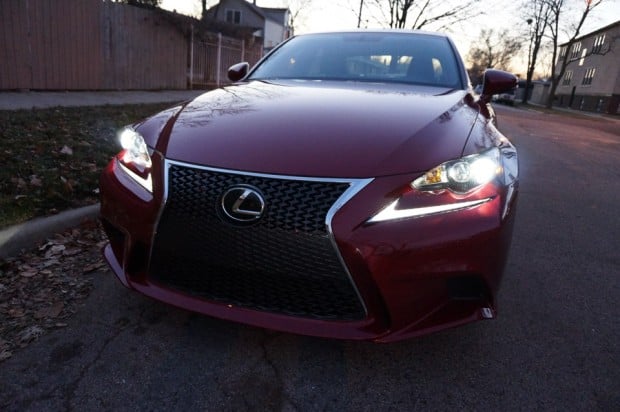 Interior
The inside of the IS 350 F SPORT is well-appointed, with stitched leather accents, soft touch surfaces, silver metallic trim throughout and a perforated leather-wrapped steering wheel. Overhead is a power glass moonroof with one-touch open and close operation.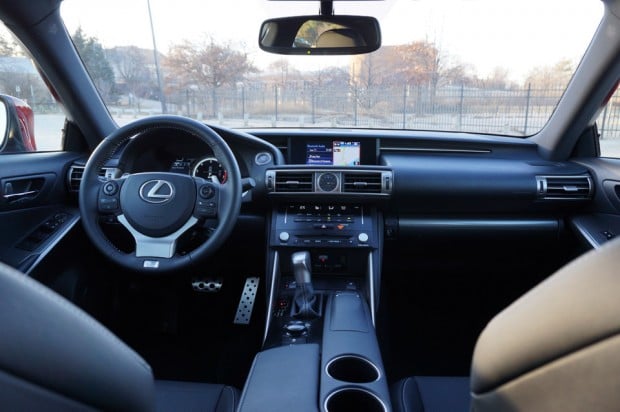 The comfortable F SPORT leather seats hug your back nicely. The driver's side seat offers 10-way adjustments, including lumbar support, while the passenger side has 8-way power controls. Both front seats are heated as well to keep you warm on cold winter's days.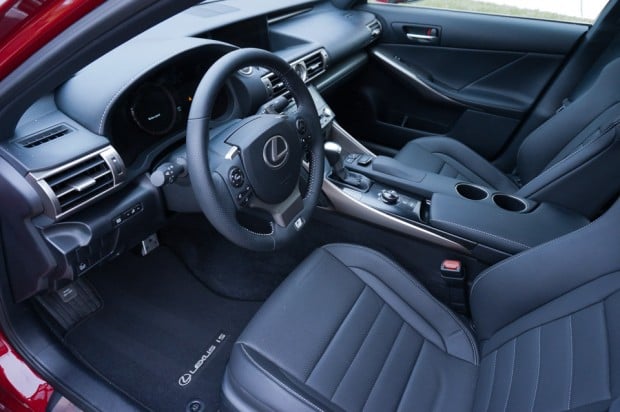 I did notice one minor annoyance if you're tall and need to drive with the seat pushed far back  – entry and exit is a little tricky as the back of the seat ends up pretty far behind the B-Pillar, and I had to work my way around that getting in and out of the car. That's not unusual in sedans, but for some reason I found it a little more pronounced than normal in this car. Perhaps it's because of the low-slung sport seat design.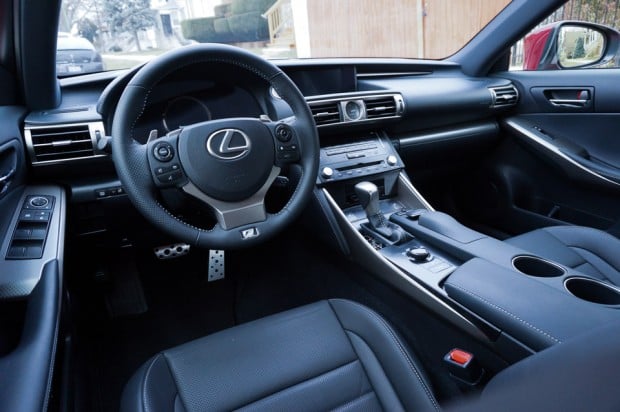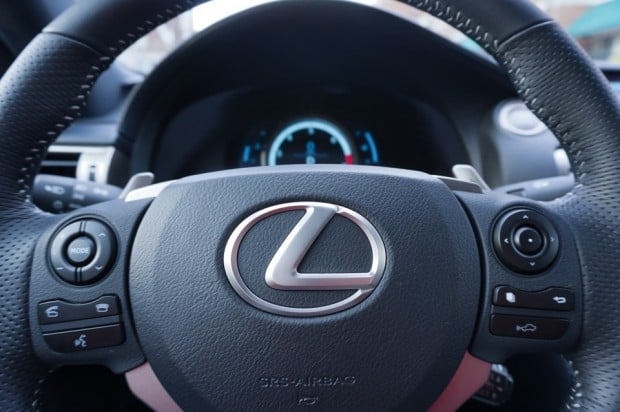 As you look around the cabin, you'll also find little bits of a cool patterned material that's reminiscent of carbon fiber set around the window controls and on the glove box.
Other nice touches inside the vehicle include paddle gear shifters, stitched leather trim on the shift lever, and aluminum sport style gas and brake pedals. Speaking of the pedals, there's one other thing that takes a little getting used to. On the all-wheel drive model, there's a pronounced hump on the floor behind and to the right where you place your foot for the gas pedal. It doesn't get in the way of driving, but I did bump the back of my foot into it from time to time. For what it's worth, the rear-wheel drive model doesn't have this.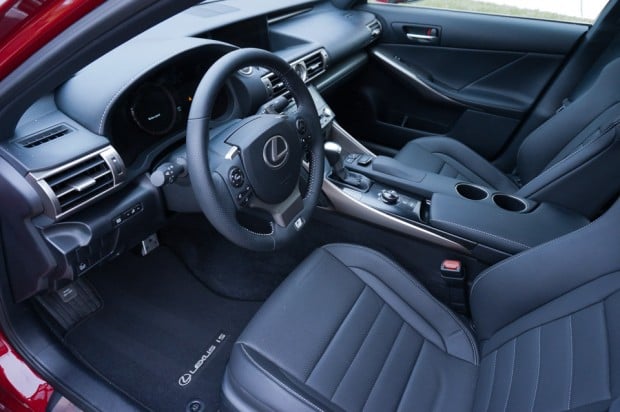 The IS does have a rear seat, though it's a bit cramped if the driver's or passenger's seat is pushed back behind the aforementioned B-Pillar. I'm six-feet-tall, so anyone sitting behind me needs to be quite small. But if both driver and rear passenger are of average height, this shouldn't pose as much of a problem. That said, Lexus claims to have added almost three inches of legroom in the 2014 model, so I can only imagine how cramped the back row was previously.
The rear seats have a fold-down armrest with pop-out cupholders, and a 60/40 split fold-down ability that offers a pass-through to the trunk. This provides extra flexibility for transporting long items like skis and golf bags.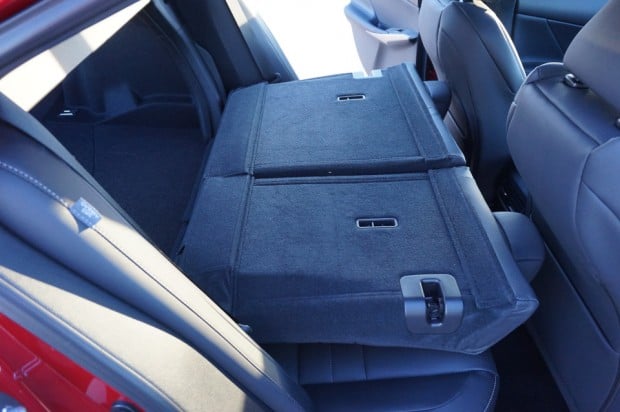 Trunk space is slightly above average for its class at 14 cubic feet, which is plenty for grocery runs, a couple of pieces of luggage or a set of golf clubs. Of course, with the rear seats folded down, you can carry much more.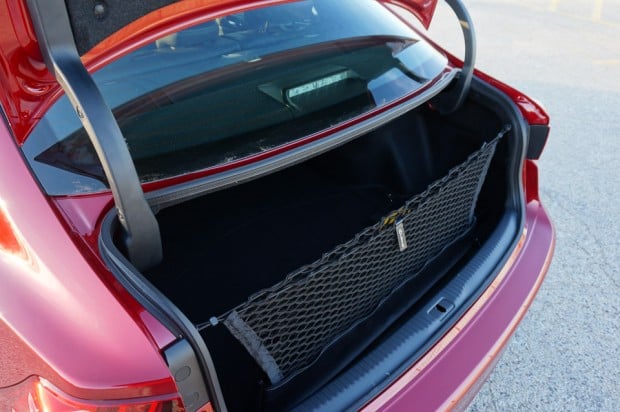 Drivetrain/Performance
All IS350 models are powered by the same 306hp horsepower, 24-valve V6 engine with 277 lb-ft. of torque. Having driven both an IS 250 and the IS 350, the extra 100+ horses makes all the difference in the world, giving you serious highway and track acceleration, and great passing power. 0-to-60 time is rated at a more than respectable 5.7 seconds for the AWD model, and I found its acceleration to be smooth and responsive in both start-and-stop city and highway driving.
You can choose from a rear-wheel drive model with an 8-speed-automatic transmission, or the all-wheel drive model that I drove, with a 6-speed auto. The RWD also has a 0.1 second advantage on 0-to-60 time, and a higher top speed of 143mph vs. 131mph.
Both automatic transmissions can also be shifted manually using either steering wheel-mounted paddle shifters or the console-mounted floor shifter. In manual mode, you can upshift at your whim, but the car automatically downshifts if you don't drop gears fast enough, and will automatically upshift if you redline it.
Another handy feature of the F SPORT's transmission is how it dynamically changes shift points if you're in a curve. When you enter a bend, it holds a lower gear to give you more kick when pushing the pedal down on the way out.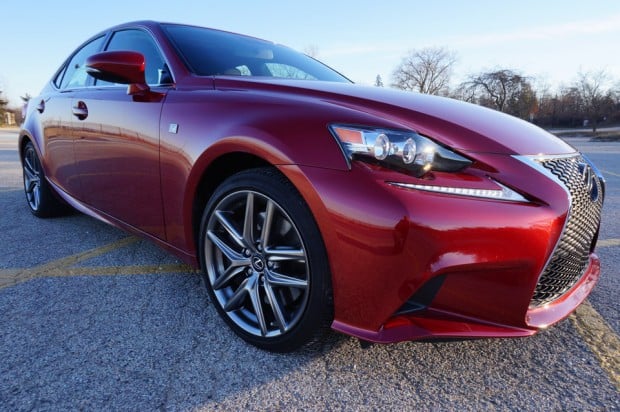 Ride/Handling
I'm used to most Lexus vehicles erring on the side of a soft, luxurious ride. And while the IS 350 F Sport exhibited similar traits when navigating potholes and speed bumps, it's also capable of a more rigid, sport-tuned ride. When placed in Sport+ mode, steering response tightens, and the suspension adjusts to a firmer ride profile. Driving along tight ravines along Chicago's North Shore, steering response was deft and immediate. As a gearhead myself, I found myself staying in Sport+ mode most of the time, but I did drop down to Normal mode for driving back and forth to the grocery store. 
If you're looking for an even more sporty ride, go for the rear-wheel drive model. Though I've had the RWD on a track before, and while it does have good grip and more understeer than most RWDs, I still wouldn't want to navigate it through a snowy embankment.  If you live in the snowy Midwest like me, the AWD model is the one to buy. Two days into my review, Chicago was blanketed with snow and I was quite impressed with how well the car gripped the road in difficult winter conditions. The AWD model is also smart enough to dynamically reallocate power between front and rear wheels to adjust for different traction situations, pushing for a 50/50 balance in the snow, but a more aggressive 30/70 front/rear split in optimal driving conditions.
For me, the handling is where the real magic of the IS 350 F SPORT happens. One minute, it's a sublime daily driver, the next, it's a lithe cheetah ready to hunt down its prey, and pass it by in the left lane. That's what I really love about this car. It has so many different personalities. You can take the kids to school in it one day, and then hit the track with it the next day. No, it won't beat the dedicated sports cars on the track, but it'll still give you a fun ride, and you're left with a car you can actually enjoy the other 364 days of the year that you're not on the track.
Technology
As is the case with most luxury cars these days, the IS series offers numerous technology options for comfort, entertainment, performance and safety.
My vehicle was equipped with keyless locks and ignition, blind-spot monitoring, rear cross-traffic alert, dynamic radar-based active cruise control, and a top-of-the-line infotainment system with Bluetooth wireless connectivity. This package includes navigation, a backup camera, a 15-speaker Mark Levinson audio system with surround sound and 835 watts of total power, and Lexus' Enform application suite, which provides access to apps like Bing search, OpenTable, Pandora, Yelp and Facebook Places among others.
Also included is Lexus Safety Connect, which can provide stolen vehicle location, emergency assistance, and automated collision notification. A one-year trial of both Enform and Safety Connect are is included, but you'll need to pony up another $264.90 each year if you want to keep both services active.
This display for the infotainment system is thoughtfully placed at eye level, though it is controlled by a console-mounted joystick instead of a touchscreen. It takes a few minutes to get used to it, but it's actually quite intuitive, and seems like a safer design choice to set things up this way compared to a touchscreen mounted at the traditionally lower-than-eye level.
Underneath the display screen, you'll find an analog backlit clock, as well as tactile climate and media controls. I have to say I'm not a fan of the swipe-based temperature controls though. They're too finicky and my passenger and I often ended up over- or under-adjusting our temps with them. I had a similar distaste for touch sliders in the Cadillac CUE system as well. I'd much rather just have knobs. At least most of the controls in the Lexus are still tactile.
One of the coolest features of the F SPORT models is the large TFT instrument cluster, inspired by the one in the LFA. While it normally places your speedometer and tachometer front and center, you can also push a button on the steering wheel, and it reconfigures itself to provide a dual purpose display, adding an information panel to the left of the speedo/tach ring.
This whiz-bang feature doesn't only change what's on the display, but a mechanical ring moves from side to side with center cluster for added visual effect.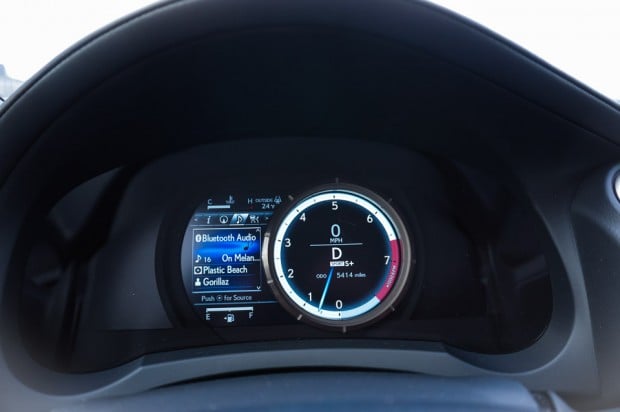 This information panel can display information such as navigation details, music track info, fuel efficiency, distance to empty, average speed, and current gear position, even when in fully-automatic shifting mode.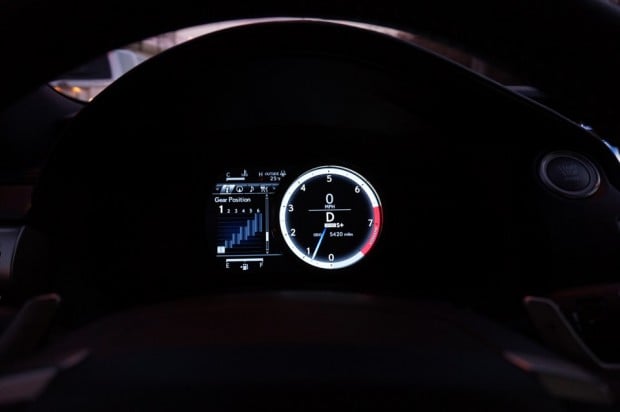 Pricing and Options
Pricing for the 2014 Lexus IS 350 all-wheel drive starts at $41,700(USD), while the rear-wheel drive model starts at $39,765. However, the F SPORT package bumps those prices up by another $3,180. My test vehicle also included the premium navigation and audio package for $3,225, blind-spot monitoring and rear cross-traffic alert for $600, and dynamic radar cruise control for $500. Total price for the car reviewed here was $50,164, including the $895 delivery and processing fee.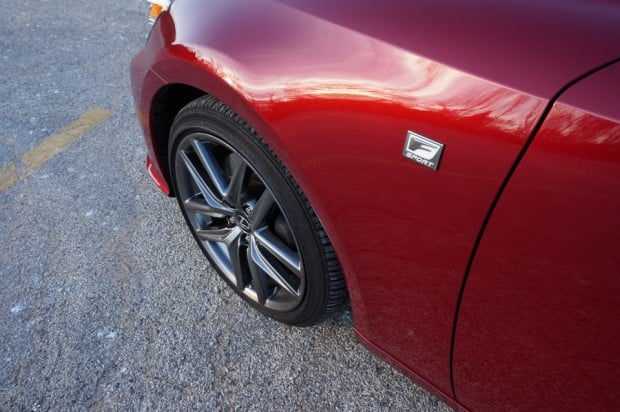 Summary
Lexus really has a winner on its hands with the IS 350. It's a great everyday car, but it's got brains, beauty and brawn. In fact, I think it achieves this balance better than just about any other car I've driven this year so far. It's not the most spacious vehicle for rear passengers, and it has a couple of minor ergonomic quirks, but overall it's an extremely comfortable and well-balanced luxury car.
If you've been looking at the BMW 3 or 4 series, the Cadillac ATS 2.0T or the Audi S4, you'll definitely want to put the IS 350 on your evaluation list. I think you'll be pleasantly surprised how well the Lexus stacks up against the competition.