Mercedes-Benz SF1 Concept
January 8, 2014
---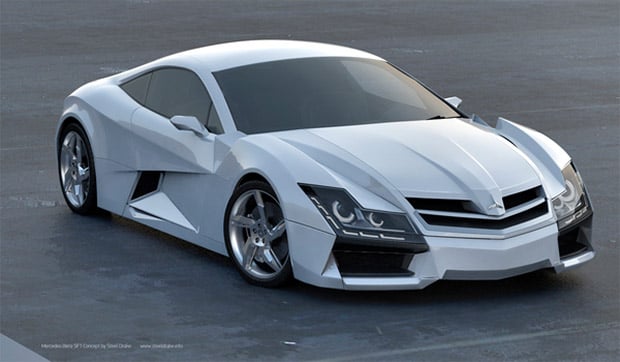 Moving in a very different direction from Mercedes' own bulbous AMG Vision Gran Turismo, Kyrgyzstan designer Steel Drake decided to go with decidedly more angularity with his concept Benz, the SF1.
The car is envisioned as a sharp-edged 2-seater, with a low center of gravity. The design shows large air intakes for both front and rear wheels to help keep the brakes cool, and LED lighting throughout. The car would have a 105 inch wheelbase and an overall length of 179 inches, making it roughly the size of the current SLS. One odd design choice is the elimination of the circle around the Mercedes-Benz iconic logo (which would never happen), which made us think the design was a Mitsubishi at first – but that would be a horse of a completely different color.
Drake (or is it Steel) doesn't provide any detail as to what powertrain might be lurking under that candy-like shell, but we like to imagine it's got the same 6.3-liter V8 found in the AMG SLS, perhaps mated to a seven-speed dual-clutch transmission.