Buick Wildcat Concept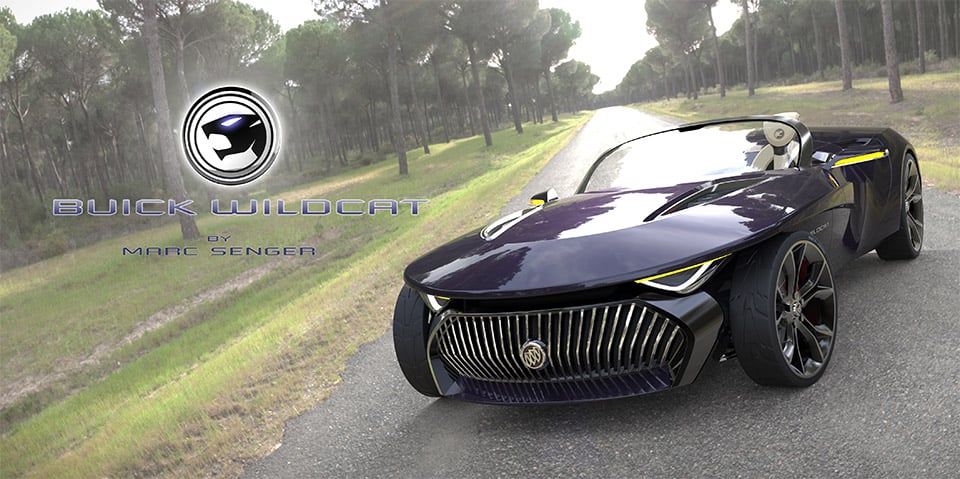 These days Buick isn't exactly looked at for its dramatic or dynamic vehicle design. However, there was a time when they were willing to take more chances. In fact, back in 1954, they developed a sporty, open-top show car dubbed the Wildcat II. Taking inspiration from this vehicle, designer Marc Senger has envisioned a new Buick Wildcat, designed to send the brand into the luxury sport market.
Senger's Wildcat is envisioned as a two-seater, in a front engine, rear wheel-drive configuration. The new Wildcat concept shares the same 35 inch-high cowl as the 1954 design, but that's where the designs part ways. Residing under its long nose would be a massive 5.5-liter inline 8, with 582hp and cranking out an insane 636 lb-ft. of torque at 4000 RPM. Attached to an equally fictitious 10-speed multimatic transmission, the car would achieve a 0-to-60 time of 3.9 seconds.
We're not quite sure what to make of the floating grille work, but with an engine like that, you'll want as much airflow as possible. Its front wheels would ride in the open air, sans fenders, though the rear wheels strike us as a bit skinny for a roadster. The car's convertible hardtop would retract neatly into the car's trunk, which includes a retractable rear spoiler. On the other hand, the V-shaped LED headlights are pretty slick in our opinion.
Regardless of what you think of the Wildcat concept design, you have to appreciate that somebody out there is interested in bringing Buick into a new realm and away from today's unexciting styling.