Honda Civic Type R Concept Sketch Revealed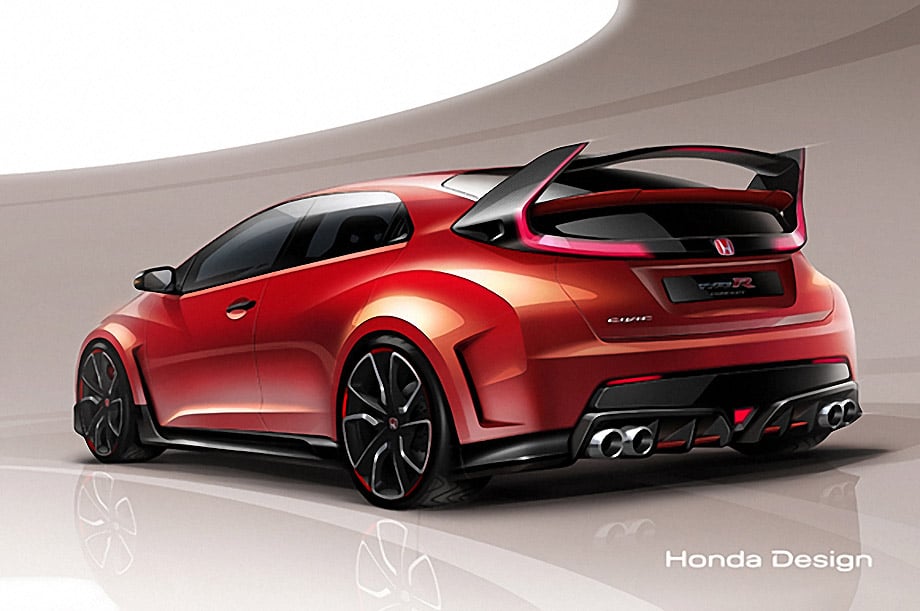 It's been a while since we saw a Civic Type R. In fact, the last production version of Honda's sportiest Civic went out of production in 2010. Now, Honda is prepping a new version of the hot hatch, and if this concept sketch from Honda Design is any indication, we like what we see.
The design concept features extremely aggressive aerodynamic body mods, including a large rear spoiler, fat fenders, and large brake cooling ports. The sketch also shows quad exhaust pipes, but doesn't give us any sense of what the front of the car might look like.
Honda described the Type R as a "racing car for the road", and to back up that claim it plans on bestowing it with a 2.0-liter turbocharged engine capable of putting out 280+ horsepower. The brand wants the car to be the fastest front-wheel-drive car on the Nürburgring, so they've definitely got some work to do if they want to beat the current champ, the Renault Mégane RS Trophy, which did it in 8:07.97 back in 2011.
Honda will debut the car at the 2014 Geneva Motor Show, and expects to release the Civic Type R in Europe in 2015. No plans have been announced to bring it to the U.S. yet.