2014 Citroën C4 Cactus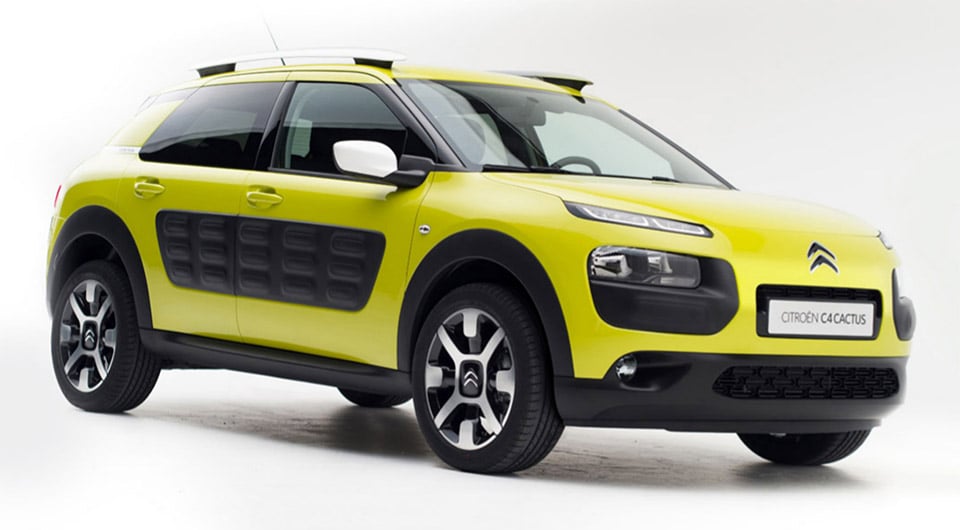 While Citroëns haven't been sold in the U.S. since the 1970s, they're still going strong in Europe. The latest vehicle to surface from the French automaker is a compact crossover SUV called the C4 Cactus.
The Cactus'  body styling reminds us a bit of Audi's crossovers, but the similarities end at the bumpy, quilted side panels on the Cactus, as well as its downplayed grillework. Interestingly, the "airbump" side panels serve a purpose, being made from a thermoplastic and filled with air, they're supposed to be less susceptible to denting. They also provide for a greater degree of design customization for the buyer.
It's powered by a small 1.0-liter inline 3-cylinder engine that only produces 80 horsepower, but it also only weighs 2,127 pounds. The Cactus is all about fuel efficiency, and is estimated to get as much as 91mpg (imperial)/76mpg (U.S.)  in its diesel variant.
Inside, you'll find cushioned seats designed to feel like a comfy sofa, a completely digital dashboard and controls, along with a large panoramic sunroof overhead. One interesting innovation is that they moved the passenger airbag to the ceiling, which is said to provide more space for the passenger.
Citroën also plans on offering an off-road variant, called the C4 Cactus Aventure.