Concepts from Future Past: 1999 Chevrolet Nomad
In 1999, Chevrolet introduced the Chevrolet Nomad concept, a new direction for the Nomad wagon which Chevy had produced in various flavors on and off since 1955. This concept was built on a powerful F-body chassis (the same as used in the fourth-generation Camaro) and had a 5.7-liter V8 under the hood. The concept car was built as a modern two-door sports wagon for a customer who needs space and functionality but wants to drive something with real performance.
Not only did the side doors slide back to allow access to the back seats, but the tailgate could fold down and under the floor of the vehicle and the roof slides open also to allow for tall cargo to be carried.
Overall, the design of this vehicle strikes us as one that was done by designers who just woke from a coma in 1972, but it does have some interesting ideas in it. Of course, in the background we catch a glimpse the much derided but surprisingly well engineered Pontiac Aztek concept which ended up going into production in 2001.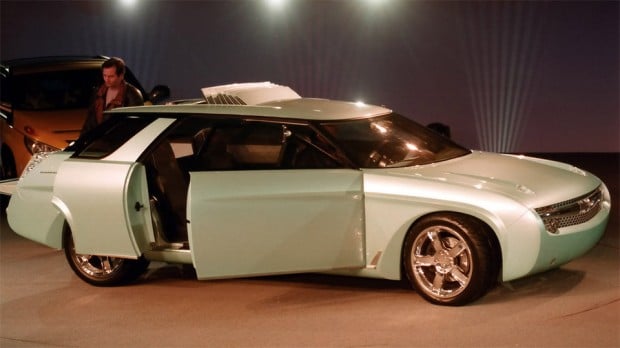 Images courtesy of Serious Wheels.