1971 Plymouth Barracuda Hemicuda for Sale
auctions | muscle cars | plymouth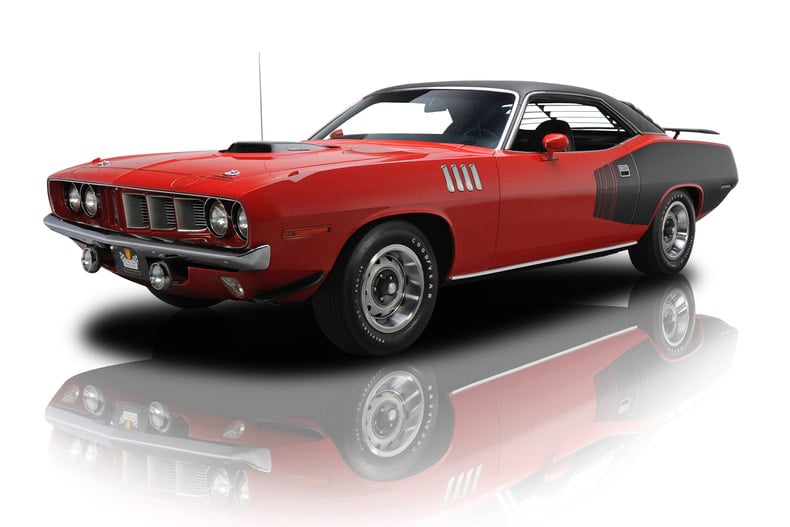 Arguably the most value muscle car of all time, this Plymouth Barracuda Hemicuda is a thing of automotive beauty. And now, if you've got $2 million kicking around, you can own it. (Actually, the asking price is $1,999,900 USD.) Trimmed out with rallye red paint and black details, we've got nothing but love for this impeccable ride.
This gorgeous specimen has just 2,010 original miles on it, and has been incredibly well preserved. Only a handful of the cars were made when they first came out in 1971, and this particular one has the lowest documented mileage of the few that still exist. It was owned by tobacco heir Zachary Taylor Reynolds, who held a huge collection of motorcycles and muscle cars. He also picked the color scheme in tribute to his family's iconic Winston cigarette packaging. Regardless, we've been assured the car doesn't smell like cigarette butts.
The car is powered by a 426 cubic inch, 425 horsepower Hemi with a pair of 4-barrel carbs. The car has incredible provenance, including its original factory punch card from manufacturing, the car's window sticker, the bill of sale from the dealership, owners manual, and other documentation. Amazingly, the car even still has some of its original factory fluids (which is apparently desirable in the world of high-end collectibles.)
The folks at RK Motors Charlotte have listed the car up on eBay, where you can make an offer if you want to see if you can score it for less than the asking price. The current auction is set to expire on March 7, 2014.