Volkswagen T-ROC Concept Headed to Geneva
crossover | shooting brake | volkswagen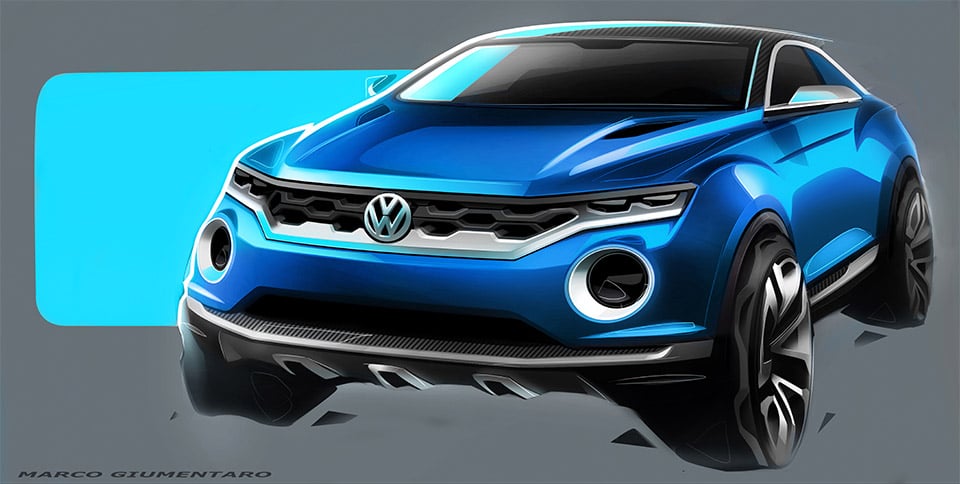 Volkswagen will be introducing a new concept vehicle at the 2014 Geneva Motor Show that looks to us like a close cousin of the Audi Shooting Brake Concept we saw in Detroit and the sister of VW's CrossBlue Coupe Concept. The T-ROC references the Tiguan and  Touareg lines (thus, the "T") and looks to extends the range.
The two-door T-ROC has a removable roof:  the middle section of the roof consists of two halves, which can be removed with just a few hand movements and stowed in the rear of the car – sort of like a modern-day T-top. The large, round headlight modules reflect those of the legendary Volkswagen Karmann Ghia Type 34 but have been updated with LEDs that are capable of acting as a swiveling spotlight. Also integrated are movable cameras in the front and rear which are activated in "off road" mode and an image of the vehicle's surroundings is shown on the large center console display.
The T-ROC is powered by a 184 hp turbodiesel engine hooked to a seven-speed DSG gearbox and VW's 4Motion all-wheel drive system. The vehicle tips the scales at 3,131 pounds and VW estimates a 0-to-100 km/h (62 mph) time of 6.9 seconds and a top speed of 131 mph. The driving modes available are Street, the standard mode where power is primarily sent to the front; Offroad, which sets power distribution to a 50:50 front-to-rear balance; and Snow, which is also a 50:50 power profile but the ABSPlus system is also activated and the engine and gearbox power parameters are modified for the low traction environment.
Inside is a blue-and-black color scheme with a low-profile horizontal dashboard. The center console houses a touchscreen that is used for the infotainment system, which changes colors and information displayed according to the driving mode.