Armadillo-T Car Folds up to Save Space
Do you find yourself circling the block over and over again looking for a parking space, only to find some parkholes have taken up more than the necessary space with their cars? This concept car from Korea aims to make it easier to park in even the tiniest of spaces.
Developed by In-Soo Suh, Associate Professor of the Graduate School for Green Transportation at KAIST, the Armadillo-T is a subcompact pure-EV with a special trick up its sleeve. With the push of a button, the rear end of the car can fold up over the passenger compartment, allowing the car to fit in a space about the size of 1/3rd of a typical subcompact car. In driving mode, the car measures 110 inches -long, but folded it drops to just 65 inches-long.
A mobile phone app allows the driver to fold the vehicle up once they exit the car, and it can be steered into the space remotely, turning on a dime.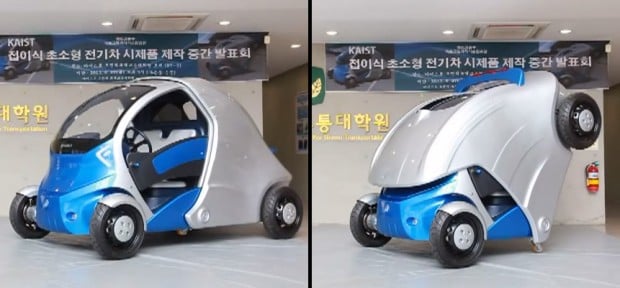 You can see more footage of the Armadillo-T in action in the video below: