AMS Performance: Behind the Scenes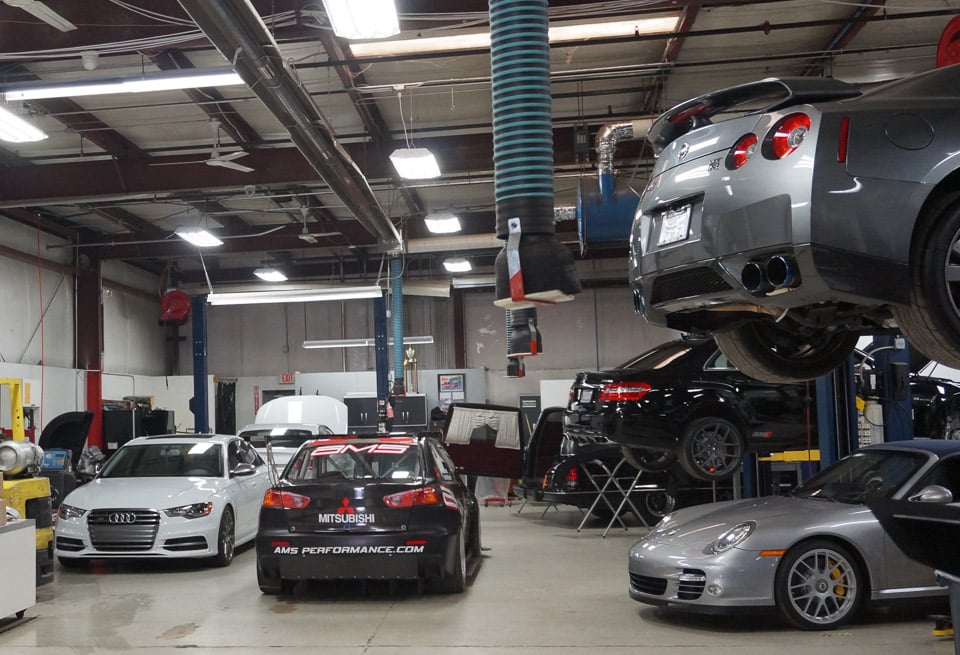 If you think that performance tuning of road cars is something that only gearhead hackers do in their garages, you are sadly mistaken. After my recent visit to AMS Performance, I was completely taken aback by the amount of engineering skill and time that it takes to turn everyday sports cars into powerful, track-worthy beasts.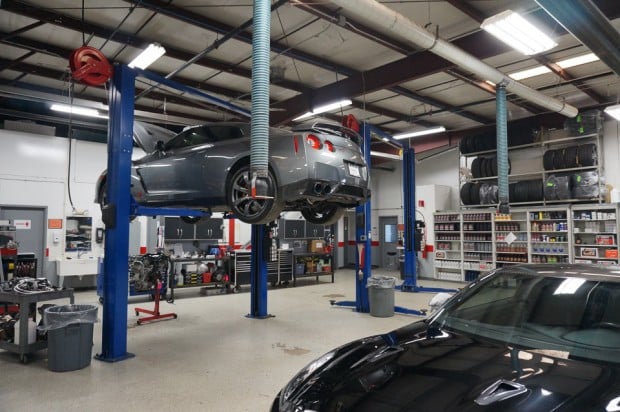 Located in a sleepy suburb west of Chicago, AMS Performance creates a variety of its own parts and complete packages for tuning cars. They specialize in the development of turbocharger upgrade kits, manifolds, exhaust systems and intercoolers, but they also produce complete race engines, wheels and numerous other components.
While they're best known for their astounding Nissan GT-R packages sold under the Alpha Performance brand, they also offer packages and parts for BMWs, Audis, Porsches, Subarus, Mercedes and Mitsubishis – the vehicle the company's President and co-founder Martin Musial got his start with.
During my visit to AMS's facilities, I had an opportunity to see and hear first hand the effort that goes into creating its components and tuning cars with such incredible precision. When AMS decides it's going to create tuning parts for a particular vehicle, it first purchases one of the cars and strips it down to its bones – meticulously scanning the engine compartment and other relevant areas using a sophisticated laser 3D scanner. It then uses this data to create a full 3D model which it can then use to develop parts that will fit into the tightly arranged spaces in today's cars.
With this data in hand, AMS's skilled engineers set about designing parts using 3D modeling software. This data is then used to develop a 3D printed model of the part, which is later used to make a silicone mold, which is then used for producing a wax casting. The wax piece is then used to make a ceramic mold into which molten metal is poured to create a functional aluminum part.
When the team designs a part, they use sophisticated measurement instruments and software to gauge temperature, airflow and other metrics both on the baseline vehicle and the modified components. When developing a component, it's not just about improving horsepower, it's about improving airflow and thermal dynamics as well. AMS also sells its components to buyers all over the world, so they have to be sure the same parts that work here in the frigid Chicago winters will hold up to the killer desert heat of Dubai.
In addition to designing and distributing parts, AMS can take a car and perform complete installation and precision tuning services. This process can take as little as a day for a software-reprogramming based tune, up to 8 to 10 weeks for a full replacement of major engine, exhaust and suspension components. In all cases, AMS takes time to thoroughly test vehicles, and even has a couple of large dyno bays on site. In addition, they take cars to local race courses for real-world testing.
During my visit, they were testing out one of their awe-inspiring Alpha 16 Nissan R35 GT-Rs, which can put out between 1700 and 1800 horsepower, can hit 60mph in an astounding 1.63 seconds, and have recorded drag runs in the low 8-second range. Hear the beast roar in the video below:
One of the more interesting things I learned during my visit was just how much performance can be eked out of a completely stock vehicle as well. To achieve this, AMS spends countless hours reverse engineering and quantifying the programming of factory electronic control units, and offers reprogramming maps which can extract significant added performance with an off-the-shelf vehicle. In my case, I got to test drive what was a completely stock Mercedes-Benz E63 AMG 4MATIC, with AMS's tuning maps installed. This software-only change managed to take this already impressive car from a factory 550hp up to an astounding 700 horses. It still blows my mind that you can increase performance that dramatically without changing a single part. Imagine what they could do if they physically modded the car.
If you're interested in having your car's performance enhanced by the guys at AMS, you can find more information on their products and services on their website or contact them by phone at 847-709-0530.