Alfa Romeo Doppiezza Hybrid Concept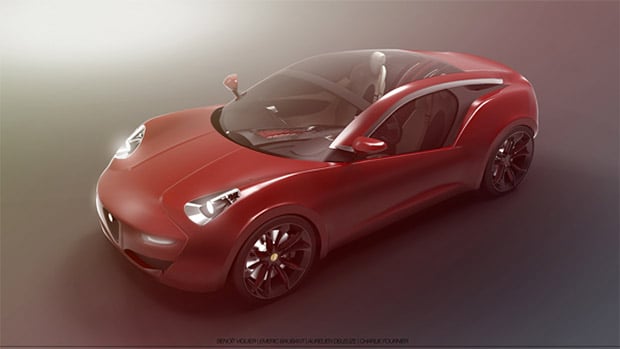 Inspired by elements of classic Alfa Romeos, the Doppiezza concept is the labor of love of a team of industrial design students, including Emeric Baubant, Benoit Viguier, Charlie Fournier, Aurelien Deleuze, Mathilde Ampe, Romain Mivelle and Djihad Itoumaine.
The compact coupe is designed to combine the best of Alfa's sportiness with luxury finishes inside and out. Design highlights include a curvaceous body without so much as a single sharp edge, a large panoramic moonroof, and scissor doors. The Doppiezza is envisioned as a 2+1, with a tiny single rear seat for occasional passengers. The car is envisioned as a gas/electric hybrid, powered by a small 0.9L 3-cylinder turbocharged engine, combined with electric motors.
We think it does a great job representing the Alfa Romeo DNA, and dare we say it, we think it looks better than the 4C – though it doesn't sound nearly as powerful.