2014 Ford Fiesta Titanium Review
ford | hatchbacks | March 14, 2014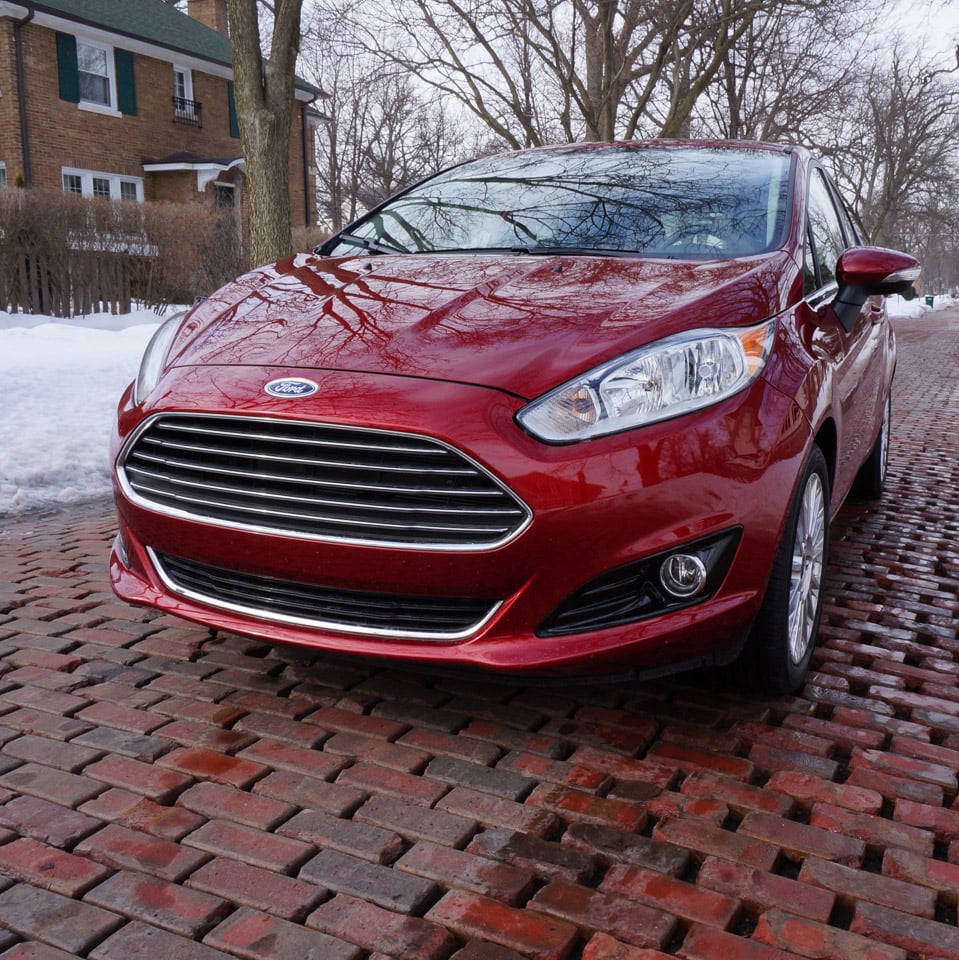 The subcompact Ford Fiesta has been in production for nearly 40 years, and the latest generation is most definitely the best of the bunch. Not only does the 2014 model have the best looks of any Fiesta ever, the Titanium edition sweetens the pot with a variety of premium upgrades you'd expect in a $30,000+ car, not in one that costs about $20,000.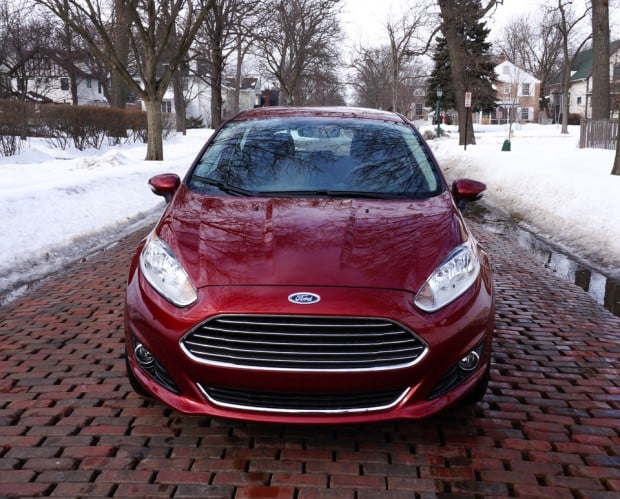 Exterior
The Fiesta comes in a number of different configurations, with the Titanium Hatch and Titanium Sedan being the most premium models. For purposes of this review, I'll be sharing my experiences with the five-door hatchback version. The sporty Fiesta ST model has a more powerful drivetrain and sportier driving dynamics, but isn't as upscale inside.
While the current generation Fiesta shares much with those made over the last several years, the 2014 model has gotten a significant front-end upgrade, which makes it look a bit a mini Fusion – and that's a good thing. Its five-bar chrome grille is flanked by automatic halogen headlamps, and a pair of chrome-bordered fog lamps. The Fiesta's rear-end has also been tweaked, though the differences aren't quite as obvious to me. In the case of the Titanium, it comes with a rear spoiler that helps stick the car to the road. The car rides on 16″ premium painted aluminum wheels, which also give it a more premium look.
Drivetrain
Powering the car is a surprisingly zesty 1.6-liter DOHC, 16-valve inline 4-cylinder engine. Despite offering up just 120 horsepower, I never found the Fiesta to be lacking in power or responsiveness, given its size. My car included Ford's PowerShift 6-speed automatic transmission, though the base version ships with a 5-speed manual. From a dead stop, the Fiesta held its own in busy Chicago rush hour traffic, and offered plentiful power at entrance ramps and accelerating out of intersections.
The PowerShift transmission does offer a Sport mode which lets you select gears yourself, but only via a silly "+/-" toggle switch on the side of the switch lever. Since that user interface doesn't feel particularly sporty, I didn't bother with it for more than a few minutes, and let the automatic do what it was designed to do – and let it shift by itself.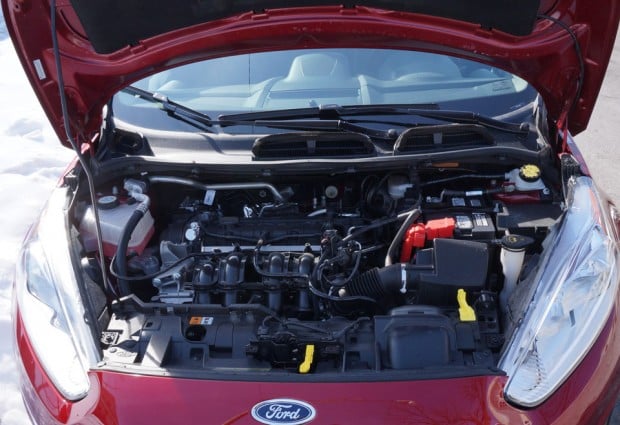 I can't tell you how happy I am that Ford continues to stand by actual gearboxes, rather than the whiny CVTs that keep finding their way into subcompacts these days. There's just something more vital and vibrant to the sensation of a car's shift points than the continual power ramp found in CVTs.
Ford claims with the automatic that you'll get 29MPG in the city and 39MPG on the highway, with a combined fuel efficiency of 32MPG. In my mixed city/highway driving, I ended up getting a solid 30MPG.
Ride/Handling
One thing I was really pleasantly surprised by was just how responsive the steering felt. In a car this small, it's hard to not feel connected to the road, but it really helps to have good tight steering. Every little move I made with the wheel was echoed nicely by the car, even at highway speeds. The car also has Ford's AdvanceTrac Electronic Stability Control system, which can adjust torque to improve control with wheelslip, as well as apply braking pressure in turns to reduce understeer or oversteer. Driving on snow and ice-covered streets, I had little difficulty safely maneuvering the Fiesta. On a couple of occasions, I got a little bit of wheelslip when accelerating in the rain, but the car recovered within less than a second.
Overall, performance and handling was quite good in a variety of driving conditions, including busy city streets, curvy country roads, the highway and even bumpy old brick roads. I was especially impressed with how well the Fiesta smoothed out bumpy roads, and how quiet it was on the highway.
Interior
While all Fiesta hatchback models share the same basic interior configuration, the Titanium is appointed with upscale touches like leather trimmed heated seats with accent stitching, and one-touch pushbutton start. Interior finishes appear to fit well, without squeaks or rattles, and Ford was very thoughtful with its mix of matte and glossy materials to limit glare and and fingerprints. I especially like the aluminum trim on the leather wrapped steering wheel.

Controls are well placed, with infotainment and cruise control buttons on the steering wheel. The center console includes a simple track/tuning control with a volume wheel for the sound system, with intuitive buttons for the climate control system below.
Interior comfort was better than most subcompacts I've driven, and I found the front bucket seats to offer good support on longer drives. The driver's seat has height and lumbar support controls which also help. With my seat properly adjusted, I had more than three inches of space above my head – and I'm six-feet-tall. The steering wheel has manual tilt and telescoping adjustments to aid in driver comfort and safety.
As is the case with many small cars, the back seat has some limitations – if both front and rear seat passengers are of average height, you're fine – but don't expect to seat anyone other than a small adult or child behind you if you're tall like me.
The hatchback area of the Fiesta is especially well thought out, offering multiple configurations for carrying a wide variety of items. In fact, there are three different layers – the lowest storing a compact spare tire and jack. In addition, the rear seats offer a 40/60 split fold, for maximum flexibility and capacity. With the rear seats in use, you get 14.9 cubic feet of cargo capacity, while you'll get 25.4 cubic feet with the seats folded down.
Technology
When you opt for the Titanium package, you'll get a few upgrades in the tech department, starting with an 8-speaker, 100-watt Sony sound system. I found this system to offer up plentiful, distortion free sound, with good dynamic range and solid frequency response. The car also includes ambient LED lighting in the cupholders and under the dash with your choice of seven color presets. It should be noted that this lighting is really only visible when its dark out.
The Titanium comes with Ford Sync w/MyFord Touch, which provides a unified touch-based interface to media, climate information, and navigation and traffic services. The system tunes AM/FM/HD Radio as well as the subscription-based Sirius service. This also provides hands-free calling and Bluetooth media playback – which both worked seamlessly with my iPhone 5. Keep in mind that the navigation capability is an option.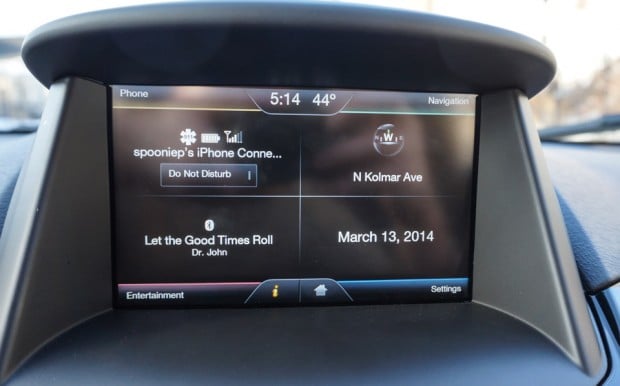 Basically, the interface on the infotainment system should be familiar to anyone using Ford Sync within the last couple of years, though the Fiesta's screen is only 6.5″ diagonal instead of 8″. This means that if you've got big fingers, it can be a little tricky to press some of the smaller on-screen icons. That said, it's more than functional. The bigger challenge with the Sync display is that it's mounted at the very end of arm's reach in the top center of the dashboard. While I appreciate that the display is closer to eye level, I wish that it was mounted several inches closer to the driver and passenger. If you've got short arms, you may struggle to use the touchscreen without leaning forward.
The car also comes with a backup camera and rear parking sensors, which I basically can't live without these days. Other tech features along for the ride includes cruise control, power windows and door locks (which oddly lock from the center of the dashboard), power heated mirrors, 2 USB ports, an SD card slot and a 12VDC accessory outlet in both the front and rear seat.
Pricing and Options
Base price for the 2014 Fiesta Titanium Hatch is $18,800(USD). My review vehicle included a ruby red tinted clearcoat ($395), PowerShift 6-speed automatic transmission ($1,095), and navigation ($795). Adding on a $795 destination and delivery fee, the total sticker price for the car tested was $21,880.
Summary
If you're in the market for a small everyday car that doesn't feel cheap, you'll definitely want to check out the Fiesta Titanium. Not only will it get you from point A to point B, it actually has a bit of personality. Both its exterior and interior styling are a far cry from the Fiestas of old, and ride comfort and handling are both quite good. Not only is the Fiesta a practical car, it's actually kind of fun to drive. It'll get you, your passengers and your cargo safely to their destinations, but you'll feel alive while you're doing it.
And for even more of a blast – with a bit less luxury – check out the Fiesta ST, which is a heck of lot of fun to drive.