2015 Mercedes-Benz S63 AMG Coupé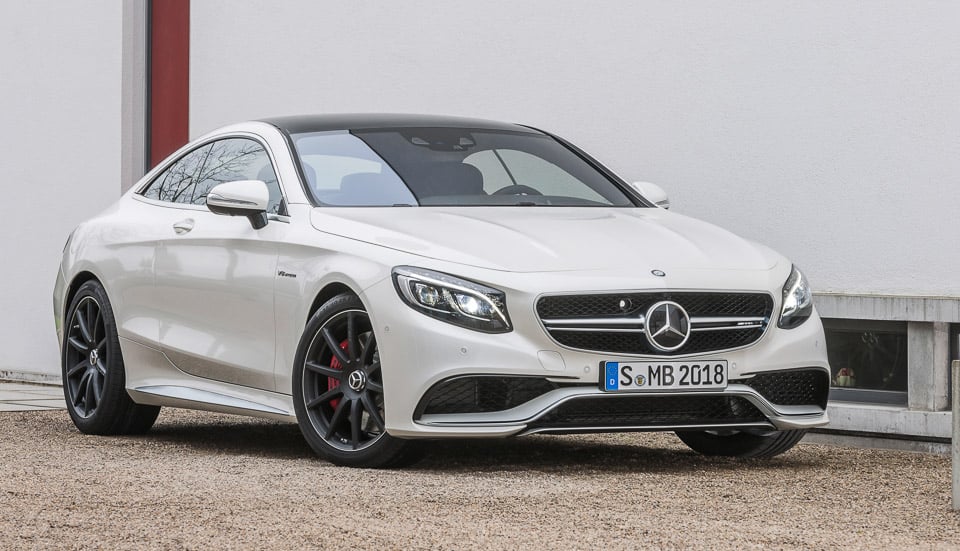 Waving AMG's magic wand over the already impressive Mercedes-Benz S-Class Coupé, the S63 AMG Coupé has now jumped to the top of the list of cars we really want to drive this year.
Revealed by Mercedes-Benz in advance of next month's 2014 New York International Auto Show, the AMG variant has been amped up with a hand-assembled 5.5L, 577hp biturbo V8 with a whopping 664 lb-ft. of torque. This bests its predecessor – the CL63 AMG by 41hp, and outgunning the standard S-Class Coupe by 128hp. In Europe, you'll be able to go with a rear-wheel-drive configuration, though the default offering in the U.S. is a 4MATIC, which provides more traction, less powersliding, and a faster start off the line. In fact, the 4MATIC can go from a standing stop to 60MPH in just 3.9 seconds. Power is distributed at 33% to the front wheels and 67% to the rears.
This model gets AMG's Speedshift MCT 7-speed sport transmission for quick shifts, which offers Controlled Efficiency, Sport and Manual modes. It's also got an AMG sport exhaust system with dynamic exhaust flaps which automatically open earlier when in Sport or Manual modes, producing a more visceral exhaust note. You'll also be able to opt for high-performance, lightweight ceramic composite brakes.
Naturally, the AMG model has been fitted with a variety of aerodynamic and visual enhancements, including lower, wider air intakes, a more aggressive looking splitter configuration, and quad exhaust pipes. Inside, you'll find AMG sport seats, an AMG three-spoke sport steering wheel, and high-end sport finishes throughout.