Review: Exotics Racing Las Vegas On-Track Driving
exotics racing | track day | March 19, 2014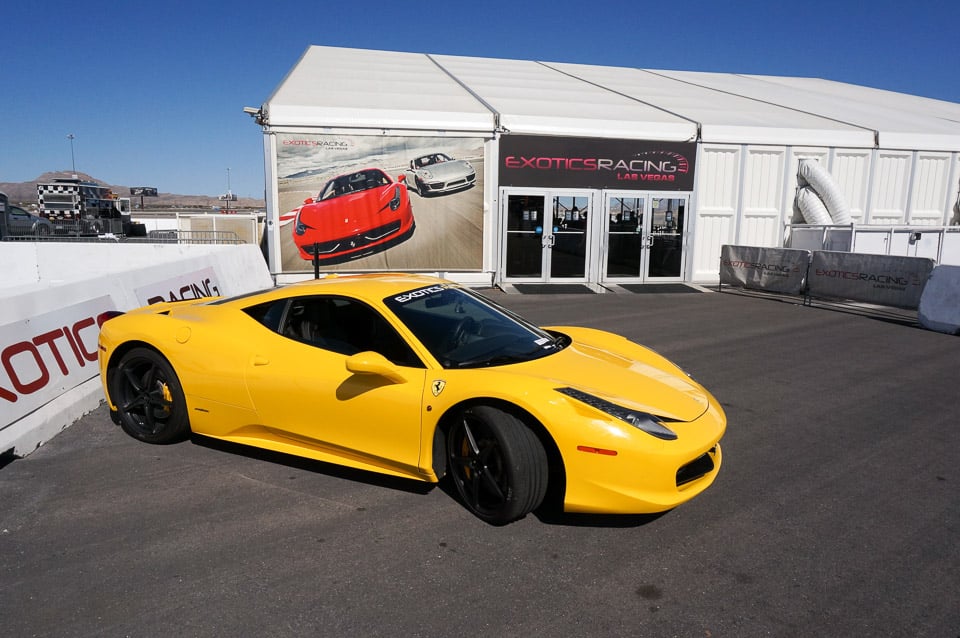 Exotics Racing is an on-track driving experience with locations in Las Vegas and Los Angeles. They give us ordinary humans the chance to drive in dream cars at a high speed. I visited the Las Vegas location to get into some of the cars I've wanted to drive for some time.

The Las Vegas location has around 14 different cars makes and models to choose from and they are continually adding more based on demand. If you have a specific car in mind that you want to drive, I suggest you call ahead to confirm availability. The day I went, the Lamborghini Aventador was off the track for scheduled maintenance, but all the other cars listed on their site were available and they had more than one of some cars available, like the Nissan GT-R and Ferrari 458 Italia which are apparently popular choices.
Exotics Racing recommends that you call ahead and make a reservation to ensure the time slots and cars you want will be available. I was able to call the morning of my experience and scheduled five laps each in three different cars. I knew I wanted to drive an Audi R8 V10 and the Nissan GT-R, and chose the 560hp Ferrari 458 Italia as my third car. Walk-ins are also welcome, but there's a chance the car you want to drive may not be available. If you make a reservation and need to cancel there are no cash refunds but Exotics Racing will give you a gift certificate for the amount.
Exotics Racing offers many different packages and pricing is determined by the car or cars selected and number of laps. For example, five laps in an Audi R8 V10 or Nissan GT-R is $249 whereas five laps in a McLaren MP4–12C or Ferrari 458 Italia is $399. There are discounts available when you choose to do additional laps or drive more cars. Also, Exotics Racing designates one each day car that is an "on site" discount that you can add to your day after you arrive. Unfortunately, if you've already reserved that car ahead of time that discount is only available to you for additional laps. Of course, pricing and the available vehicles change over time, so be sure to check the website for current information.
Getting There
Exotics Racing's Las Vegas location is located at the Las Vegas Motor Speedway, about 20 minutes north of the Strip. They have a relationship with Presidential Limousine, which offers a choice of either a private car from your location or a shared shuttle service from certain hotels. I opted for the shuttle service ($40 roundtrip). I was picked up at The Bellagio about 45 minutes before my appointment time at Exotics Racing. You can also make your way out there yourself if you have a car or choose to take a taxi.
Pre-Driving Prep:
On arrival, Exotics Racing requires you to sign a waiver, checks to ensure you have a valid driver's license, and confirms your selected cars and laps. At this point, you can swap out any of your chosen cars as long as there is availability. The process was pretty quick and I was offered a locker to stow my camera while I was on the track. In addition to the above, drivers must have closed-toe shoes. If you are in Las Vegas with just your sandals, they do have some shoes available to rent for the day for a small fee.
After check-in, each driver is required to attend a brief presentation where the staff goes over track etiquette, the role of the co-driver, and the layout of the track. After the briefing session, drivers are taken on a two-lap tour of the track in a Porsche Cayenne by one of the staff members. The goal of the touring laps is to show drivers the optimum line around the track.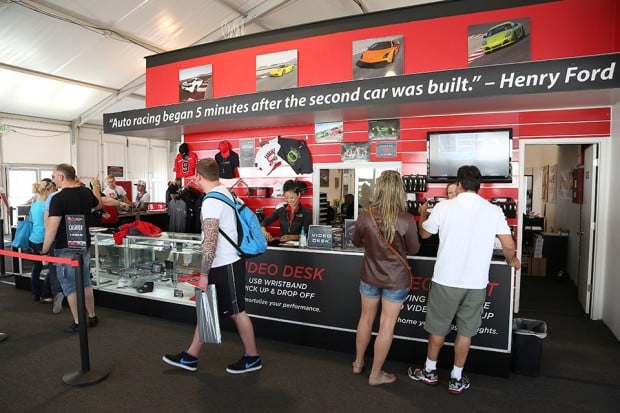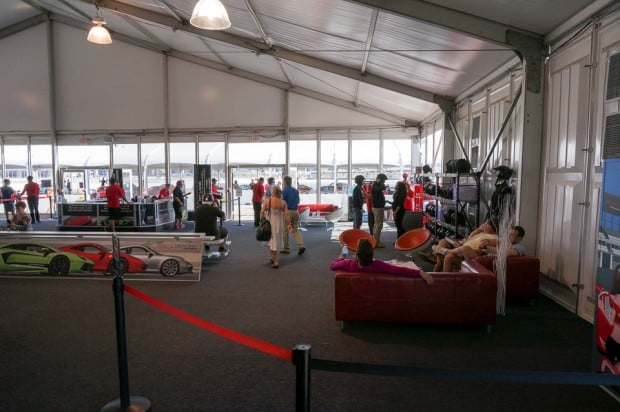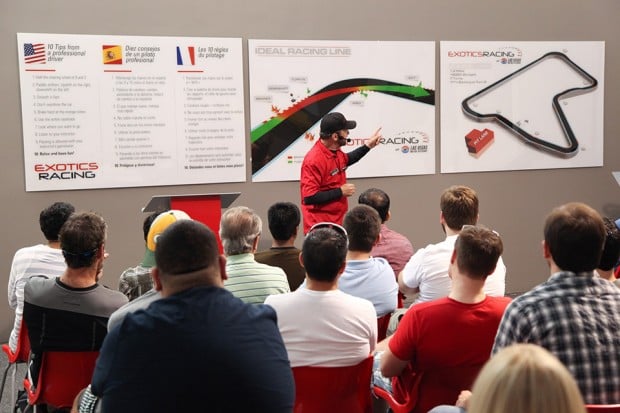 Getting on the track
It's then time to get fitted for a helmet and get on the track. As soon as your car is available, you'll be on your way. In my experience, I arrived at the track for my 3:00 appointment and was behind the wheel of the Audi R8 by about 3:45 with a co-driver by my side. No one is allowed to drive a car without an Exotics Racing co-driver in the passenger seat. The role of the co-driver seems to be three-fold: to make sure you don't get yourself in trouble, to manage traffic if you come upon other cars or cars come up behind you, and to coach you how to drive you car as fast as possible around the track. Each car's rear-view mirrors are adjusted to allow the co-driver to see cars coming up behind and the co-driver also has a brake pedal he can use if necessary (I never experienced that) and may also put his hand on the wheel to guide you to the correct side of the track when a car is coming up behind to pass.
Most important, at least to me, was that the co-driver provides a great deal of coaching as you drive the track (you'll hear my co-driver's commentary throughout the video below). The track has traffic cones along the sides to indicate the braking point, the apex, and the exit point for each corner which are also quite helpful. Each co-driver is certified by Exotics Racing for certain vehicles and understands the limits and capabilities of those vehicles. For example, the co-driver will tell you when to upshift or downshift, when to brake coming to a corner, when to ease up on the brakes, and when to begin accelerating or put the pedal to the floor. The co-driver will push you hard to go faster and to pass other cars if you're comfortable behind the wheel. The co-driver also informs you when (sadly) your chosen number of laps is done and you then pull the car off the track and park. You can then ask questions and get tips on where to improve. In my experience, the co-drivers gave real, critical feedback both during the laps and afterward. Tips are encouraged if the co-driver is exceptional.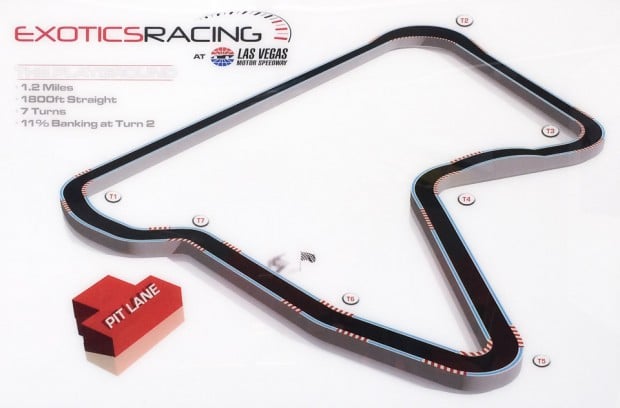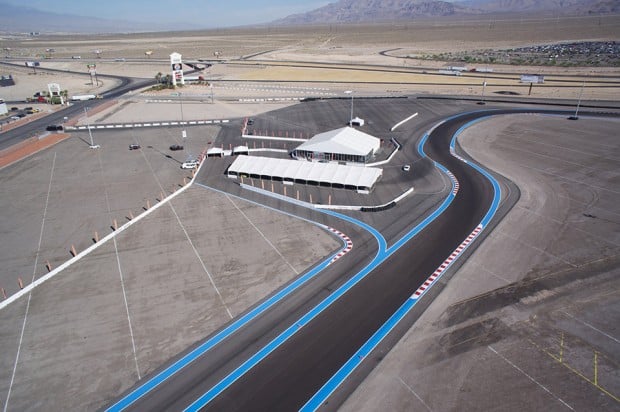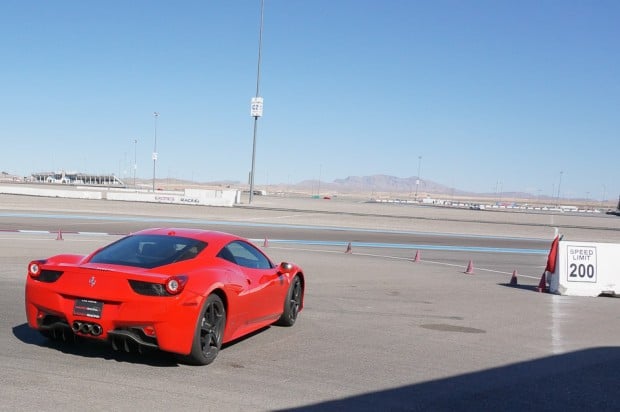 Overall Experience
My Exotics Racing experience was absolutely terrific and was far better than I expected. Before going, I imagined that there would be major limitations on how fast and hard you could drive one of their supercars. Perhaps there would a governed maximum speed, or the co-driver would encourage conservative cornering, and I didn't think I'd be allowed to pass other cars on the track. But that wasn't the case in any respect. The cars were tuned to go very fast, and the co-driver pushed me on each and every corner – often to the point where I was happily surprised at what these cars could do if I just let them run. The only true limiting factor is the size of the track since the longest straightaway is only about 1/3 of a mile. My top speed in the Ferrari was just about 120mph.
Even with that, I recommend this experience for anyone who dreams of driving a supercar at high speed under real track conditions. It costs some money to get on the track and behind the wheel of your favorite car. But if you can find the budget for it, it's a great way to have a fantastic time.