Local Motors Plans to 3D Print a Car Live in Chicago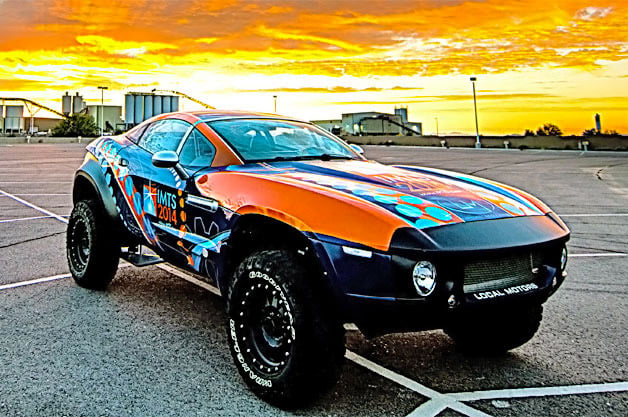 Local Motors has announced a first in the automotive world: it will build a 3D-printed production vehicle and deliver it to the first customer live at the International Manufacturing Technology Show (IMTS) 2014 in Chicago in September 2014. The company expects it will take about five days to print and assemble the vehicle, which is described as an electric vehicle purpose-built for the urban transportation needs of Chicago. The Association for Manufacturing Technology will be the first customer for the vehicle, which is partnering with Local Motors to demonstrate how sustainable green technologies, utilizing advanced manufacturing techniques that are both additive and subtractive, can deliver stronger, safer, faster, more efficient vehicles. At 2012's IMTS, Local Motors built a Rally Fighter similar to the one pictured above from the ground up in just five days. Like the Rally Fighter, the new EV vehicle's design will be crowdsourced but in this case it will also be 3D printed at the show.
The project is dubbed the DDM (Direct Digital Manufacturing) Project and Local Motors is partnering with the US Department of Energy's Oak Ridge National Laboratory to develop the technology necessary to produce the world's first 3D printed vehicle. One of Local Motors' employees walks through what is happening at ORNL in the video below looking at some of the innovative, additive manufacturing they are doing there. We're anxious to see this come to fruition. Both the new crowd-sourced design and the innovative manufacturing approach look very promising.