The World's Most Expensive Tesla Model S
What you're looking at here is what is currently claimed to be the "world's most expensive Tesla Model S." While the $123,770 price tag on a fully-tricked out Model S from the factory is nothing to sneeze at, the modders at T Sportline managed to add over $82,000 to that price.
They started out with a top-of-the-line Model S with the 85kWH battery, "performance plus" brake and carbon fiber spoiler package, air suspension, tech package, high-fidelity sound system, panoramic sunroof and 21-inch grey turbine wheels. We're actually just fine with the way the Model S looks straight from the factory, but some can't leave well enough alone.
T Sportsline's aftermarket add-ons include gold forged wheels for $7,500, a $5,250 carbon fiber body kit, $6,000 3M wrap, a $1,500 window tint, an upgraded sound system for $9,500, a $2,200 rear seat iPad entertainment system, and a $25,000 custom upholstery job, among other things. You can check out the original sticker prices and add-ons below: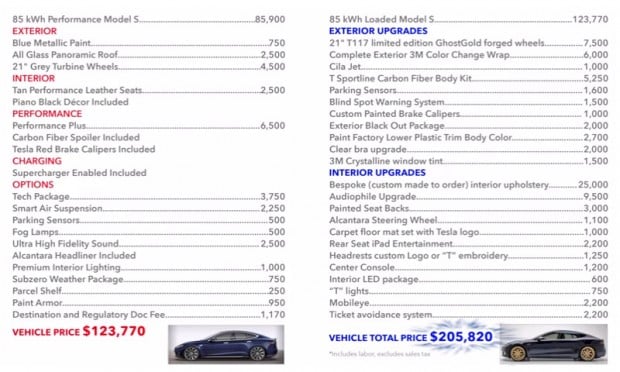 Even if we liked gold wheels, the whole thing still seems excessive to us. Why bother paying for the upgraded wheels, paint leather from the factory if only to replace them? And why on Earth would you spend $2,200 on a pair of iPads? Even the most expensive iPads on the market are $849 each, and we're doubting that's what they installed in the rear seat.
And what exactly is a "ticket avoidance system?" Last time we checked, the best rated radar and laser detector on the market goes for under $400.