Vintage 1932 Auburn Speedster Racer for Auction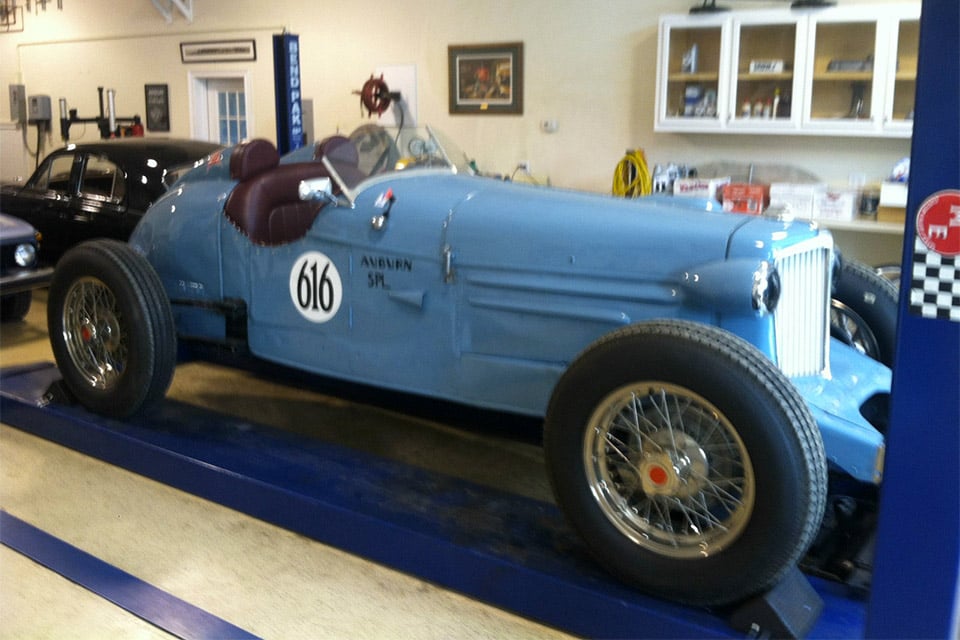 This history of this 1932 Auburn Speedster is incomplete, but it seems the vintage "American Special" racer was built out of a wrecked 1932 found in upstate New York in the 1940s. The car retains its original frame and suspension front and rear and its original (working) two-speed rear end. Under the hood is a Straight Eight Buick engine with 4 Rochester 2 barrel carbs and a custom 8-into-1 exhaust. The engine is fitted with an electric fuel pump, electric fan and electric water pump. According to the description, the engine was rebuilt in the last few years and starts and runs well and the original brakes are mechanical and are in good working condition.

The car has original Auburn hubs that have been laced to 21-inch nickel-plated Dayton wire wheels. As far as the car's body, it's been pieced together but we think the final result still looks great. The front grill is from a Cord and the engine side panels are from a 1930s pickup truck. The main body of the car from the firewall back is Auburn, with the original dash, the red leather bench seat is in good condition, as are the door and kick panels. The bench seat is fitted with Crow lap belts and seating suits a 5'10" driver just fine.
This car has been driven as a vintage racer since the early 1990s. Logbooks come with the car (VSCCA) that show it has raced at Watkins Glen, Limerock Race track and The Pittsburgh Vintage Grand Prix.
Find it here on eBay with the auction ending on April 6, 2014.