2015 Mercedes-Benz SL 400 Sport & AMG SL 63
mercedes-benz | April 14, 2014
---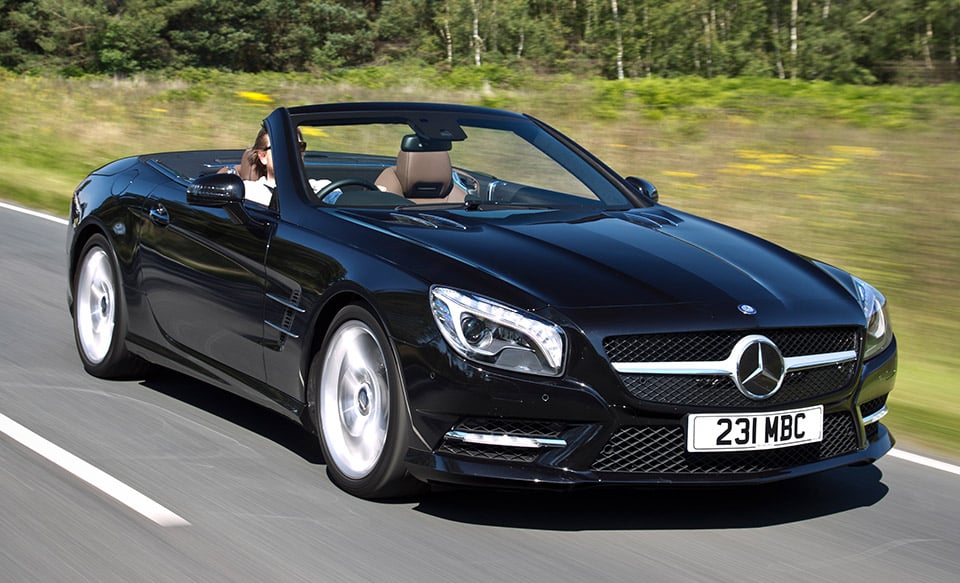 Mercedez-Benz's SL series roadster gets an update, with the SL 350 going the way of the dodo and a new model called the SL 400 Sport coming in as the entry level model of the line.
The new model pumps out 328 horsepower – a boost of 27 horsepower and 74 lb-ft. of torque over the outgoing model, despite being 0.5-liters smaller than the previous engine. The new 3.0-liter six-cylinder engine features twin turbochargers, and can now do 0 to 62MPH in just 5.2 seconds, compared to 5.9 for the prior generation. Top speed is rated at 155mph.
Outside, the SL 400 Sport gets 19″ AMG 5-spoke alloys, along with AMG front and rear aprons, side skirts and matching spoiler. Naturally, it will get a sport suspension and paddle shifters too. Inside, the car gets racing details like a sport steering wheel, perforated leather grips, and aluminum trim.
The more aggressive SL 63 AMG variant will get a big boost to its powertrain as well, with its 5.5 liter V8 jumping to a hair-raising 585 horsepower, and gaining 74 lb-ft. of torque over its predecessor. The car also gets an AMG limited-slip differential as standard.
Benz expects to start shipping the vehicles this Summer in Europe, but hasn't revealed a release date for the U.S. as of yet. Pricing is expected to start at £72,500 (~$121,400 USD) for the SL 400 Sport, and at £112,510 (~$188,400 USD) for the AMG SL 63.