10 Funny Old Car Ads
---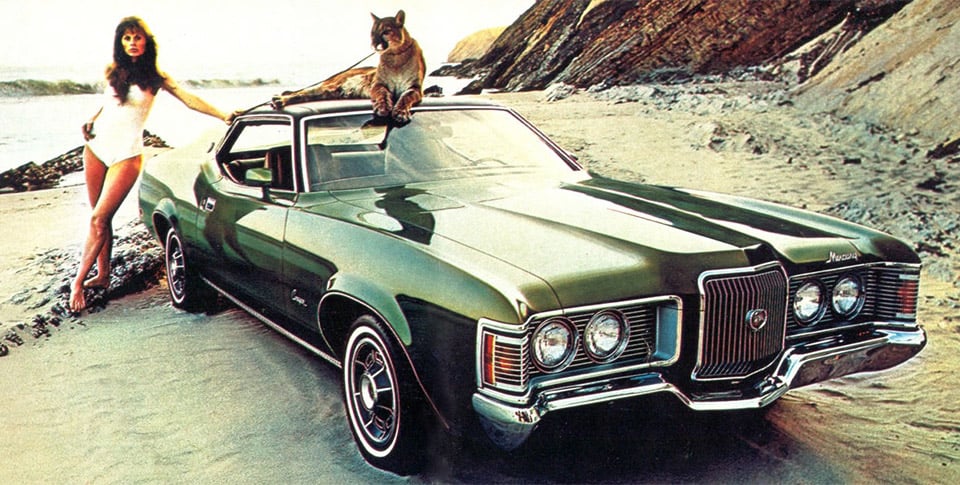 The promotional image for the Mercury Cougar above pretty much sums up the old "a picture is worth a thousand words" saying. A sexy swimsuit model, a deadly animal, and a hot new coupe to pick them up in. What's not to like?
Print magazines are a dying breed these days, but it's still fun to look back at the way that car manufacturers used to rely on these publications as a means of marketing their vehicles. In this post, we've assembled a gallery of some classic old car ads which intentionally used humor at the time they were written, or just come across as funny thanks to the passage of time.
In this amusing ad for the 1979 Volkswagen Rabbit, they tried to prove that even someone as tall as 7'2″-tall basketball great Wilt Chamberlain could fit inside. We're doubting the veracity of their claim, unless of course they offered a sunroof on the '79 Rabbit. We also wonder how many of his girlfriends could fit in there: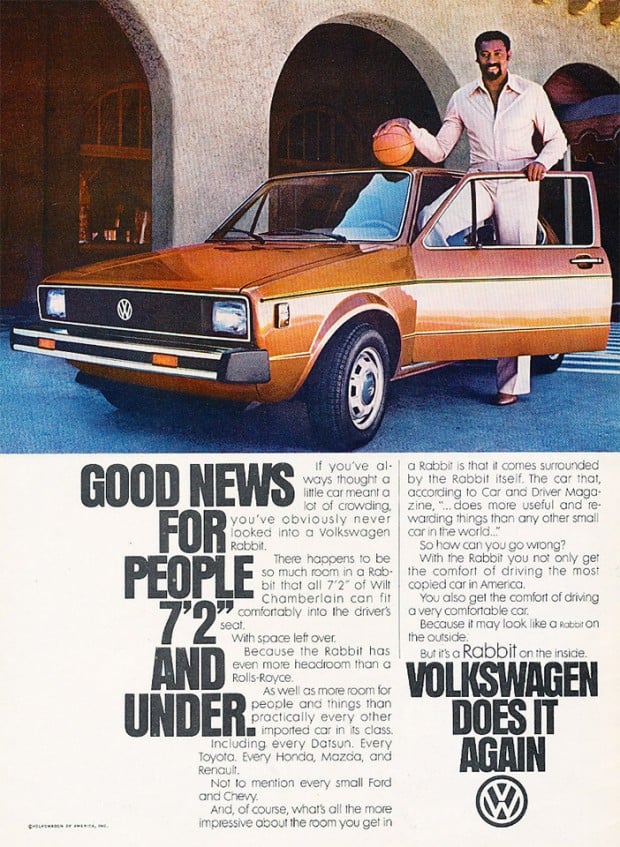 In this Plymouth ad from 1957, they drove home the idea that their cars were a full three years ahead of the competition, with "the only car that breaks the time barrier." Apparently, Plymouth invented the time-traveling car long before Doc Brown's DeLorean: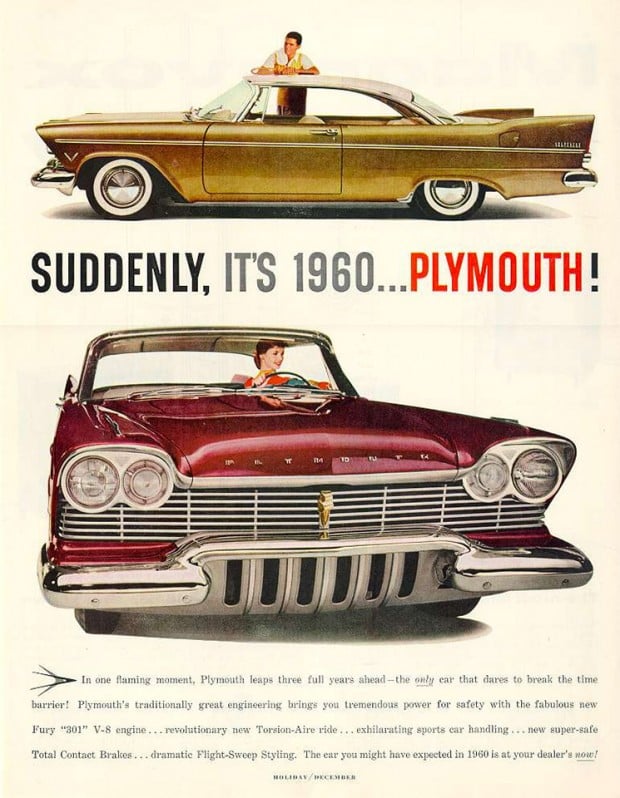 If there's one thing that all car companies seem to struggle with, it's the fact that their buyers keep getting older and they want to reach younger markets. While we had assumed this was largely a 21st century phenomenon, Buick was already trying to change its "we make cars your dad drives" image all the way back in 1967: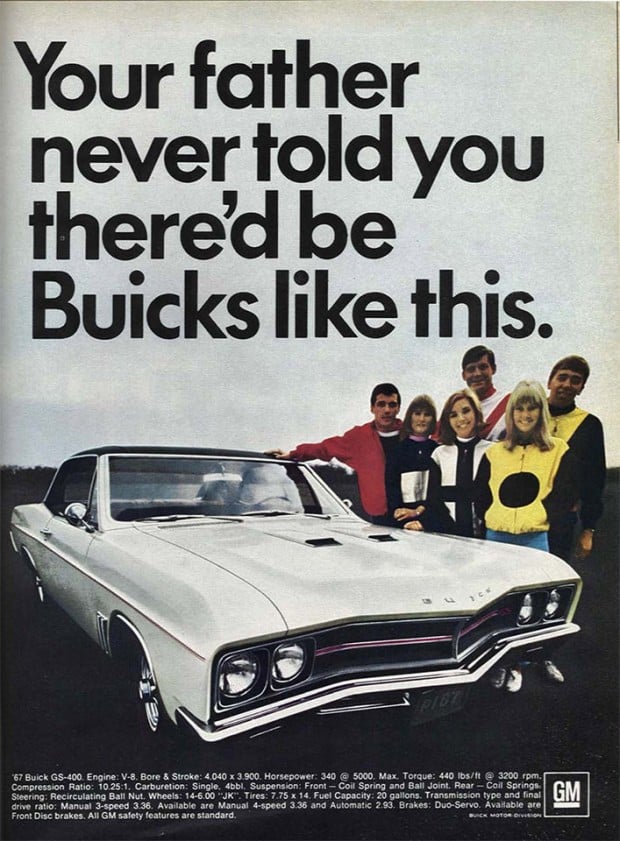 There's no question that the AMC Pacer is a car that people loves to hate, but it did have a selling point: it was wide, providing added roominess on the inside. In fact, at 77.3 inches-wide, the compact Pacer just a fraction of an inch narrower than a Lincoln Town Car. AMC drove home the feature in this ad, which we thought was making fun of our waistline the first time we read it: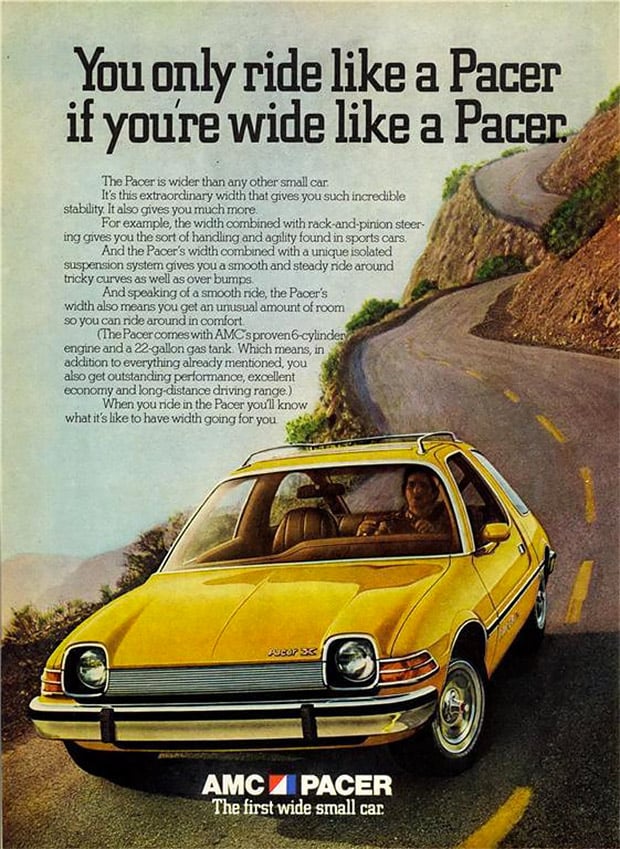 The original Toyota Land Cruiser is still a classic, and in this silly ad from 1969, they took the opportunity to sell us on the many useful ways the sturdy truck could work into all manner of lives. Perhaps the funniest thing about the ad is that they completely neglected to include a photo of the vehicle, opting instead for a sketch that a 6-year-old could have drawn. And can you imagine cramming 10 kids in a Land Cruiser?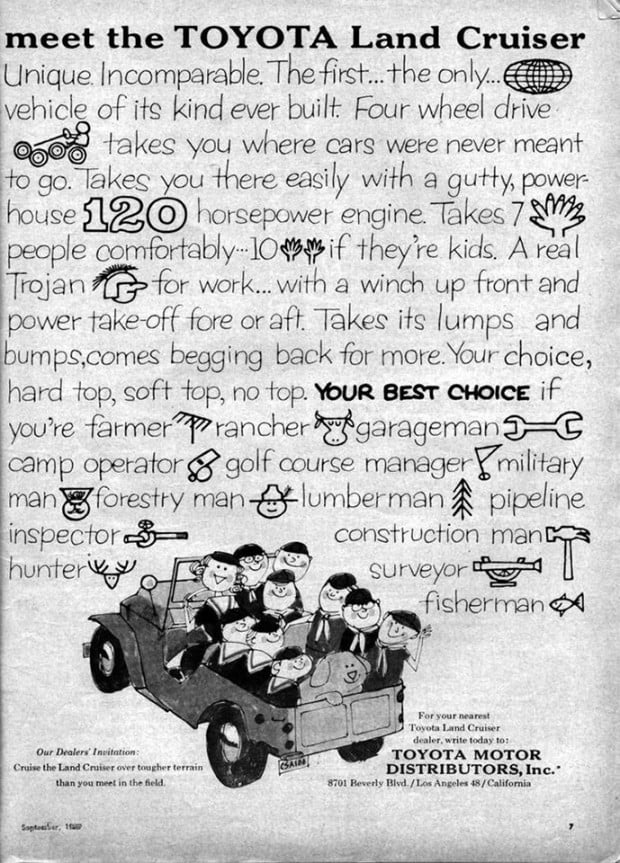 Today, a car that burns any significant amount of oil is considered defective. But back in the day, neither engines nor motor oil were quite as efficient, and burning oil was typical – especially in high-performance vehicles. In this ad for the Lotus Elite, they wore the car's ability to burn a quart of oil every 300 miles as a badge of honor. Yes, that's about as often as most of us fill up our gas tanks today: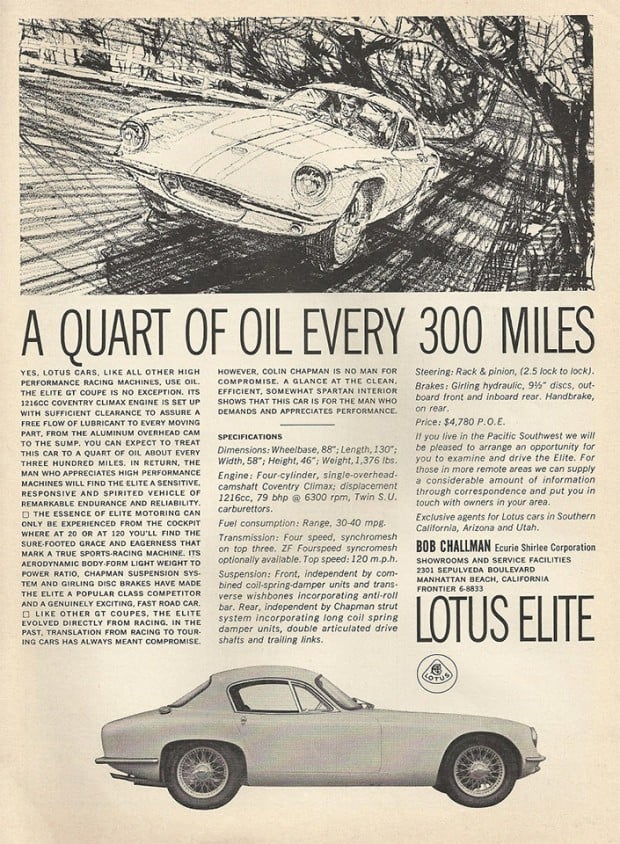 You won't see us writing about Daihatsu very often here on 95Octane, but this U.K. ad for their tiny Hijet MPV was too amusing for us to ignore. We're not sure if the tagline or the fact that they say that it has "six comfortable seats" is the funnier part: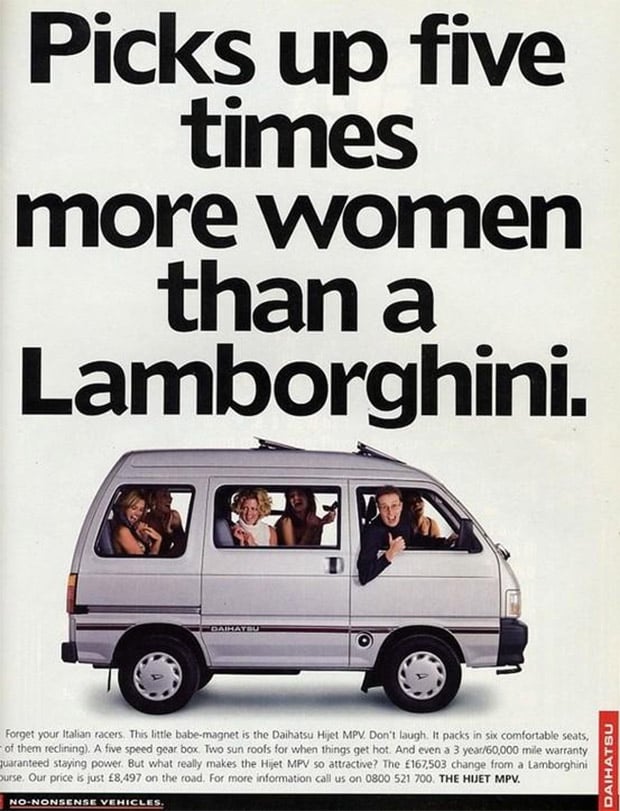 Back in the late 1980s, Isuzu tried to capitalize on their relationship with Lotus by incorporating bits of Lotus tech into their cars. The 1988 Isuzu Impulse was not only designed by Italian sportscar legend Giorgetto Giugiaro, but it packed a Lotus-tuned suspension package. Here's Joe Isuzu (yeah, that guy) pimping this feature with his typical flair for truth in advertising: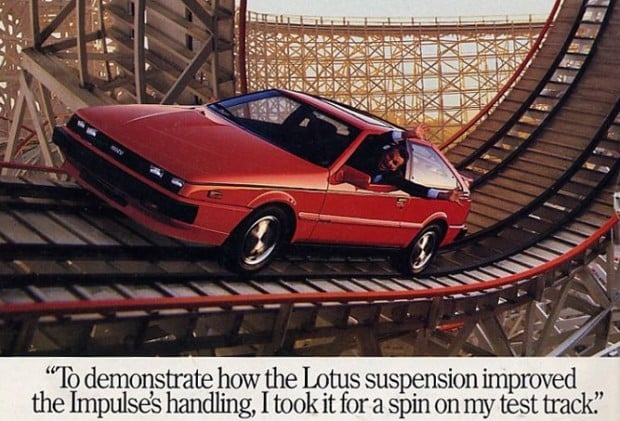 Marketers have a long history of reinforcing female stereotypes, and this ad for Buick certainly is no exception to that rule. While the ad attempted to convey how their car helped give women freedom, it also stated in no uncertain terms that they were the ones responsible for grocery shopping, were incapable of operating complex machinery, and that they're bossy. Good job, guys.