Would You Believe a Nissan Altima is a Race Car?
Nissan put together a very clever marketing campaign for a car often viewed as a boring four-door everyday driver: the Nissan Altima. Beginning with the the top-of-the-line Altima 3.5 SL (with a base price of $30,820), Nissan went to work to make the car look like a race car. The team added racing decals, a giant rear spoiler, and wheel covers, covered the back seats with aluminum panels, inserted a big aluminum console over the dashboard, safety harnesses, a fake aluminum dashboard, and more. The only change Nissan made to the car that was not cosmetic was to modify the exhaust to increase the sound output.
Then Nissan invited regular people to go for a drive around the track in Nissan's ultimate "Altima Race Car" with a professional driver behind the wheel. The guests were in for "the ride of their lives." After screaming around the track, the cars pull off the track and the Nissan folks strip the cars back to be production Altimas.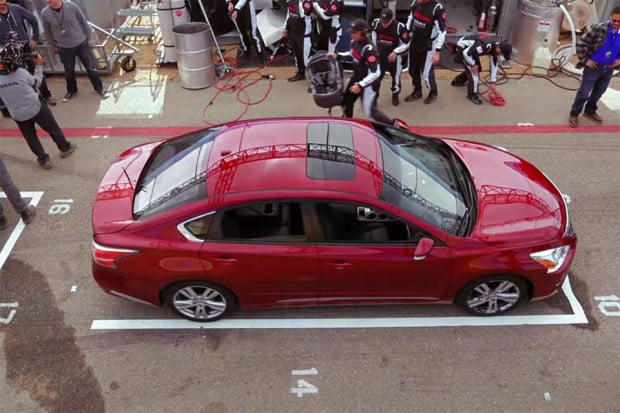 We're wondering if a real car nut would be fooled by this sort of setup. The Altima 3.5 SL has a 270 horsepower engine with paddle shifters. Edmunds tested the 2013 version of the car and found a 0-to-60 mph time of 6.2 seconds and they did their slalom course at 66.6 mph, each is a pretty good performance number and quicker than the 2013 Juke NISMO. And, of course, a professional driver can push any car to its limit which is often much further than a layman would expect. All in all, it looks like great fun and we're not sure we would've known what was happening if we had never heard of an Altima before.