2015/2016 MX-5 Miata Concept Rendered by Fan
mazda | May 11, 2014
---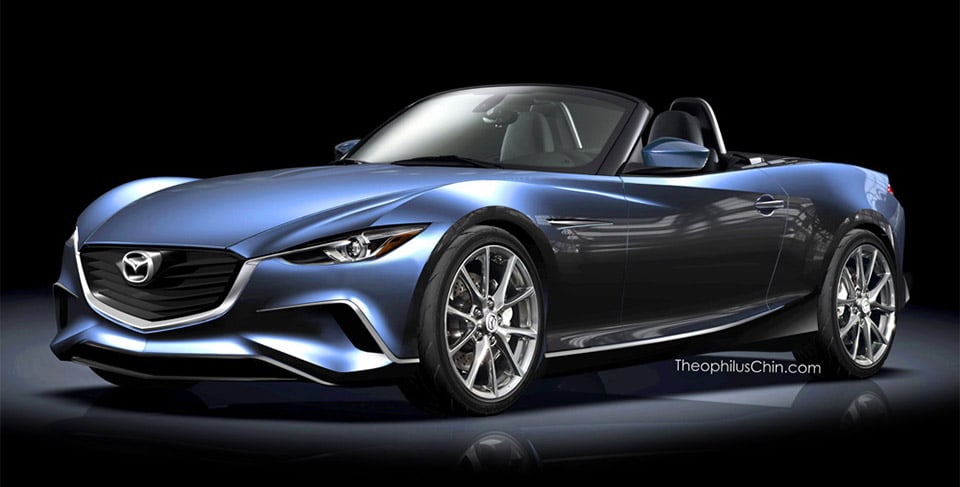 It's common knowledge that Mazda is planning to release a redesigned version of its classic MX-5 Miata roadster by the 2016 model year. While we wait patiently for Mazda to release images and details on the new design, we just have to use our imagination. But thanks to automotive illustrator Theophilus Chin, we have one possible design that we can look at today.
As is the current trend with many automakers, Chin's MX-5 redesign represents a move away from retro inspired styling, and more uniformity with the rest of Mazda's product line. We really like where he's taken the little Miata, making it much more aggressive than any of its past incarnations, which have ranged from "cute" to "adorable." Gone are the bubbly bits and smiley face front end, replaced with a bold geometric shapes on the grille, air intakes, and sculpted modern headlights, with design cues lifted straight from the latest Mazda3, Mazda6, CX-5 and CX-9. Subtle tweaks to the body sculpting, and a lower windshield profile provide a more dynamic look as well. Our little MX-5 is all grown up.
While this is clearly just a fan concept, we really like where Theo has taken the Miata, and we sure hope that Mazda's design looks this awesome.