Review: 2014 Chevy Camaro 2SS Convertible
camaro | chevrolet | convertibles | May 13, 2014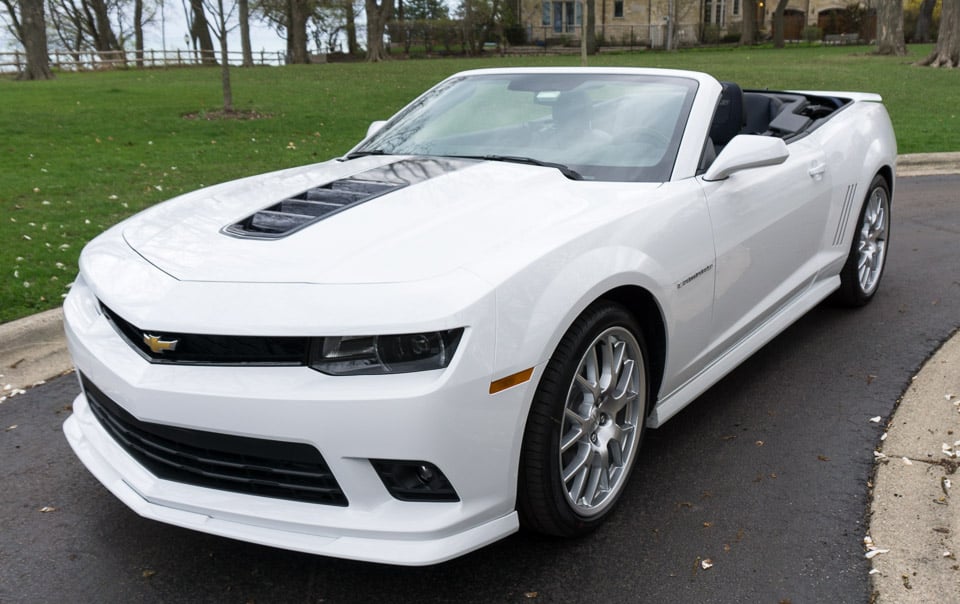 2014 Chevy Camaro 2SS Convertible

Powertrain: 400hp/426hp (manual), 6.2L V8, 6-speed automatic transmission
0-to-60 Time (secs): ~5.4 seconds
Top Speed (mph): ~155mph
City/Hwy/Combined MPG: 15 city/24 hwy
Curb Weight (lb): 4197 lbs.
Wheelbase (in): 112.30 in.
Total Length (in): 190.6 in.
Width (in): 75.5 in. (w/o mirrors)
Base Price (USD): $42,255
Price as Tested (USD): $51,225
I drove this awesome looking 2014 Camaro 2SS convertible for about a week, and I have to say this is one of those rare times where a vehicle truly challenged my expectations. I had in my mind that a V8 Camaro would be a brutish, loud muscle car, best suited to the track. But what I found was a powerful, but surprisingly well-behaved touring car that would be ideal for cruising down a coastal highway with the top down.
Exterior
The Camaro takes on many different looks, depending on the configuration you go with, but I have to say the 2014 Spring Special Edition that I drove is my new favorite. This car does NOT look like Bumblebee.
As outfitted, the 2SS is painted in bright Summit White with a dark blue hood and trunk stripe, with a matching dark blue cloth convertible top. Performance body components include ground effects, a vented hood insert, and a ZL1 rear spoiler to increase downforce. Accented by some massive 21″ bright silver painted wheels, wrapped in Pirelli PZeros, the car is a real head-turner. And with the top down, forget about it. In fact, I got stopped numerous times by passersby to compliment me on the car. Little did they know it wasn't actually mine.
Interior
Inside, the Camaro 2SS offers plenty of space and comfort for its two front seat occupants, though being a true 2+2, its rear seat is best left for kids, or carrying golf clubs. Finishes inside include a dark blue leather interior with SS branded headrests and a shiny translucent white plastic surface that brings the blue and white theme inside the cabin. Personally, I'd rather have some soft-touch surfaces instead of plastic, but they still look cool. Stitched leather surrounds the steering wheel and shift-lever's baseball-style grip. Pewter colored accents can be found around the center console, vents, steering wheel and gauges.
Speaking of gauges, in addition to the main speedometer and tachometer dash cluster, there's a set of four additional gauges down by the shift lever. These provide oil pressure, battery voltage, oil temperature and transmission temperature. While these definitely look sporty, they're unlikely to serve much purpose in daily driving with a modern car.
Both driver's and passenger's Recaro performance seats include 6-way power adjustments, and are heated for those chilly Spring and Fall days when you still want to drive around with the top down. In fact, at its higher setting, the heat is quite robust – as in you'll probably never need to use that setting – but it's good to know it's there for really cold days.
Trunk space is limited to just 10.2 cu. ft., and you'd be hard-pressed to fit more than a couple of small suitcases in there. And that's with the top up. If you want to put the top down, you need to pull a small retractable shade in the trunk which reduces storage space by roughly 1/3rd. If there's any design flaw in the convertible Camaro, it's this. Still, once you pull the shade, it's pretty much set it and forget it. Raising and lowering the convertible top is a combination of pulling down and turning a latch, and then pressing a button. The whole operation takes about 20 seconds.
Drivetrain/Performance
If you've made it to this point in the review, clearly you want to know about the Camaro's power and performance. Under the hood of this bad boy is a naturally-aspirated 6.2-liter V8 engine, which can push out 400 horsepower and 410 lb-ft. of torque at 4,600 RPM to its rear wheels. My car was equipped with a 6-speed automatic with paddle shifters, but the car is also available with a 6-speed manual. If you go with the manual, you get another 26 horsepower and 10 more lb-ft. of torque, as well as launch control. A limited-slip differential helps balance traction to the rear wheels. Redline is roughly about 6,250 RPM, though I never had cause to push it anywhere near that point driving on public roads.
So this is where the unexpected part begins. Despite having a tremendous amount of power, this car is incredibly quiet. That's not to say it's a bad thing. It's just that its lack of a big exhaust note belies its impressive acceleration and passing power. I'm not going to say that it's as silent as a Tesla Model S, but if there were an award for quiet intensity, this Camaro would win first prize. Even with the top down, the car emits a subtle "vroom" when gunning it. I suppose that if you want more volume, you could always go with the optional dual-mode sport exhaust. But if it's power that counts, the Camaro's V8 has plenty. 0-to-60 time for the V8 is just about 5.4 seconds – not bad for a 4,100+ pound car. Chevy also makes the supercharged 580hp Zl1 and LS7-powered Z/28 for pure track-day enthusiasts.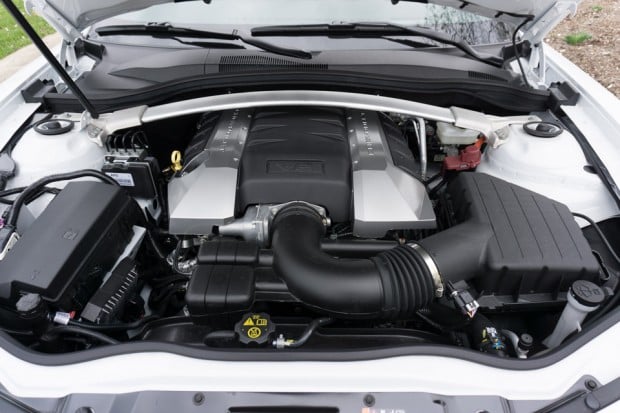 Ride/Handling
The smoothness of the Camaro's ride was also a pleasant surprise for open road cruising, as well as on the potholed roads left behind from Chicago's rough winter. While the suspension is listed as "performance tuned," I'd say Chevy erred more on the side of comfort than firmness. I found the steering to be responsive, and it provides good driver-road connection, though I still prefer hydraulic steering to electrically-assisted steering setups. That said, it does corner quite well for its size. One thing I did notice is that the convertible exhibits quite a bit of body roll compared to its coupe brethren, which is especially noticeable in aggressive cornering. This is typical of heavy convertibles, so I'm not surprised by this. Stopping power is excellent, thanks to Brembo performance disc brakes.
An independent rear suspension and GM's Stabilitrak stability control system helps keep the car's rear end in check around tight turns, and there's the ability to disable traction control if you're taking the Camaro on a track.
Technology
With the Camaro, you'll get Chevy's popular MyLink infotainment system, which offers a 7-inch touchscreen, driver information display, and voice command. The system includes AM/FM/SiriusXM tuners, as well as app support for Pandora and Stitcher for iPhones and Android mobile devices. Audio is provided courtesy of an 8-speaker Boston Acoustics premium sound system. The Bluetooth hands-free connectivity includes hands-free calling and music streaming, and even supports Siri Eyes Free on iPhones, though I didn't get a chance to test that feature. You also get OnStar technology for emergency response, and vehicle security.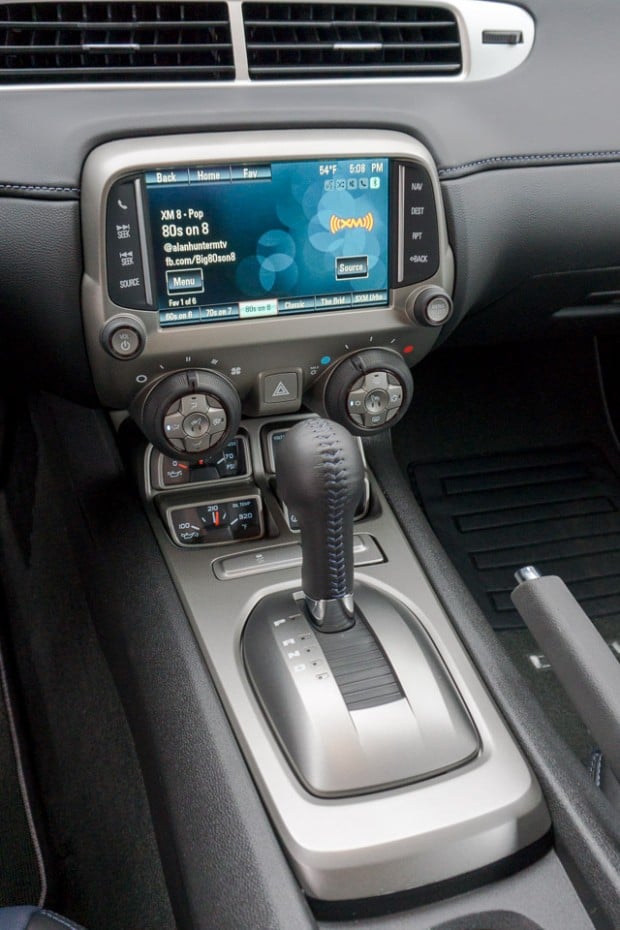 Perhaps my favorite tech in the Camaro 2SS is its heads-up display, which provides modes for speedometer, speedometer and tachometer, and lateral G-force measurement. This at-a-glance information lets you keep your eyes focused on the road, and offers both height and brightness adjustments as well.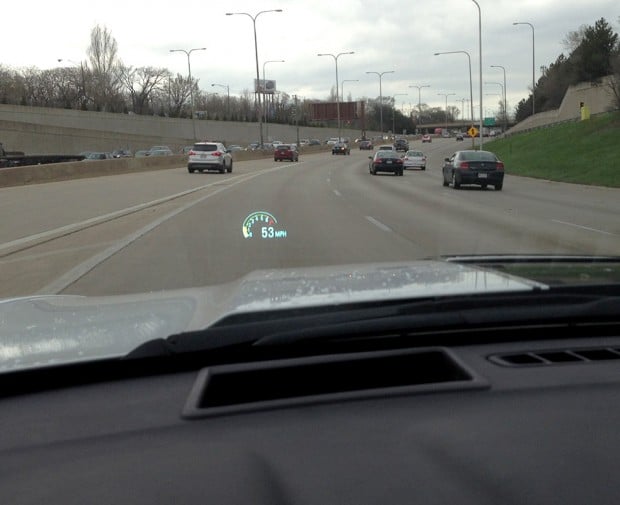 The car also includes a backup camera with sensors that beep when you get too close to objects, though I found it frustrating that it doesn't display supplemental information like steering lines or even where the edge of the car is. For a car that costs over $50,000 you certainly don't want to be bumping into things. Other tech features include dual auxiliary power outlets, and a universal home remote for opening garage doors.
Pricing and Options
Base price for the V8 Camaro 2SS convertible is $42,255. As tested, the car included the following upgrades: 2014 Spring Silver Edition ($5,995), comprised of 21″ wheels, Performance tires, blue leather accents, blue stripes, black grille, blue hood insert, RS appearance package, ground effects, ZL1 rear spoiler, premium mats, and white interior accents; 6-speed automatic transmission ($1,185), navigation ($795). Add on $995 destination charge, to bring the total price to $51,225.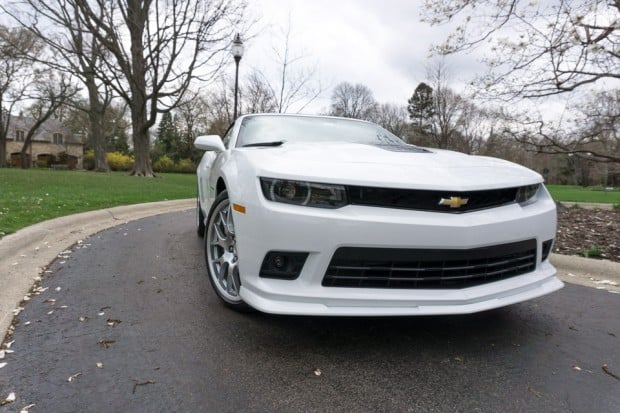 Summary
I really enjoyed my time with the Chevy Camaro 2SS Convertible. As outfitted, the car is ideally suited to long open-road cruises, offering eye-catching style, comfort, power – all with the wind in your hair. I'm particularly enamored of the Spring Special appearance package, and highly recommend it to anyone considering a Camaro. It's a pleasant change from some of the bright colors out there. If anything, its lack of an aggressive exhaust note was a little perplexing for a V8, rear-wheel drive muscle car. If I were to buy one, I'd go with the dual-mode exhaust upgrade – which is only available with the manual transmission. And if you're comfortable with a manual transmission, you'll get more power for about $1100 less – more than enough to cover the $895 exhaust upgrade.