DIY Solar and Wind-Powered Electric VW Beetle
electric | solar | volkswagen | May 20, 2014
---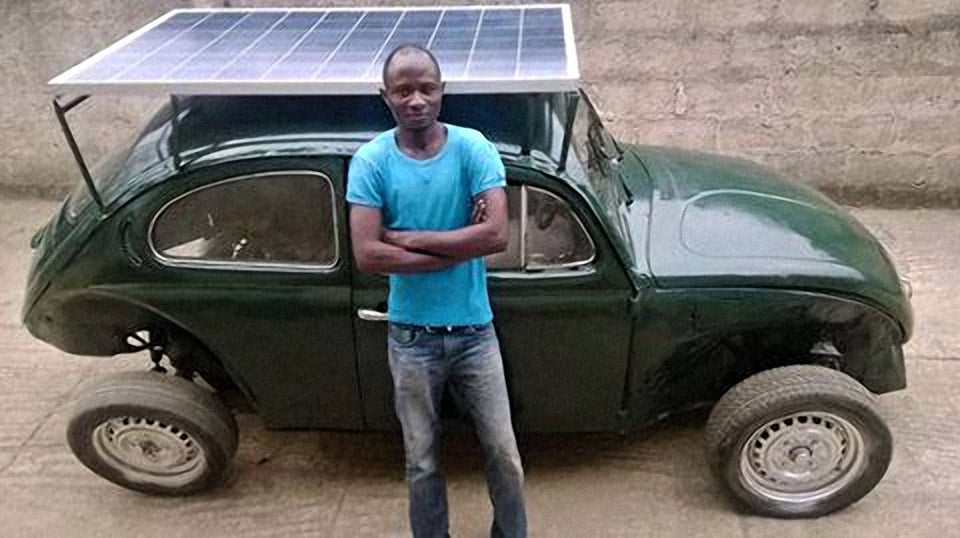 Electric vehicles are clearly here to stay, but even today's cheapest all-electrics cost nearly $30,000, and most of them cost significantly more. With that in mind, one enterprising student in Nigeria decided to build his own electric car – and this one can run on solar or wind power.
With nothing more than an old Volkswagen Beetle (donated), various scrap parts, and about $6,000 in components, Obafemi Awolowo University engineering student Segun Oyeyiola set to work over the last year to build his own electric bug. His goal was to create a car which could help reduce CO2 emissions.
By installing a large solar panel on its roof, and a wind turbine under the hood that captures energy as the vehicle moves forward, the car is able to charge up in about four to five hours. A battery pack at the rear of the car stores power, though it's not clear if the car can be charged by plugging it in or if it only works with the wind and sun. It's also not mentioned how far the car can travel on a charge, but we'd venture to guess it's pretty limited.
The car also has modern touches like a GPS based system which can provide feedback on weather conditions and other environmental information around the car.