Concepts from Future Past: 1970 Ferrari Modulo 512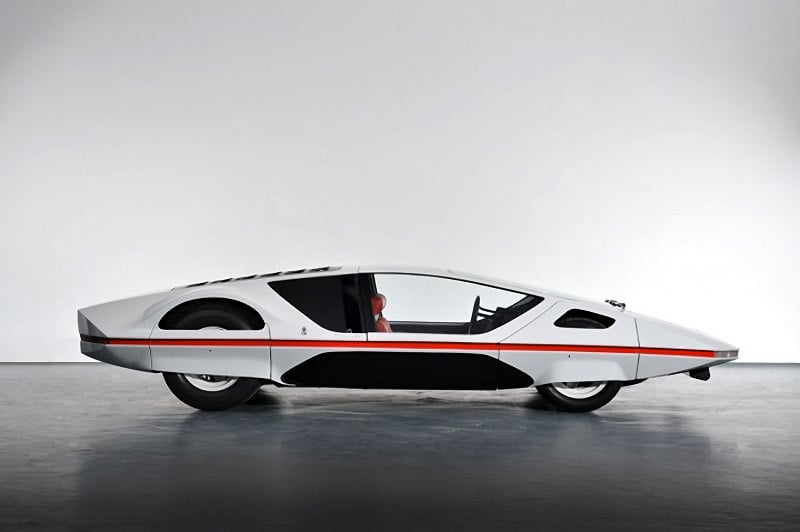 The Ferrari Modulo 512 was first seen at the Geneva Motor Show in 1970 but was designed a couple years earlier by Paolo Martin. Built on top of a chassis from a Ferrari 512 racer and with a design coming out of Pinanfarina, the Modulo certainly has an impressive pedigree and left its mark on the automotive world. The mid-engine, two-seat concept car shows off sleek, aerodynamic lines with a bold wedge shape, wheel covers front and back, and a large, nearly horizontal windshield. But when it was first conceived, Martin's design was controversial.
Martin's goal with the car was to create the craziest dream car in the world, something that began with a quick sketch in the corner of his draftpaper. Sergio Pinanfarina was skeptical of the design, thinking it was far too futuristic and would be received poorly. Martin created a model of the car out of polystyrene in 1968 and eventually pushed it forward to become a full-scale concept car. Even Pinanfarina was finally convinced; congratulating Martin and apologizing for his prior comments.
(Read more of Paolo Martin's story on how the Modulo 512 concept came to be at Car Body Design.)
You can see the Modulo Concept in person at the Dream Cars exhibit in Atlanta, running now through September 7, 2014.