VW Unveils Apprentice-Built GTI Wolfsburg Edition
volkswagen | June 3, 2014
Volkswagen gave 12 of its apprentices a chance to flex their design muscles and work together to create a special edition vehicle to present at Wörthersee 2014. The team revealed their creation: the Golf GTI Wolfsburg Edition. The team of four women and eight men spent a total of nine months to create the one-off 380 horsepower Golf GTI.
The bright red-and-black Golf has a 380 horsepower powerplant is built with a modified 2.0-liter TFSI engine from the Golf R2 and it's paired with a hand-welded stainless steel exhaust system with a vacuum valve control that allows the driver to control the engine sound. The Wolfsburg Edition pays tribute to VW's headquarters in Wolfsburg, Germany with a skyline silhouette of the city showing VW's headquarters building along with the VW power plant, Autostadt Customer Center, Autostadt Car Towers, Volkswagen Arena and more. The wheels are also finished with the Wolfsburg Crest.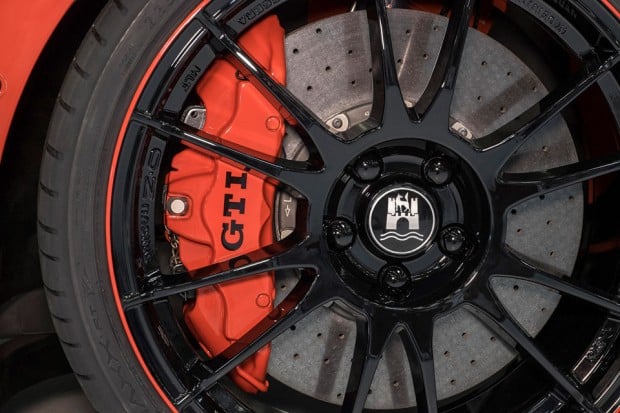 Inside, the skyline is present in the door liner and the color scheme is carried through to a bold red-and-black tartan. The red and black is also present in the flat-bottom steering wheel, gear shift lever, dashboard trim, and the contrast stitching in the seats.