Review: 2014 Land Rover Range Rover Evoque
land rover | range rover | June 5, 2014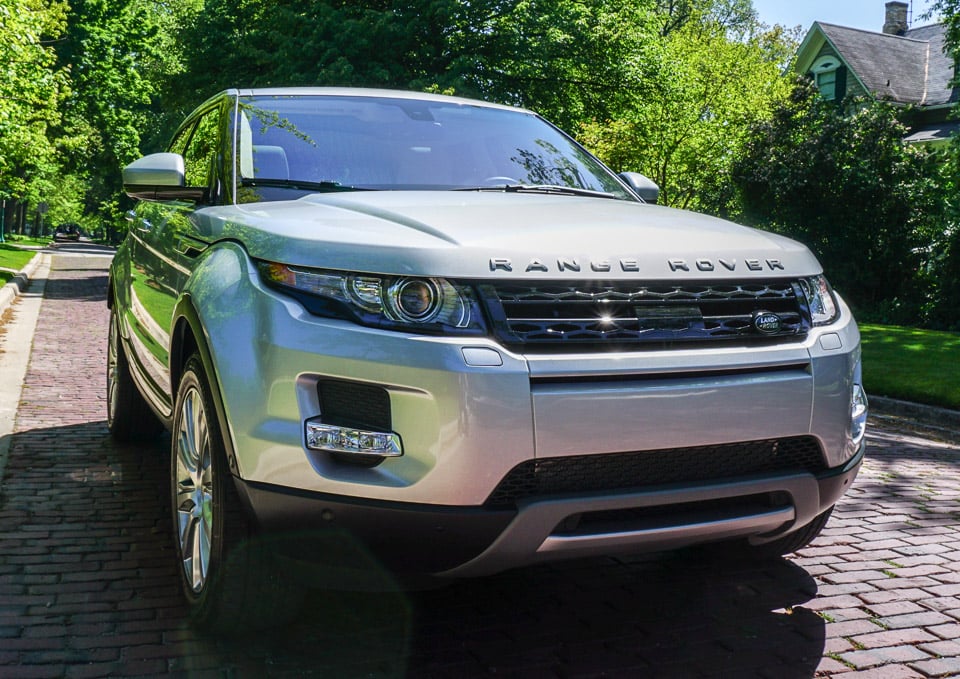 2014 Land Rover Range Rover Evoque

Powertrain: 2.0L Turbo 4-Cyl. 240hp engine, 9-speed ZF automatic transmission
0-to-60 Time (secs): 7.1 seconds
Top Speed (mph): 135 mph
City/Hwy/Combined MPG: 21/30 (24 combined)
Curb Weight (lb): 3,680 lbs.
Wheelbase (in): 104.8 in.
Total Length (in): 171.5 in.
Width (in): 78.1/82.3 in. (w/mirrors)
Base Price (USD): $41,100
Price as Tested (USD): $57,590
The Land Rover Range Rover Evoque is one of the most distinctive crossover SUVs on the road, and it's marketed as the ideal blend of luxury and utility. The vehicle comes in two primary body styles, a 5-door, and a 3-door coupe. The vehicle I had my hands on was the 5-door Evoque with the elegant Prestige package.
Exterior
Outside, the Evoque takes classic Range Rover elements, but stylizes them dramatically, with a narrow double-bar front grille, sculpted headlamps, and an aggressive roofline that gives the vehicle a tremendously dynamic look from the side. By taking the beltline and angling it from front to rear, the sense of movement is even more dramatic. Bold wheel wells and 19″ aluminum alloy wheels do a good job connecting the Evoque to the road. Its muscular looks continue when viewed from the rear. I'm especially taken with the use of contrasting trim, which ties together nicely with the nearly black appearance of the large panoramic moonroof. And despite all of these bold, modern design choices, the Evoque is still unmistakeably a Range Rover.
Interior
One thing that's very clear when you sit in a Land Rover (or a Jaguar) these days is the impressive level of luxury in the interior. In the case of the Prestige-level interior reviewed here, almost every major surface is covered in fine Oxford leather, wood or metal. Use of plastic is limited to things like buttons and knobs. Even the dashboard and armrests are covered with stitched leather, and it looks and feels great.
Both driver and front passenger seats both offer a wide array of adjustments, including lumbar support, as well as heating and ventilation – which is awesome on a warm summer day. Leg room is plentiful for front seat passengers, and sufficient for up to three passengers in the rear, assuming you don't like to ride with your seat all the way back. I'm six feet tall, and with the driver's seat set to provide a couple of inches of breathing room for my knees, I was also able to sit in the back seat with the front seat in that position. Speaking of the rear seats, heating is an available option, which is a rarity. There are also rear seat vents, and a fold-down center armrest with dual cupholders.
The center front console doesn't overwhelm with complexity, and provides a good blend of physical knobs, buttons and touchscreen controls. Shifting the automatic transmission is achieved with a large knob which retracts back into the console when the engine is off, and traction settings are easily accessed using the buttons below it.
Perhaps the best thing about the interior is the Evoque's massive panoramic glass roof. When you first sit in the car with it closed, the interior is inviting, but as soon as you open its sliding electric shade, it's like you're sitting in a climate controlled convertible. . There's also a tremendous amount of headroom, whether the shade is open or closed. I can't imagine ordering an Evoque without this option – it's that great. Keep in mind that the glass roof is part of the vehicle's structure so it doesn't open for ventilation.
Rear space in the Evoque is typical of crossover SUVs. There's enough room for several suitcases, or a couple of sets of golf clubs, and the rear seats offer 60/40 split-folding, though they don't fold all the way flat. The rear storage area also has adjustable tie-downs, and conceals a temporary spare tire. With the seats up, you'll get 20.3 cubic feet of storage area, and while down, that space increases to 51 cubic feet. A removable cover provides shade and hides items stored in back. The rear liftgate offers power assist, and can be opened and closed from the remote key fob as well.
Drivetrain/Engine
The Evoque comes in several diesel engine variants in Europe, but here in the States, the only one is a 2.0-liter turbocharged 4-cylinder gas engine, which pushes out 240 horsepower and 250 lb-ft. of torque. While this doesn't sound like a ton of power on paper, I found it to be plenty for everyday driving in city, country and highway driving conditions. If there's any complaint, it's the slight bit of turbo lag at the beginning of hard acceleration. It's a fraction of a second, but if you're used to a naturally-aspirated engine, it takes a little getting used to.
The engine is connected to a newly-introduced ZF 9-speed automatic transmission, which offers sport and manual shifting modes via paddle shifters. In all honesty, the paddle shifters are superfluous, as the ZF is just that good all on its own. If you're looking for a little increase in revs, then switch into sport mode and still leave it in automatic.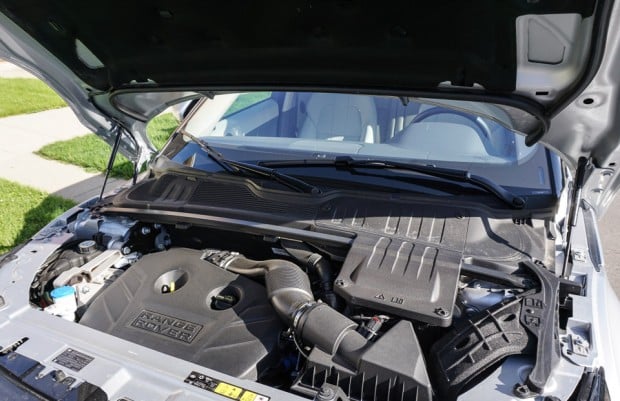 Handling/Ride
The Evoque is such a luxurious vehicle that you might forget that it's capable of handling off-road driving too. In fact, it's got a sophisticated all-wheel drive system that can dynamically adjust to its terrain. Whether you're driving on snow, sand, mud, gravel, grass or wet pavement, the AWD system will do the hard work for you. In everyday driving at speeds above 22mph, it even automatically switches to front-wheel drive to reduce drag and improve fuel efficiency, only kicking in as needed. You can also switch between dedicated modes if you're planning on extended travel across one of these specific surfaces. While I didn't get a chance to put the Evoque's terrain handling to the test, the vehicle's Range Rover pedigree certainly gives me confidence. I wouldn't take it on a serious off-road course, but through some rocks and gravel for a camping trip, sure. Providing additional off-road assurance are four-channel anti-lock brakes, and dynamic stability control.
Steering on the Evoque is as I'd like to call it "just right." It's not overly twitchy, nor is it soft. This makes it ideal for both long drives and curvy and hilly drives.
Ride comfort is quite good, thanks to a monocoque construction, rather than the body-on-frame construction found on many larger SUVs and trucks, including older Range Rovers. This gives the Evoque car-like comfort, and at no time does it feel like a truck. Ground clearance is good at 8.4 inches to the front axle, and 9.5 inches at the rear, which let me negotiate the worst speed bumps Chicago was able to dish out without a hitch. And with a 19.7 inch wading depth, there's no worry about puddles or even crossing small creeks.
Technology
The Evoque is loaded with high-tech features for both safety and convenience. At the center of the tech is an 8-inch touchscreen infotainment system which anyone who's driven a recent Land Rover or Jaguar should be quite familiar with. Its UI isn't overly slick, but it's quite functional, providing access to music, navigation, climate, system, cameras, and other controls from a single unified interface. A 5-inch driver information LCD sits in the middle of the dashboard, relaying information such as fuel efficiency, digital speedometer, and media track/title.
Standard tech features include dual-zone climate control, electronic cruise control, Bluetooth wireless connectivity, adjustable ambient lighting, keyless entry, electric power locks, windows and mirrors. My review Evoque had an upgraded 17-speaker Meridian audio system with Sirius XM and HD radio, as well as safety features including blind spot monitoring, Homelink garage door remote, and adaptive cruise control with forward alert and intelligent emergency braking.
You'll also get some handy features to help you manage fuel efficiency, including display screens which tell you which accessories are contributing most to fuel usage, and your throttle, speed and braking efficiency. These data points are echoed in real-time on the dashboard to help you establish a more eco-conscious driving style. Speaking of which, the Evoque also has an Eco Stop/Start system which shuts down and restarts the engine when stopped. It takes a few minutes to get used to it, but if you sit in a lot of city traffic, it'll surely save you gas. Plus, if it annoys you, there's a switch to turn it off – though you have to remember to do it each time you head out.
Of course, the technology doesn't just stop in the cabin. The Evoque's drivetrain includes an electronic rear differential with active torque biasing, and cornering gets a hand via brake torque vectoring. Off-roaders will appreciate features like hill descent control and hill start assist, which help you get up and down hills with ease, and roll stability control. The optional surround camera feature is really helpful too. While not as automated as the ones I've seen other SUVs, the Evoque's surround camera is more comprehensive and configurable, allowing you to zoom in to a specific camera so you can negotiate tricky terrain – or avoid bumping into the curb.
Pricing
Base price for the 2014 Land Rover Range Rover Evoque is $41,100 (USD), plus $895 transportation. The vehicle reviewed here was upgraded with the Prestige Premium Package ($14,300), which includes the Oxford leather interior, power memory seats, panoramic roof, heated/ventilated front seats, heated rear seats, heated steering wheel, heated windshield, heated washer jets, adaptive xenon headlights with LED running lights, blind spot monitor, navigation, 19″ alloy wheels, surround camera, passive entry, and the 17-speaker Meridian sound system. The adaptive cruise control and emergency braking system added another $1,295, bringing the total price of the review vehicle to $57,590.
Summary
I've driven quite a few SUVs in my time, and I have to say that the Evoque is definitely one of my favorites so far. British car makers seem to have a grip on what makes a vehicle truly luxurious, and when you sit in the Evoque, it immediately exudes a sense of richness. What's great about the Evoque is how it blends this luxury with utility. You'll feel equally comfortable driving the Evoque on a long road trip, picking up the kids from school, or driving it across a grass field. Plus, it can handle challenging terrain in a pinch. That said, I'm not sure I'd feel comfortable taking such a fine looking car out on a muddy off-road course, for fear of scratching or denting it on an obstacle. But still, it's nice to know that it could do it if put to the test.