One-off Ferrari F12 TRS Valued at over $4 million
ferrari | June 24, 2014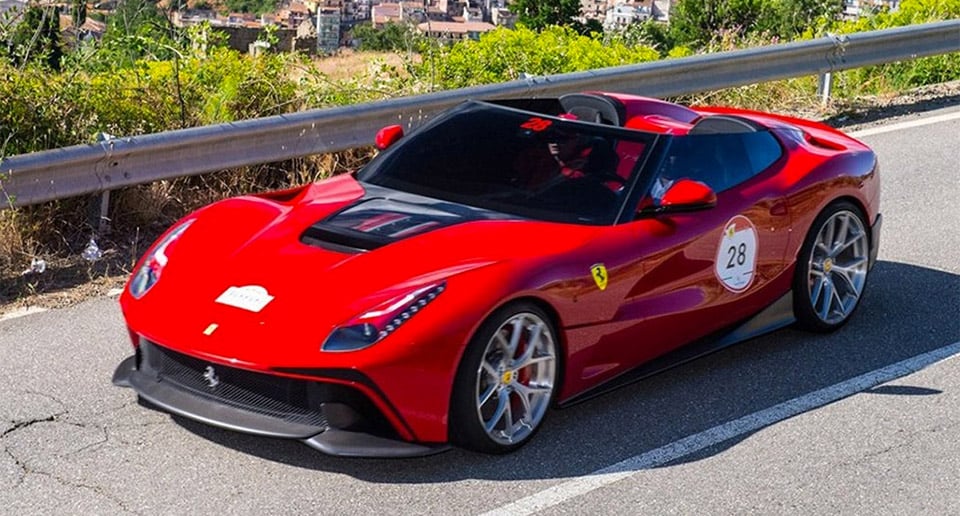 This very special one-off Ferrari has been built out as the ultimate F12. Shown off during the 2014 Ferrari Cavalcade in Sicily, Italy, the F12 TRS was built out as a tribute to the 1957 250 Testa Rossa – though we see virtually no resemblance. Created as an open-top variant of the F12 Berlinetta, the car has been fitted with customised glass to give the windscreen and side windows a seamless look, and without the need to support a roof, its A pillars have been eliminated.
The one-off car has also been fitted with bold, ground-hugging aerodynamic mods, and its exterior has been coated in a custom Rosso Corsa body color variant which was produced with a layering technique and mica in the paint. Its rear end has also been with fitted with custom aero work which breaks with the Berlinetta's sweeping curves, breaking up the surfaces for improved airflow. Its drivetrain preserves the powerful 6.2L V12 found in the F12 Berlinetta, launching the car from 0-to-62mph in 3.1 seconds.
Inside, the F12 TRS has been stripped back to the bare minimum, accentuating the focus on driving, minimizing the number of controls, and removing such superfluous items as the glove box, audio system, and central air vents among other things. We're sure these deletions also reduce the overall weight of the vehicle. And the remaining interior materials are mostly comprised of carbon fiber, leather or Alcantara.