Hyundai i10 Sport Headed to Germany
hyundai | July 5, 2014
Hyundai isn't typically the car company that driving enthusiasts turn to when they're looking for a new driver, but with the recent announcement of the coming N Performance line and the 2014 Hyundai Veloster Turbo R-Spec, the Korean automaker seems determined to change that image. Hyundai has announce a new sporty hatchback headed to the German market, the Hyundai i10 Sport.
The i10 Sport comes outfitted with a 1.2-liter four-cylinder gasoline engine, which pushes out just 87 hp; so we'll be interested to see just how much "sport" is in the car when it hits the road. In fact, the car spends 12.3 seconds of its time on this Earth going from a standstill to 100 km/h (62 mph). Clearly, the "Sport" moniker is more aptly applied to the car's looks than to its performance.
Hyundai has also lowered the car by about 0.78 inches, given it 17-inch allow wheels, along with a new front bumper, door sills, rear diffuser, and rear spoiler. LED daytime running lights also come standard and the white finish with black and red racing stripes complete the sporty look.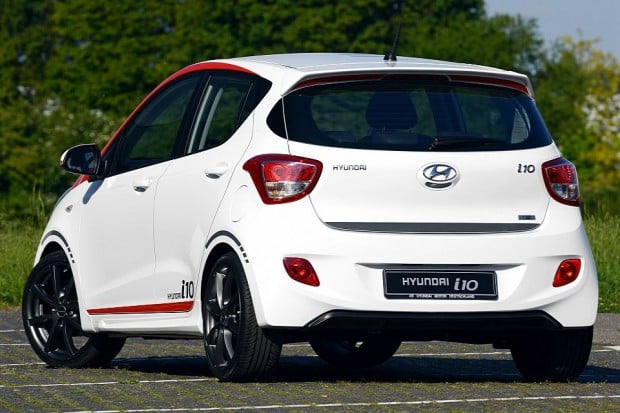 The model will be limited to just 300 units and will be priced beginning at 14,900 euros (~$20,395 USD). With these performance numbers, you'd better be in love with the car's looks or be a real "sport" to purchase one.