Test Drive: 2015 Hyundai Sonata Sport 2.0T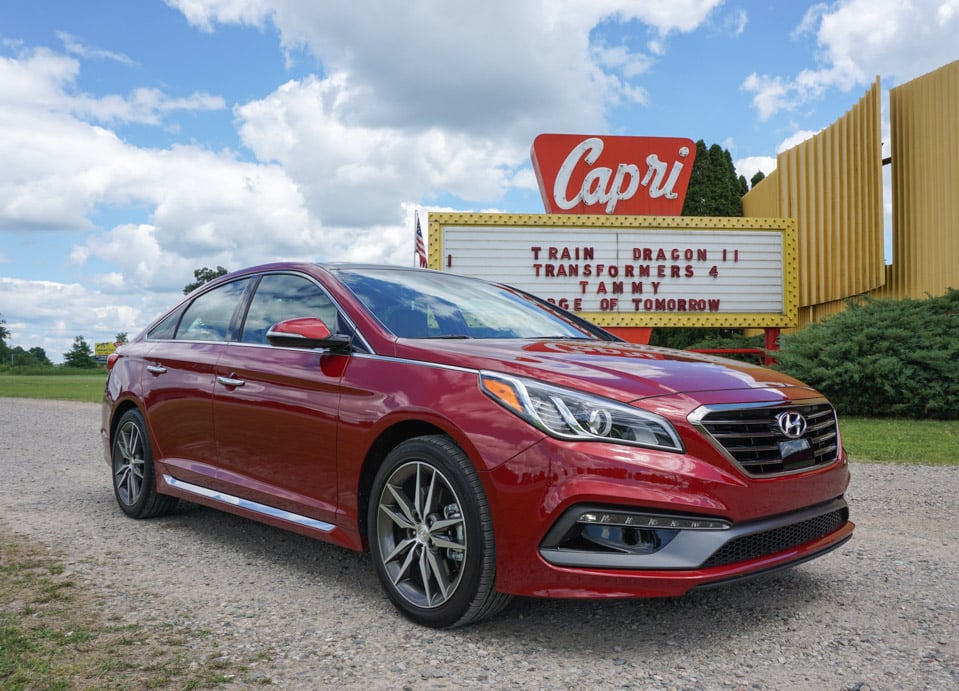 Back in 2011, Hyundai took their first giant leap to take the Sonata from a middle-of the-road mid-size sedan to a real contender for the best in its class. In my opinion, with the 2015 Sonata, they've jumped into the top echelon, along with the Chrysler 200, Kia Optima and Ford Fusion, leaving competitors like the Toyota Camry, Honda Accord, Nissan Altima and Chevy Malibu in the dust.
I recently had the opportunity to take the 2015 Sonata Sport 2.0T on a road trip from Chicago to Ann Arbor, Michigan, and was extremely impressed with what I found. The latest generation Sonata makes significant refinements that have taken it from a quality daily driver to one that is surprisingly sophisticated and composed.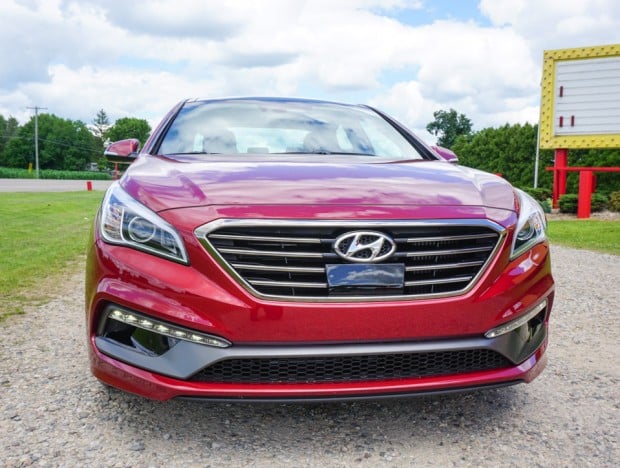 The first thing you'll notice about the 2015 Sonata is its updated exterior styling, highlighted by a new hexagonal grille that's consistent with the one found on the recently updated Santa Fe, along with modern LED daytime running lights, and a stance that is about an inch wider than the prior generation, giving the car a more planted and muscular look. The updated beltline is also more dynamic and gives the car more of a sense of motion when viewed from the side.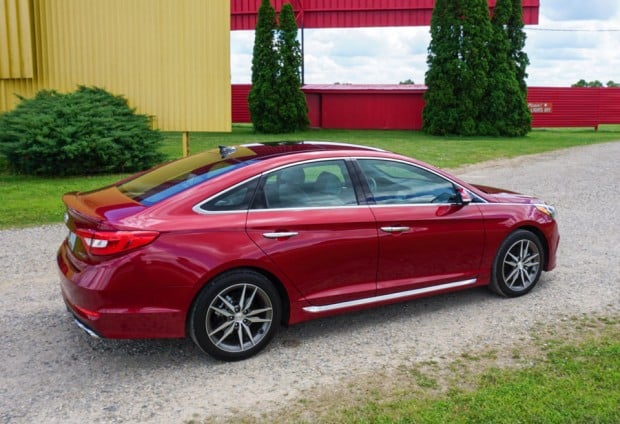 The Sport 2.0T model also has HID Xenon headlamps, 18-inch alloy wheels and quad exhaust tips, which serve more as a stylistic touch than a true sport exhaust system, but they sure look good.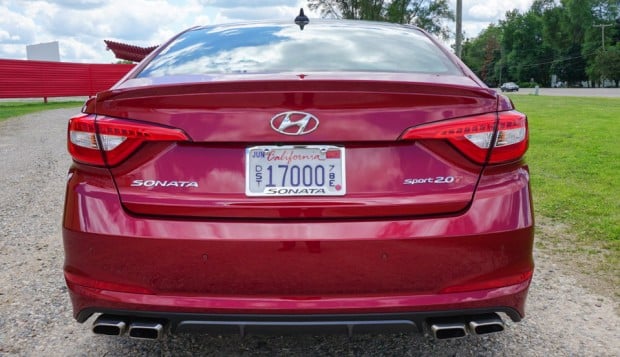 With the Sport 2.0T, you get a 245 horsepower turbocharged 4-cylinder engine with 260 lb-ft. of torque, mated to a six-speed automatic transmission with manual sport shift and paddle shifters. While this is about 29hp less than the outgoing model, Hyundai has tuned the power curve to provide more immediate and consistent power across the board, hitting peak torque at as low as 1350 RPM. This lightweight turbocharged engine offers nearly the same output and greater torque than its naturally-aspirated V6 competitors, while maintaining solid fuel economy. Hyundai quotes 23MPG(city), 32MPG(highway), 26MPG(combined), and during my drive, I consistently averaged 30MPG.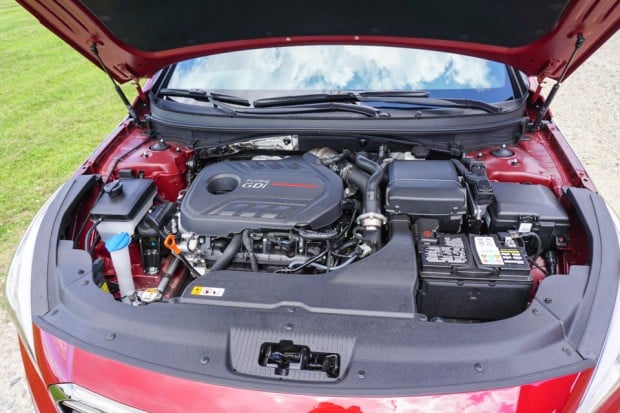 Enhancements to the Sonata's front MacPherson struts and Multi-link rear suspension help improve stability, and I was impressed with how solid the car felt throughout my drive. The Sport 2.0T also has a dual-pinion rack steering system which provides tight and responsive steering, especially with the car set into Sport mode. Road and wind noise is negligible, which is especially impressive as my review car was equipped with a large panoramic sunroof, which can actually open its front half.
Inside, the Sonata sees its most dramatic improvements with a completely revamped dashboard and center console. Gauges and dials are at the same height as the infotainment screen, and controls are more intelligently placed than ever before. The center console is slightly angled towards the driver as well, providing a more driver-centric environment. The entire dashboard feels incredibly open and useful, but also has upscale touches like a leather-trimmed glare shield over the instrument cluster and metal-finish trim.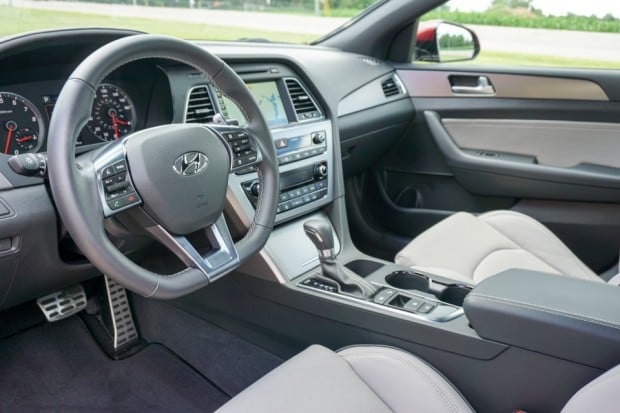 As equipped, the Sport 2.0T comes with such bells and whistles as keyless entry and pushbutton start, a rearview camera, blind spot detection and rear cross-traffic alert, as well as dual-zone climate control with floor mounted rear vents, a D-cut sport steering wheel, leather seating surfaces, aluminum pedals and metal door sill plates. Add on the "Ultimate" package, and you'll get luxury items like a panoramic sunroof, ventilated front seats, heated rear seats, an 8-inch navigation system, and a 400-watt Infinity premium audio system, as well as safety features like Smart Cruise Control, Lane Departure Warning and Forward Collision Warning.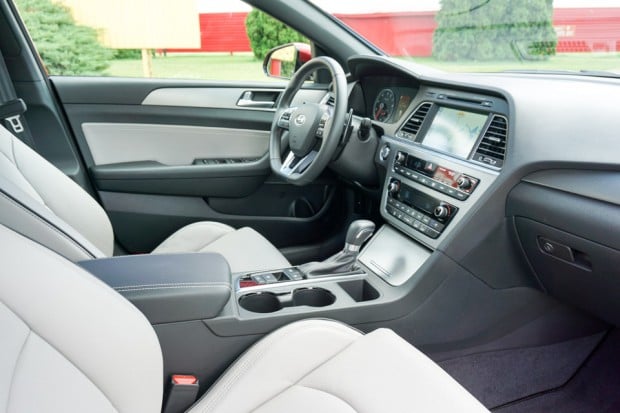 While the Sonatas which are shipping now won't ship with it, Hyundai does have plans to offer a software upgrade path to add Apple Car Play and Google Android Auto capabilities to cars with their 8-inch head unit, though they're not putting an exact date on the release of these features, saying only "by end of year." That said, they're confident the hardware won't be changing, and it'll only be a software upgrade.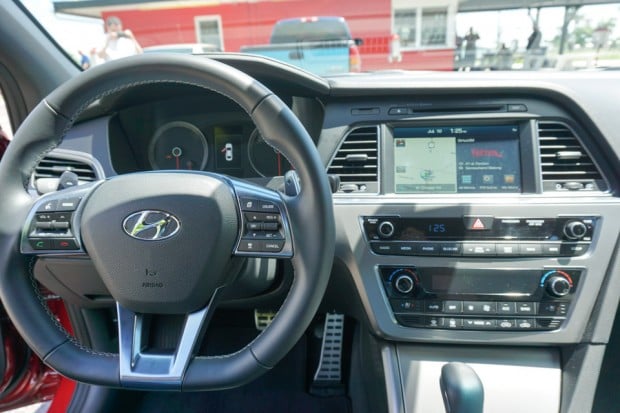 Of course, one of the big advantages of the Sonata over its competitors is its enormous cabin. Because Hyundai has chosen not to offer a V6 option, the engine compartment is shorter than other mid-size sedans, leaving a full-size passenger compartment for its occupants. I'm 6-feet-tall, and I was able to sit comfortably in the front seat with a 6-foot-one passenger sitting behind me – and he had two inches to spare in front of his knees.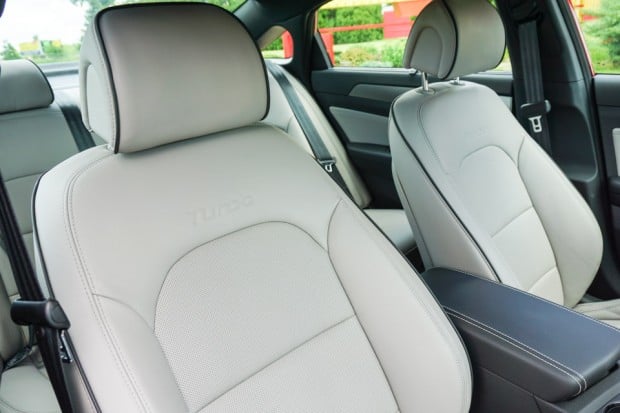 Trunk space is also quite cavernous, at 16.3 cubic feet, plus the rear seats fold down in a 60/40 configuration for even more space.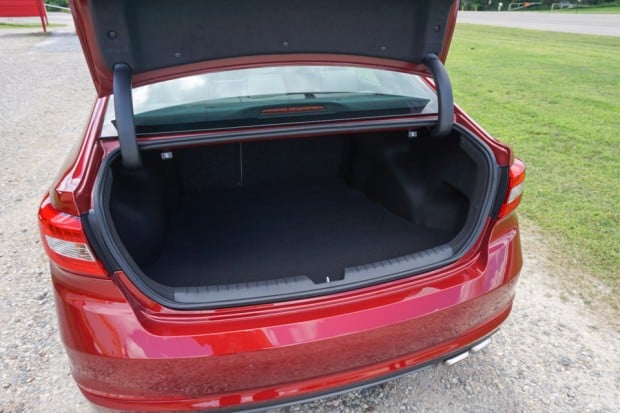 The 2015 Sonata is available in several other configurations, including a 2.4-liter, naturally aspirated Limited, which is more focused on comfort than sportiness, and a 1.6-liter turbocharged Eco model which is the first Hyundai with a seven-speed, dual-clutch transmission.
I have to say that I'm extremely impressed with the strides that Hyundai has made over its lifetime, initially focusing on value, then dramatically improving quality, and now style, sophistication and features typically found in much more expensive vehicles. While I've yet to drive the 2.4-liter and Eco variants of the Sonata, I'd definitely put the Sport 2.0T on my short list of mid-size daily drivers for anyone in the market for a reasonably-priced car, who doesn't want to sacrifice performance, features or quality.
While the most economical model of the Sonata starts at about $21,000(USD), base price for the Sonata Sport 2.0T is $28,575, with the 2.0T Ultimate, which is packed with every available feature, priced at $33,525.