Robot Parks Your Car at Düsseldorf Airport
parking | July 14, 2014
Next time you bring your expensive German-made car to the Düsseldorf Airport, it just might be parked for you by a robot. Known as RAY, the system is built by Serva Transport Systems and is currently operational. When you bring your car into the parking area, RAY slides under the vehicle from the side and lifts it off the ground. RAY then transports the car to the optimal parking space for you. It even monitors your flight details and will have the car ready upon your return.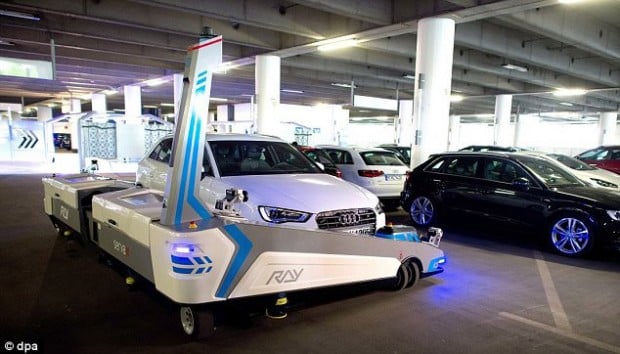 You can see the system in action at D in the video below. Unfortunately, the commentary is in German only, but you can still enjoy the serious Germans parking their shiny German cars.
The system is pretty incredible albeit it moves a little slowly through the parking areas. It would be interesting to see how an automated parking system such at this would work in the U.S. and whether consumers would be willing to give it a try.