2015 Lumma Design BMW CLR X 6 R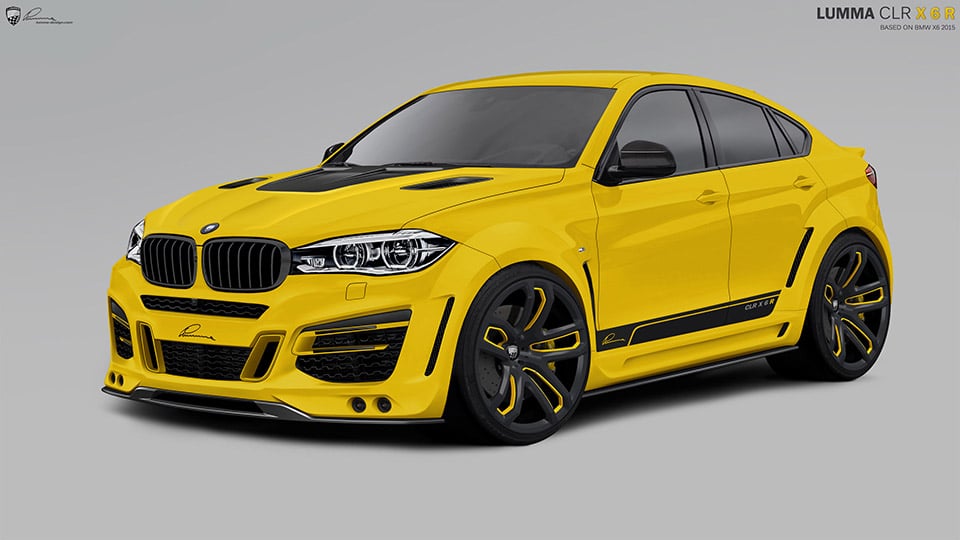 The new BMW X6 is a pretty stunning crossover-styled sportscar in its own right, but when Lumma Design gets their hands on the X6 it's transformed into a much more aggressive, widebody beast that would look right at home on any track. The LUMMA CLR X 6 R body kit begins by adding nearly two inches to the BMW's width (50 mm to be exact) and adds enormous wheel arches, an incredible new front fascia, and a new rear diffuser along with the other changes. The front spoiler incorporates new LED lighting and daytime running lights with fiber-optic lighting incorporated. The rear apron incorporates enough room for a quad exhaust and there's also a new rear spoiler to enhance downforce at high speeds.
But Lumma Design didn't stop at the external cosmetics of the X6, also attacking the vehicle's 4.4-liter V8 engine by adding turbochargers and a valve-controlled tuned exhaust. Together, the boost to the X6's standard 445 horsepower brings it up to a massive 590 hp and 623 lb-ft. of torque. This means the retuned model goes from 0-to-60mph in a bit over 4 seconds with a top speed of 183 mph.
Inside, Lumma Design also updates the BMW interior with new upholstery done in high-end leather with contrast stitching and the LUMMA emblem embossed throughout. But first they replaced the BMW seats with sports seating – likely necessary given the new car's boosted performance. They've also added matching seat belts, floor mats, aluminum pedals, and a baggage trunk mat.