Matched Set of Project 8 McLaren MP4-12Cs for Sale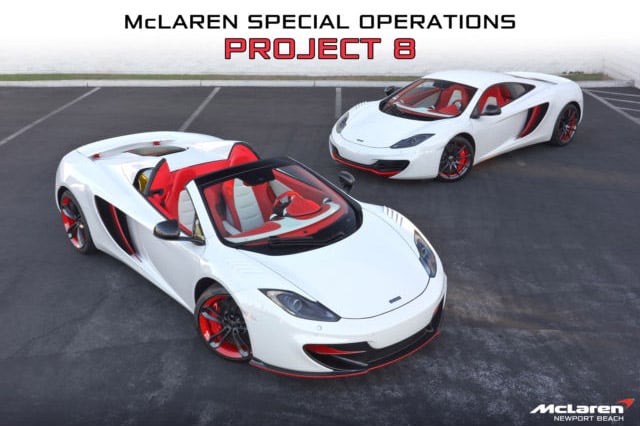 If you're in the market for one of the greatest sports cars in recent history but are struggling to decided between a coupe or convertible, you're problems may finally be solved. McLaren of Newport Beach, California has put on auction a pair of matching McLaren MP4-12C cars; one a 2012 coupe and other other a 2013 Spider.
Each MP4-12C is part of McLaren's bespoke vehicle finishing service, McLaren Special Operations, and part of the "Project 8" collection. Each is finished in the exclusive Pearl White exterior paint with accenting red carbon fiber both inside and out and was also ordered with custom VINs ending in the Chinese lucky numbers "88" (frankly, we didn't even know custom VINs was a thing). The pair is only available as a matching set as apparently the current owner didn't want to see his babies separated.
Find this lovely set of McLarens on auction now on eBay with bidding over well over $200,000 and the reserve not met. The auction ends July 24, 2014. With an original MSRP of $546,065 for the Spider and $522,725 for the Coupe, we imagine bidding will need to go significantly higher before a sale occurs.