Lamborghini Aventador Art Car: Project Duaiv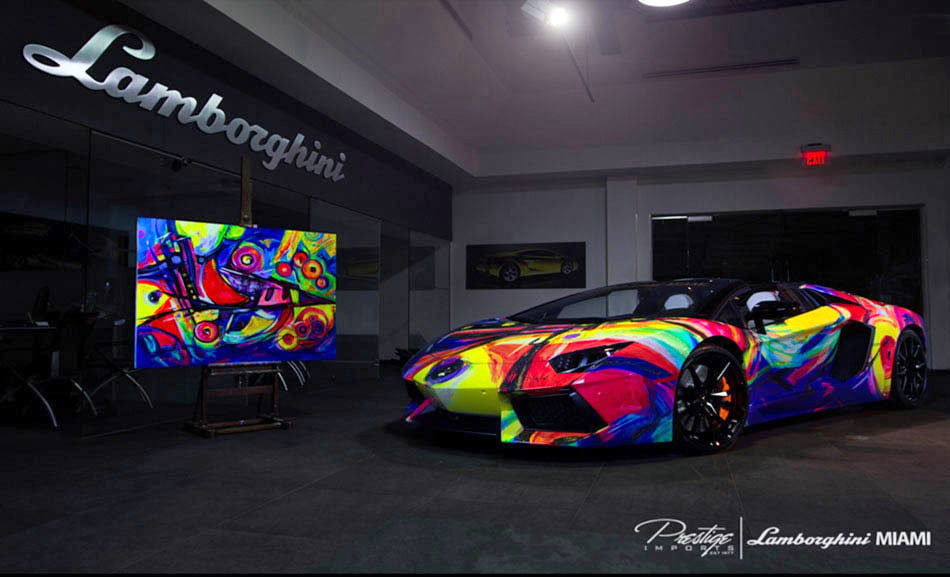 Lamborghini of Miami likes to do things a little differently than other Lamborghini dealerships. A while back they created a gold chrome Lamborghini Aventador and filmed it driving through a local Miami shopping mall. Now they've commissioned the well-known, award-winning artist Duaiv to apply his artistry to another Aventador.
Beginning with inspiration from one of his paintings, the artist transformed the 690 horsepower supercar into a rolling work of art. Displayed in these photos along with the source painting, the car is certainly not subtle. The work was applied with a custom-made wrap, so the car's finish is unaffected. This particular Aventador also sports a Novitec rear spoiler, making it just a bit more eye catching.
Certainly, any Lamborghini Aventador is a special car when it rolls out of the Lamborghini assembly works. But if you've got nearly $400,000 to put towards your next supercar, maybe a little customization is in order and it seems that Lamborghini of Miami has more than got you covered. However, there's no word whether this particular custom design will be offered for sale.