Polaris Slingshot: A Three-Wheeled Roadster
motorcycles | polaris | roadsters | July 28, 2014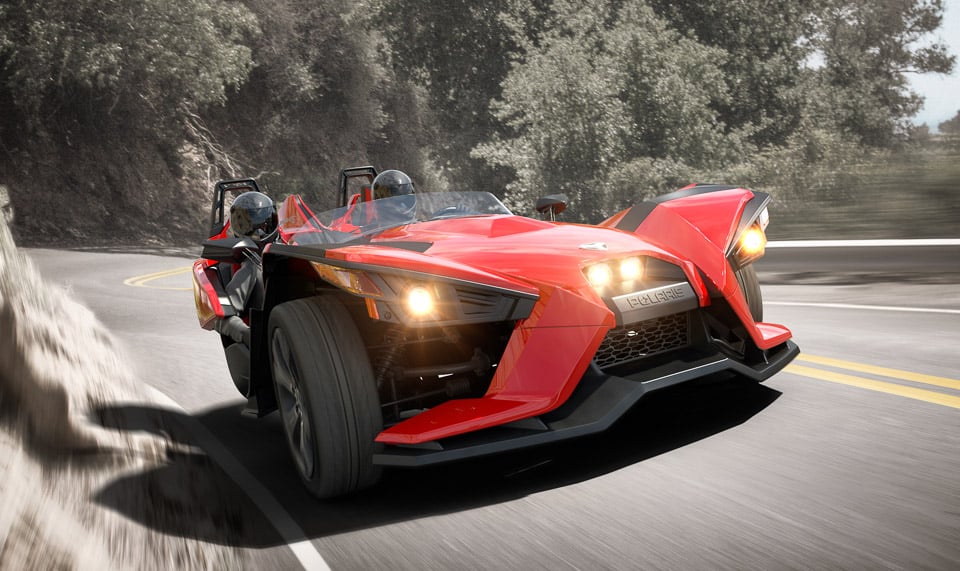 Polaris Slingshot

Powertrain: 2.4-liter DOHC engine, 5-speed manual transmission
Curb Weight (lb): 1725-1743 lbs.
Wheelbase (in): 105 in.
Total Length (in): 149.6 in.
Width (in): 77.6 in.
Taking aim at track-day roadsters like the Ariel Atom, Polaris has just taken wraps off of its latest vehicle, the Slingshot. But instead of being a street-legal automobile, it's actually classified as a motorcycle. This three-wheeled roadster is designed to let driver and passenger sit side by side, just inches from the ground.
Powered by a 173 horsepower, 2.4-liter DOHC engine and shifted with a 5-speed manual transmission, the Slingshot should offer ample power, given its curb weight of just over 1,700 lbs. Polaris has yet to reveal acceleration times or a top speed for the Slingshot.
The vehicle is constructed from high-strength steel, and is designed to offer motorcycle-like cornering ability, aided by a lightweight aluminum rear swingarm, rack and pinion steering with electronic power assist, electronic stability control and anti-lock brakes.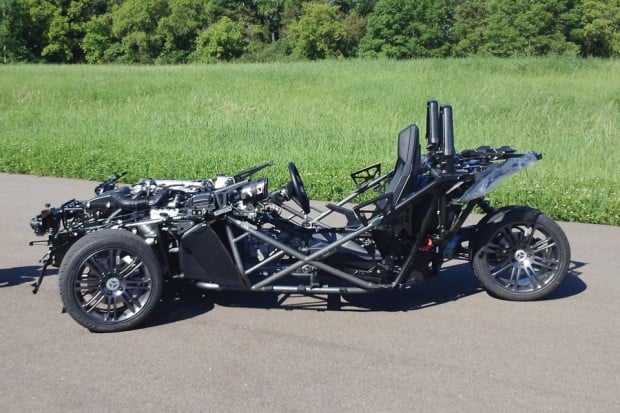 You'll be able to choose from two main versions of the Slingshot – the base model ($19,999 USD), which comes with 17-inch alloy wheels in the front and an 18-incher in back, or the Slingshot SL ($23,999 USD), which has 18s up front and a big 20 in back. The SL also comes with a windscreen, as well as the tech package, which includes a 4.3″ screen, Bluetooth, a 6-speaker audio system and a backup camera.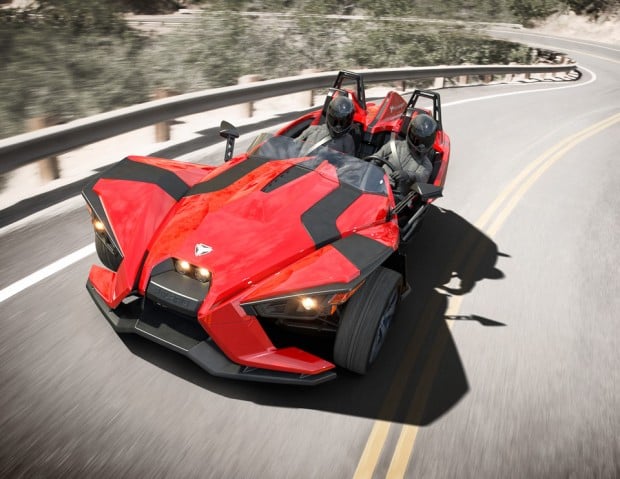 Polaris expects to have the Slingshot in dealers this Fall.