Review: 2014 Lincoln MKZ AWD
lincoln | reviews | July 31, 2014
Lincoln MKZ V6 AWD

Powertrain: 3.7L 300hp V6 engine, 6-speed automatic transmission w/paddle shifters
0-to-60 Time (secs): ~6 secs.
Top Speed (mph): 125 mph
City/Hwy/Combined MPG: 18/26 (21 combined)
Curb Weight (lb): 3849 lbs. (V6)
Wheelbase (in): 112.2 in.
Total Length (in): 194.1 in.
Width (in): 73.4 in. (w/o mirrors) / 83.3 in. (w/mirrors)
The Lincoln MKZ is the luxury variant of the Ford Fusion. Given the fact that the Fusion is one of my favorite mid-size cars in recent years, Lincoln has a pretty solid head start with the MKZ. Overall, the MKZ doesn't disappoint – though the Fusion is already so good that it might be hard to choose between the two.
Exterior
Outside, the MKZ offers dynamic and sophisticated lines which give it a sense of class and movement. Its front end is decidedly more curvaceous than the Fusion, which gives the car a more fluid and aerodynamic look. Up front is Lincoln's trademark split wing grille, which I've heard referred to as everything from "angel wings" to a "butterfly" to a "whale tail." Whatever you call it, it's a bit of a divisive design element among those I've spoken with. To be honest, I wasn't crazy about it at first, but it quickly grew on me, especially as I realized how much it makes the car feel like it was sculpted from a single block of clay, its lines uninterrupted from the tip of its nose, all the way to its rear end.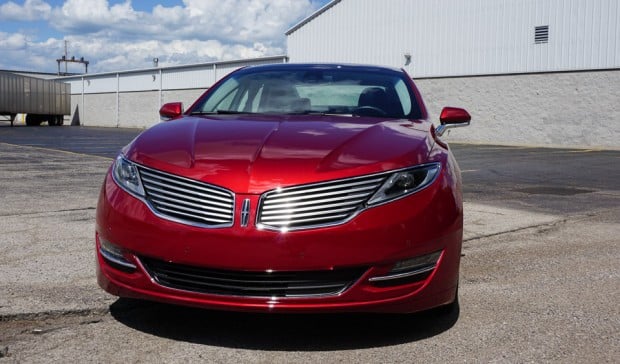 Speaking of rear ends, there's no question that Lincoln got the back of the MKZ right. I love the bold horizontal LED taillights, and the integrated trunk spoiler caps things off nicely. A black surround grounds the tail and chrome exhaust tips, and provides an inset space for the rear license plate for an uninterrupted view of the the trunk's clean lines. Also of note is the optional panoramic moonroof, which follows the roofline perfectly when retracted.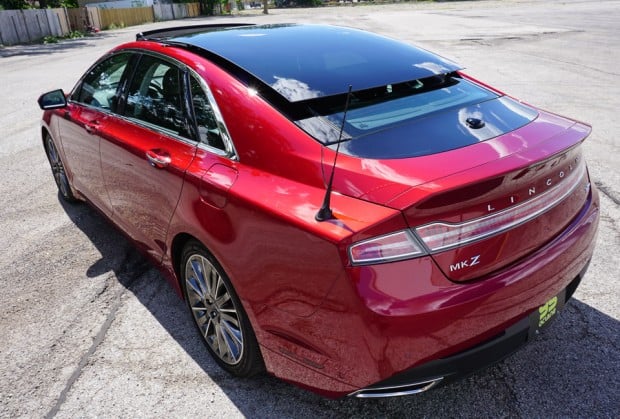 Interior
Inside, the MKZ gets most things right, offering excellent comfort and a virtually noise-free driving environment. Thanks to its elongated center console, it provides distinctive spaces for driver and front seat passenger, and continues the same sort of clean, curvaceous lines found outside. Sculpted strips of real wood trim are set into the dash, doors and steering wheel. Soft touch materials are used throughout the interior, though the premium stitched leather is found only in the seats and a few select surfaces, such as the sunshade above the instrument cluster and the storage compartment in the console. The center console also features a large storage/passthrough area thanks to its floating arch design. Hidden under that arch and in other strategically placed locations is an LED ambient light system which lets you customize the accent color of the interior at night.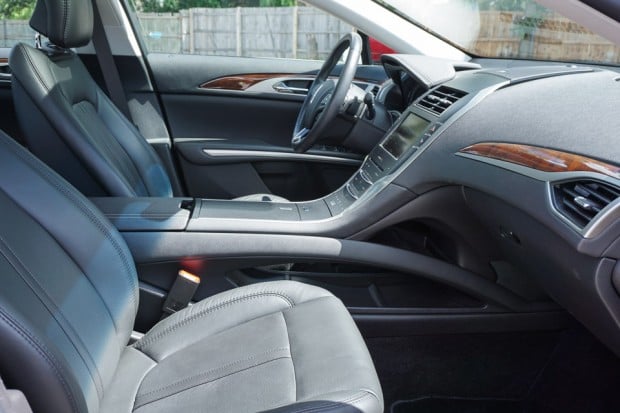 The front seats are quite good, and when equipped with the multicontour option, they offer 11 air cushions which let you customize just about every aspect of both the back and seat cushion to your exacting needs. These air cushions double as a massage system, which provides a gentle rolling sort of massage across your back or behind.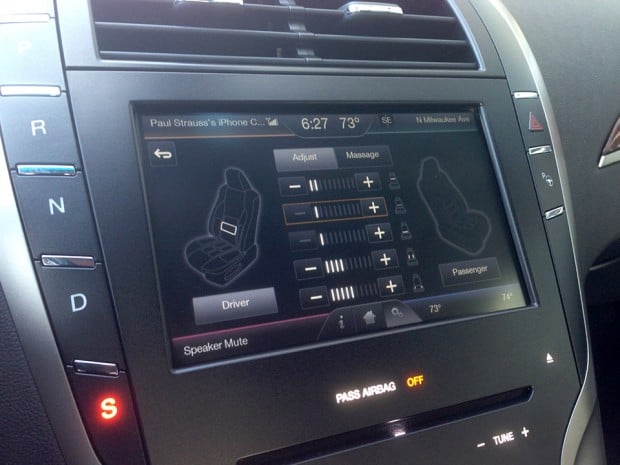 It's not an intense massage like a massage chair, but enough to help you from getting stiff or sore on a long road trip. Heating is standard up front, with optional cooling, and heated seats optional for the rear seat passengers so they don't feel left out.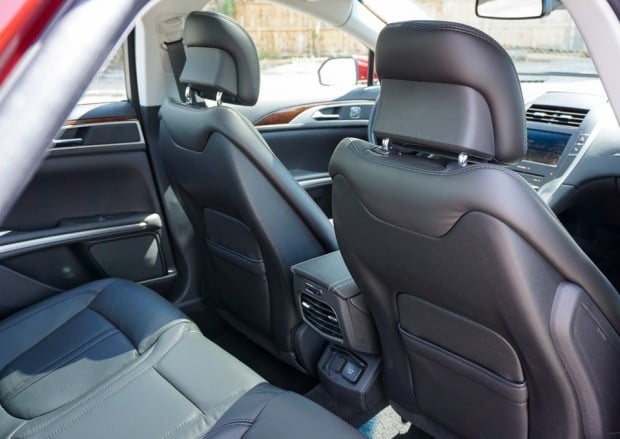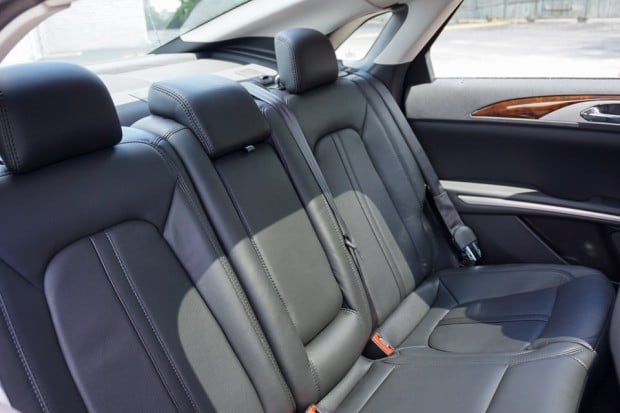 Legroom is reasonable for both front and rear seat passengers, even for a six-foot-tall guy like me. On the other hand, headroom is a bit lower than I like – I found I had about two inches above my head in the front of the car, but when seated in the rear, my hair brushed against the ceiling. I had no such concerns in the Fusion, which has about an inch more headroom throughout. Fortunately, the panoramic roof helps give a sense of height – assuming you've got the shade or window opened.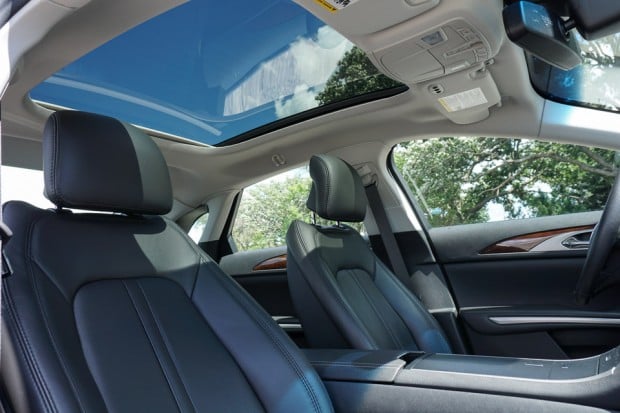 Controls on the center console are well-placed, and despite being almost entirely touch based, they're quite usable. I credit this partially to the audible and visual feedback provided for each of the touch surfaces, as well as to the good spacing between touch controls and their easy to memorize placements. The steering wheel, on the other hand is packed with buttons – which at times can seem a bit complicated. I'm not sure there's much that can be done about this, other than combining functions into contextual on-screen menus.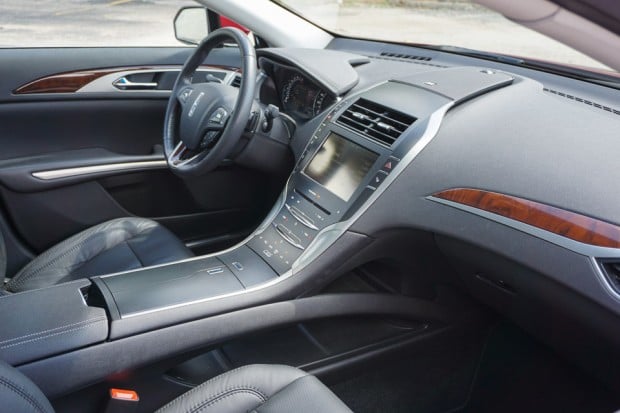 Trunk space is exceptional, offering 15.4 cubic feet of storage, plus the rear seats fold down in a 60/40 split to provide added space for transporting even larger items.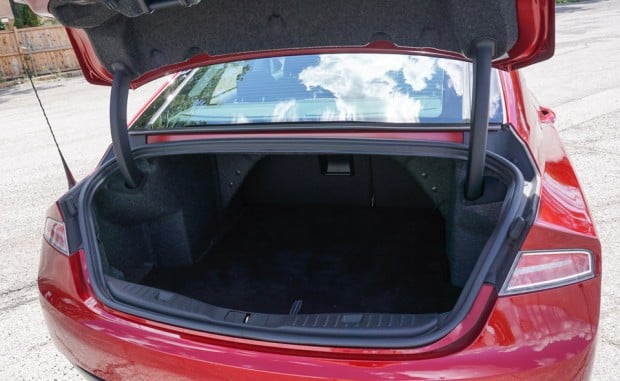 Drivetrain/Handling
Equipped with the 3.7-liter, 300 horsepower V6, the MKZ has a significant power advantage over the Fusion, offering plentiful power at on-ramps and for passing. Other powertrain options include a 2.0-liter EcoBoost with 240 horsepower, and a 2.0-liter Atkinson cycle Hybrid with a total 188 horsepower.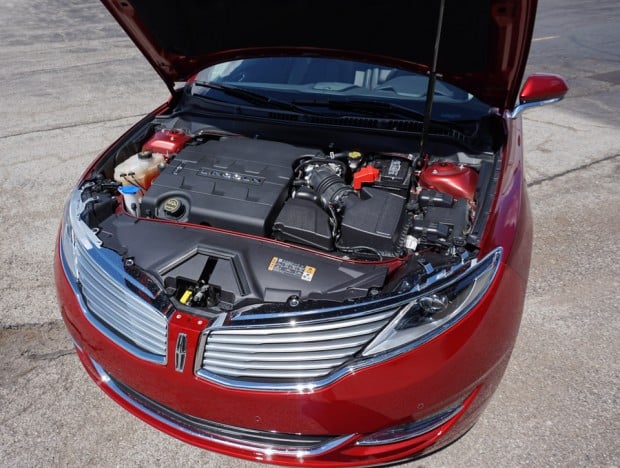 The car's six-speed automatic with paddle shifters is fast enough for most situations, though it can't keep up with a dual-clutch. But it's not like you'll be taking the MKZ to the track anyway. Any time you get rid of the shift lever and replace it with pushbuttons is an indication that you're going for creature comforts and not excitement.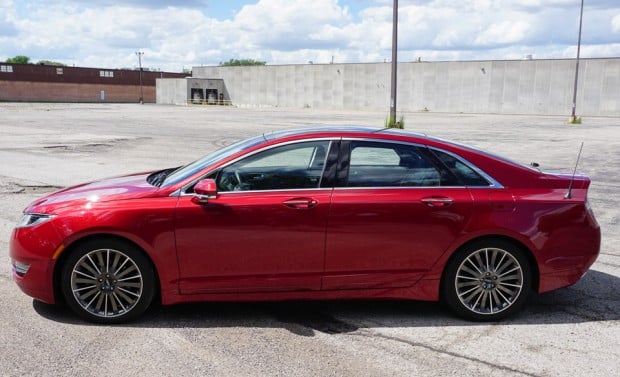 The MKZ offers either front-wheel or all-wheel drive configurations, and I found the AWD to be quite capable, providing confidence in turns and keeping the car well planted. As is the case with most AWD options, you'll want to strongly consider this if you live in a place where it snows or you have lots of hills or mountains.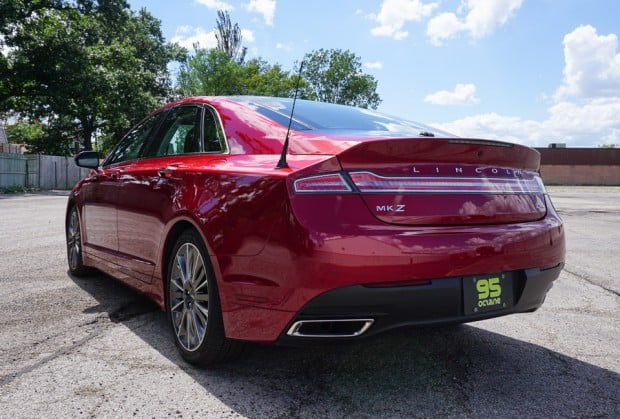 An electrically-assisted power steering system does a good job, offering a balance between ease and feedback. Turning was virtually effortless, though I could definitely still feel where I was going. If anything, the steering system errs on the side of ease and comfort over sportiness though.
Thanks to an active suspension system with continuously-controlled damping, ride dynamics are smooth without being squishy, handling the roughest streets Chicago could dish out with aplomb. Again, Lincoln leans toward comfort and confidence over excitement here, which is what you want from a luxury car. Thanks to the car's active noise cancellation system, little of the engine noise enters the cabin – unless you want it too. In sport mode, the noise cancellation system allows more engine sound through, enhancing the sense of power and performance.
Technology
The car has numerous available high-tech features, including active parking assist to help with parallel parking, adaptive cruise control, lane-keeping assist, blind-spot monitoring and rear cross-traffic alert, as well as a backup camera with reverse sensing monitors. An 8-inch navigation/infotainment system offers the familiar Sync system found in other Ford and Lincoln vehicles.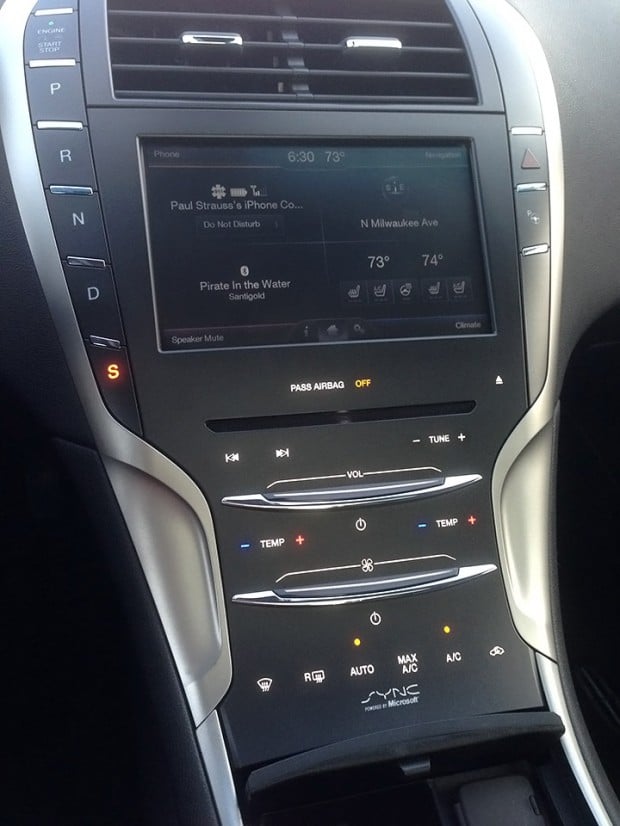 It's unfortunate that most of the aforementioned features are options, adding to the base price of the car. You do get remote keyless start, active noise cancellation, and Sirius satellite radio as standard though. The included LED headlights which steer into turns are also really nice for seeing ahead of your car in corners. I tested out the automatic high-beam feature as well, but found it to be a bit distracting since I'm not used to using my brights so much, whereas this system turns on the brights whenever you're on a dark road with no oncoming traffic.
The upgraded 14-speaker THX II certified audio system does offer exceptionally clean and well balanced sound, though its top volume level wasn't as high as you might expect from a 700-watt sound system.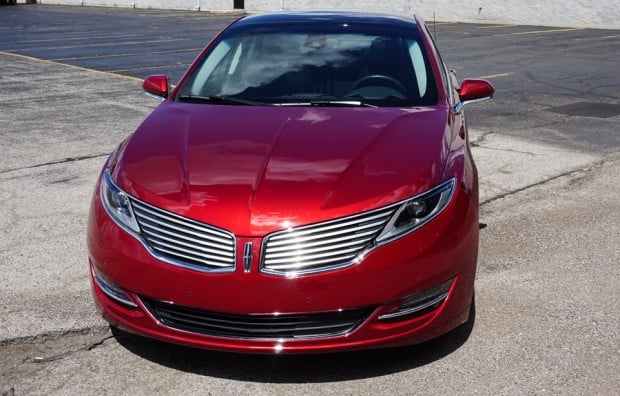 Pricing/Options
Base price for the 2014 Lincoln MKZ AWD is $38,080(USD). The car reviewed here included the Preferred equipment group ($5,375), which adds a backup camera with reverse sensing, navigation, blind spot monitoring and cross-trafffic alert, rear heated seats, and a premium THX certified sound system. The V6 engine ($1230) and other options: panoramic roof ($2995), Tech package ($2,250), multi-contour seats ($595), rear inflatable seatbelts ($195) and the ruby red tinted clearcoat ($495) brought the total cost to $51,215, plus $895 for delivery and destination fees.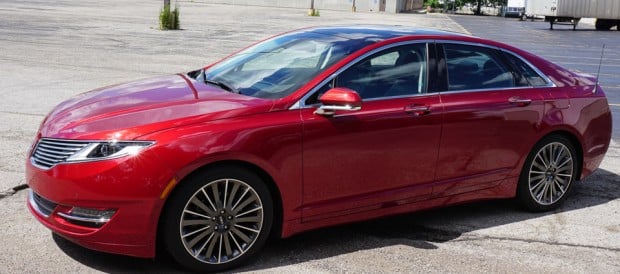 The Lincoln MKZ is a really solid luxury car, and building on the same core platform as the Ford Fusion there's a lot to like about it. That said, it is a substantially more expensive car (the Fusion Titanium AWD goes for $32,600 and tops out around $38,000 loaded), and the MKZ sacrifices a bit of interior space and fuel economy. However, the MKZ offers a much more powerful V6 option, luxury touches like active noise cancellation, active damping, and an awesome panoramic moonroof not found in the Fusion. If such creature comforts are important to you, then the MKZ is the one to pick. But if you're looking for a car with the most bang for the buck, I'd recommend the Fusion Titanium AWD. Either way, you can't go wrong.