Fiat Launches Solar EV Charger in San Diego
electric | fiat | solar | August 2, 2014
---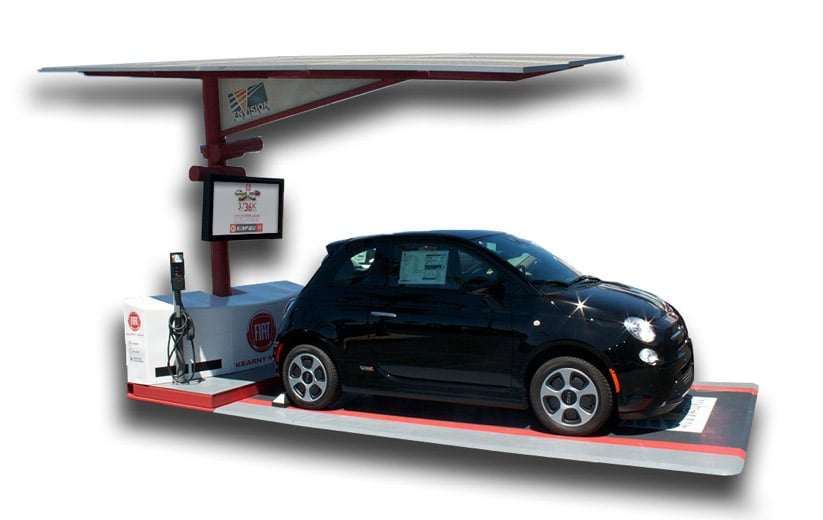 While we're a long time away from electric vehicles completely replacing fossil fueled cars, EVs are certainly here to stay. One of the benefits of electric power is that it can actually be generated using zero-impact solar energy. Now, Fiat drivers in San Diego can take advantage of nature's free energy source, powering up their Fiat 500es with the power of the Sun.
The Kearny Mesa Fiat dealership installed a self-contained solar charging station made by Envision Solar, which can capture to 16 kWH per day using its array of solar panels and store up to 22kWH in its on-board battery pack. The EV ARC system is capable of following the Sun during the day, and can easily be set up or moved around in just a few minutes. While the charger is capable of juicing up two cars at a time, it's important to note that the Fiat 500e has a 24 kWH battery, so there's no way this could fully charge even one car per day – though it should be able to help top off vehicles, and prep them for test drives.
As an added bonus, the system's cost is offset by offering advertising for relevant products and services on a video monitor while vehicles are charged.
In locations like San Diego and Las Vegas, there should be no problem juicing up cars almost every day of the year, thanks to the ample and consistent sunlight available in those cities. Perhaps someday we'll see solar panel efficiency increase to the point that cars themselves could capture all the energy they need all on their own.