Review: 2014 Toyota Corolla S
toyota | August 8, 2014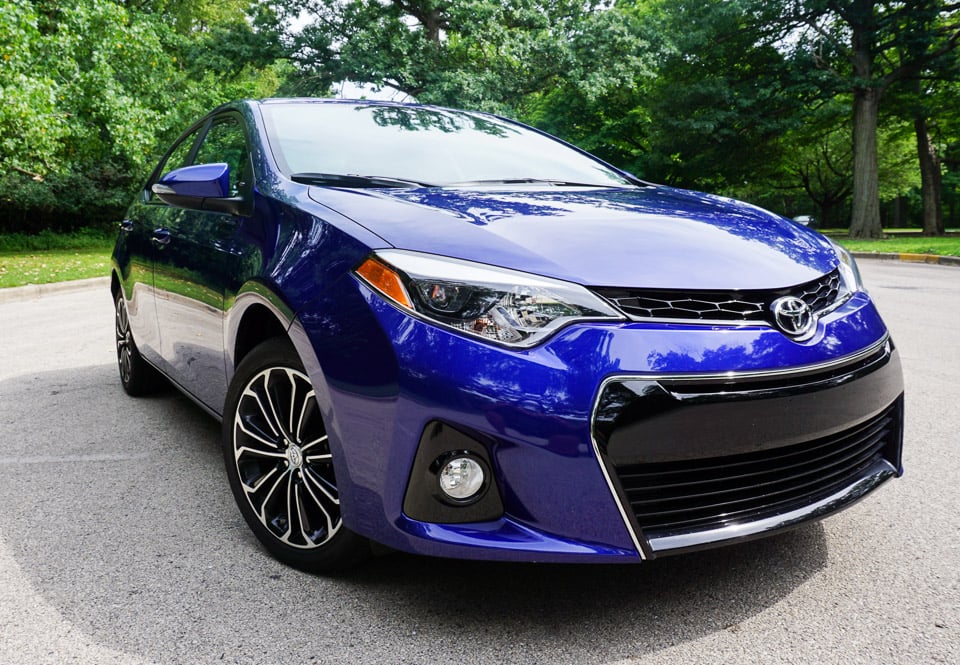 2014 Toyota Corolla S

Powertrain: 132hp 1.8L - 4 cyl, Continuously-Variable Transmission
0-to-60 Time (secs): ~9.4 secs.
City/Hwy/Combined MPG: 29/37 (32 combined)
Curb Weight (lb): 2,865 lbs.
Wheelbase (in): 106.3 in.
Total Length (in): 183.1 in.
Width (in): 69.9 in.
Base Price (USD): $19,825
Price as Tested (USD): $23,570
With the Corolla being the best-selling car of all time, Toyota had to strike a balance between preserving the economy and practicality of the popular daily driver with updates to compete with today's ever more premium vehicles. With the updated 2014 Corolla S, I think they made a valiant effort – at least where it comes to styling and features, especially looking at where the Corolla has come from.
Exterior
The new Corolla S has seen major refinements on the exterior, with a dramatically more aggressive and sporty front end. Surrounding its mean looking frowning grille are upscale touches like LED running lights, LED low-beams and integrated foglights.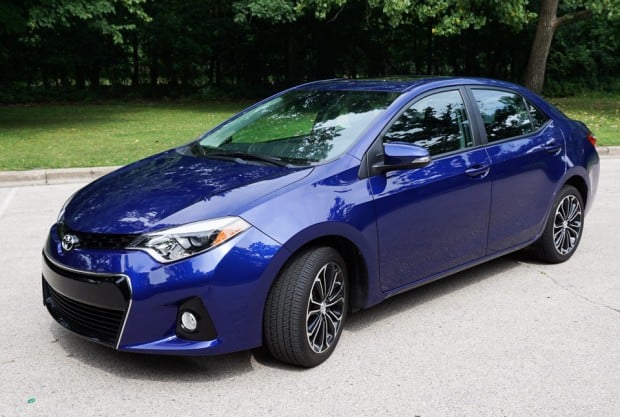 Further enhancing its looks, the car has gained about four inches in its wheelbase, and about 1/2 an inch in width. These changes, plus a more sculpted body and wider wheel arches give the latest Corolla S a more sporty look as well. I'm especially enamored of the new 17-inch alloy wheels which have a cool diamond-shaped pattern and black shadow details. Around back, the trunk has seen a makeover as well, with teardrop-shaped lights, and rounded out edges. Overall, the whole body of the 2014 feels like a major step forward from all previous generations of Corolla.
Performance/Ride
Powered by the same 132 horsepower 1.8-liter 4-banger found in today's most basic Corolla, the "S" model doesn't benefit from any meaningful performance gains. However, it does add a "Sport" mode, which provides a more torquey feel by increasing engine braking.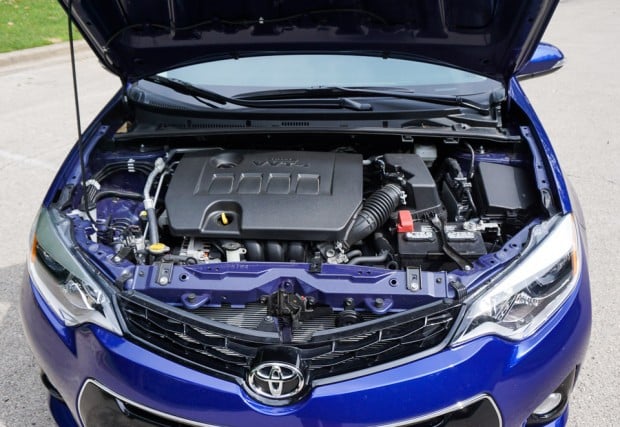 With its continuously variable transmission, you'd think there would be no need for paddle shifters, but Toyota has worked some engineering trickery to give you a sense of shift points when using them anyhow. It doesn't feel exactly like a geared transmission, but it feels more natural to me than the overly smooth power curve of most CVTs. And yes, the inherent whirring sound is still there, though I'm not sure if I'm just getting used to it, or if the Corolla is better at masking it than others.
The "S" model also gets disc brakes in both front and rear, which help it stop more firmly than a base Corolla, which only has front discs. Plus, the discs just look better behind those open alloys.
Driving on a variety of urban and country roads, as well as highways, I found the Corolla's ride to be firm, but in a good way. You feel connected to the road, but your bones don't rattle either. Steering, on the other hand was underwhelming, as I found a decent amount of play in the wheel, especially at lower speeds.
That all said, the Corolla S is more than sufficient as a daily driver, though it would be to see more performance enhancements to go with the "S" name, which I've been led to think means "Sport." Silly me. At the very least, I'd love to see a turbocharged engine variant.
Interior
On the interior styling front, there's little to complain about in the Corolla S, especially looking at the prior-gen dash. The dashboard and doors are trimmed with a piano black plastic which have a subtle metallic sparkle to them, along with aluminum-toned accents. The dash is laid out well, with controls easily reachable, and a good mix of tactile and touch-based interfaces.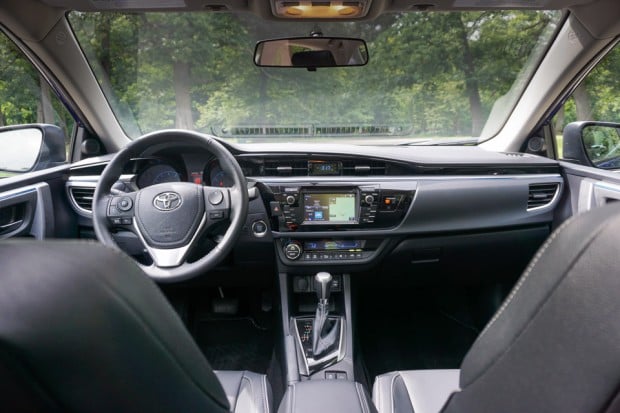 A small digital readout between the tachometer and odometer provides fuel economy details, distance to empty, and trip details. At the center of the dash, you'll find a 6.1″ touchscreen infotainment system along with simple, yet practical climate controls. Speaking of climate controls, I did find that the air conditioning took a couple of minutes longer than other cars I've recently driven to get the cabin temperature under control on hot days, despite the fan blowing at full speed in the Auto temperature setting.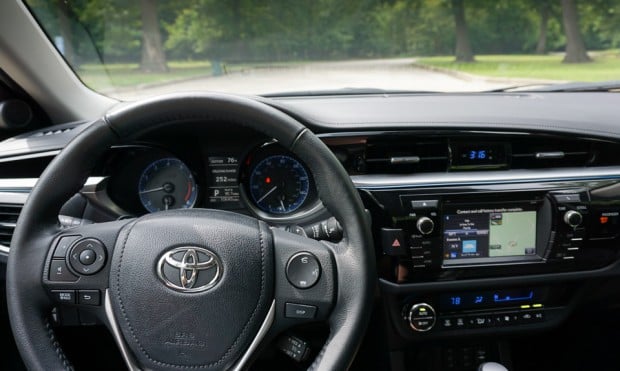 I was pleased by how much more comfortable the new Corolla is inside than before. In the Corolla S Premium package I drove, it was fitted with seats trimmed with "SofTex," a synthetic fabric that that bears more than a passing resemblance and feel to leather. The front seats offer good support and comfort on long trips, with the driver's side getting 8-way electronic adjustments.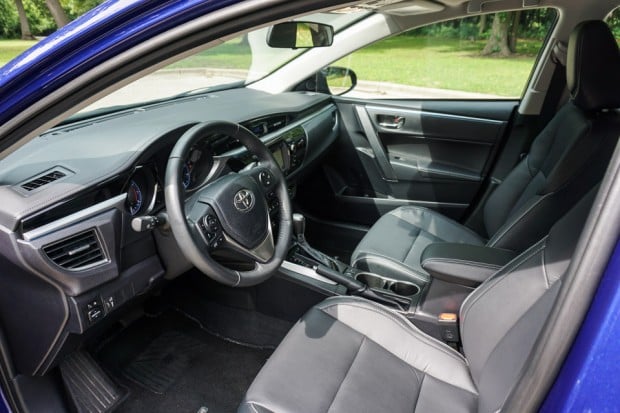 Both front seats are heated as well. If you've ever sat in the back of a 2013 or older Corolla, you'll be happy with the added legroom. With about 4 inches of additional legroom, six-footers will be fine sitting in back now.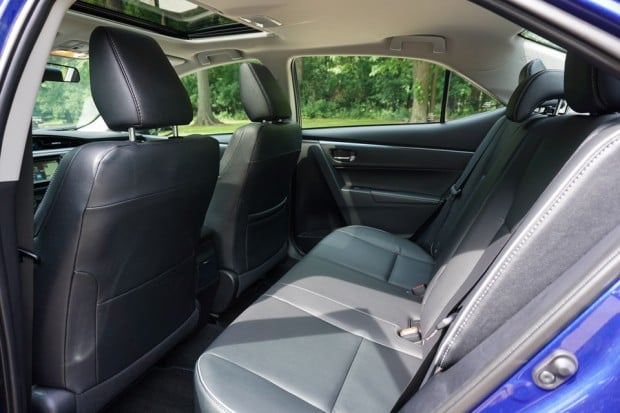 A power tilt/sliding moonroof is also available to brighten up the interior, and you only lose about 1/4-inch if you go for this option.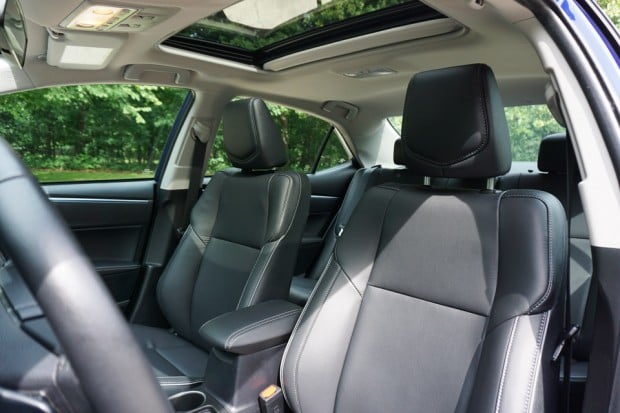 Storage space is reasonable for a car of its size, offering 13.0 cubic feet of cargo space, along with 60/40 folding rear seats.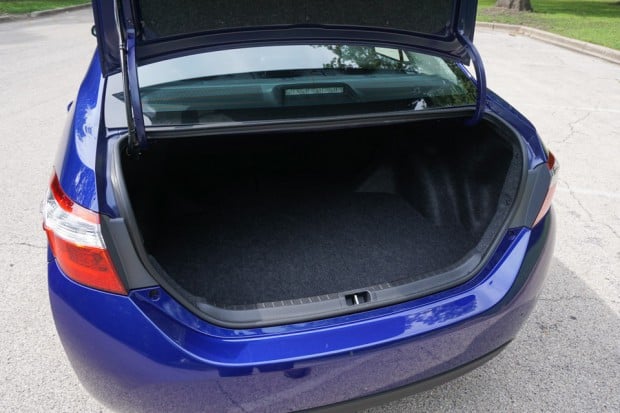 Technology
For an economy car, the Corolla S is packed with features, including power door locks, power windows, and power heated mirrors. Also standard is cruise control, remote keyless entry, paddle shifters, a 6.1-inch touchscreen infotainment system with voice recognition, and a backup camera with on-screen approach angle indicators. Go for the Driver Convenience Package, and you'll score an upgraded HD touchscreen with navigation, Sirius XM with traffic and weather, and pushbutton start among other things.
Of particular note is the upgraded 6-speaker Entune stereo system, which proves you don't need a ton of speakers and massive amplifiers to get good sound in your car, with clean and punchy sound even at high volume levels.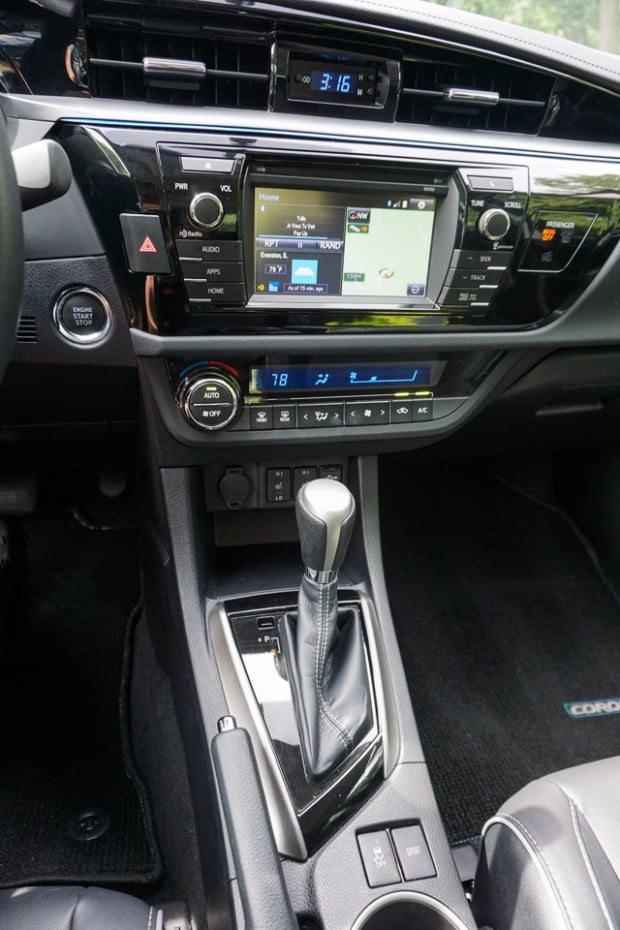 Pricing and Options
The base model Corolla S sells for $19,825, while the Corolla S Premium starts at $20,400. The aforementioned Driver Convenience Package adds $1,510, while the power moonroof another $850. Total price for car reviewed here was $23,570, including a $850 delivery and processing fee.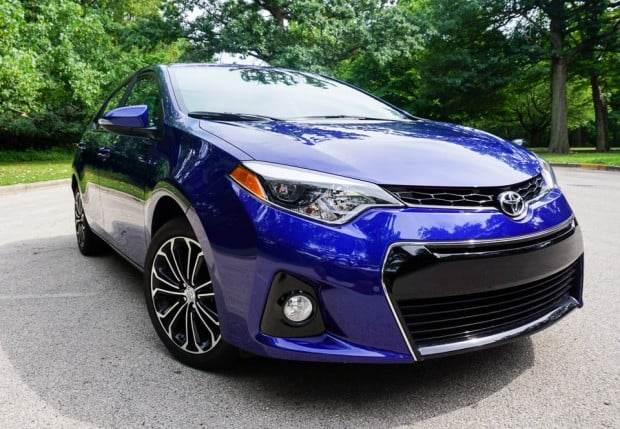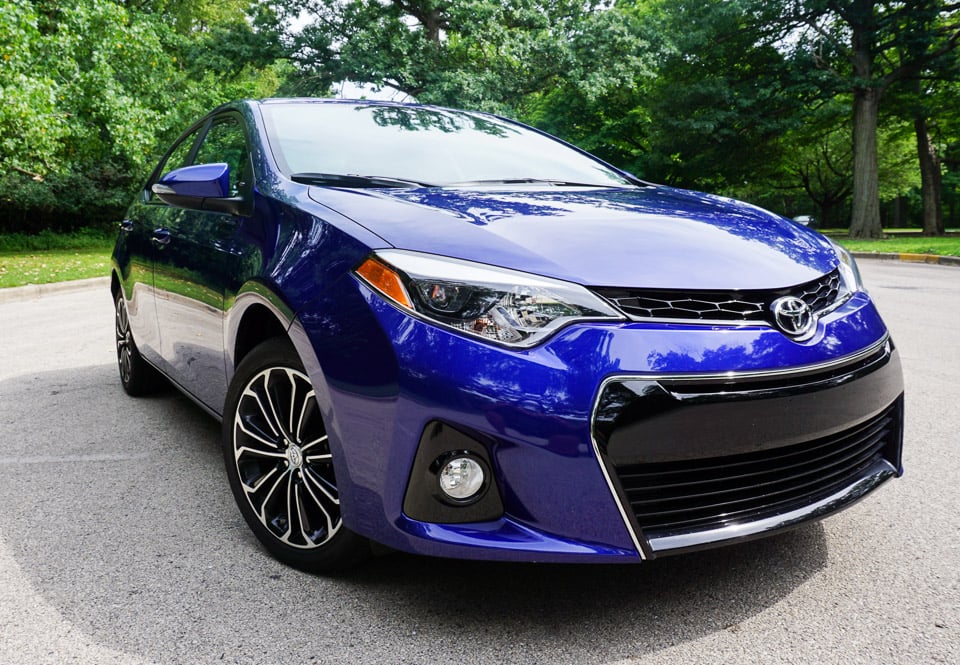 To wrap up, the 2014 Toyota Corolla S is a major improvement over past model years – specifically in the styling, comfort and convenience departments. It's no more sporty from a performance perspective, so I just choose to imagine that the "S" stands for "Style." If you're a previous Corolla owner, you'll be very impressed with the upgrades the new model affords. And if you're shopping between models and brands, you'll be pleasantly surprised.