2015 Range Rover Sport SVR Revealed
land rover | range rover | August 10, 2014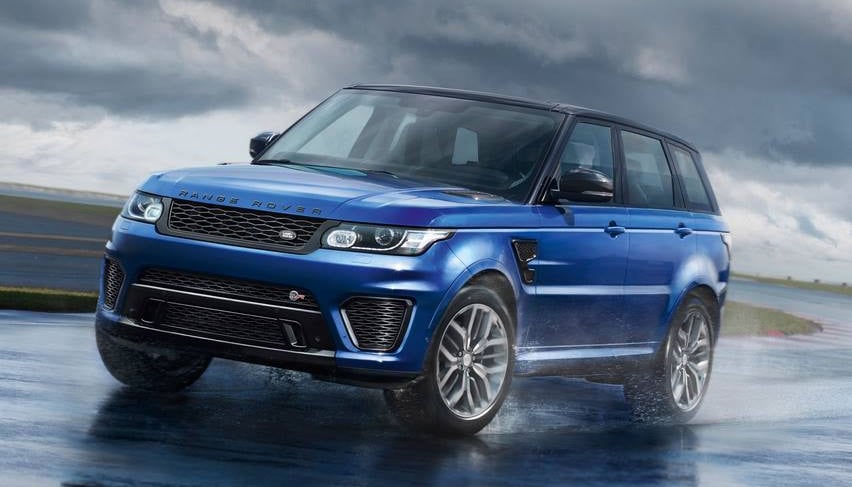 After teasing us on several occasions in camo wrap, Range Rover has now fully revealed its very special Sport model, the SVR. Powered by a 550 horsepower 5.0-liter supercharged V8 engine, the Range Rover Sport SVR is the first production Land Rover to emerge from their new Special Vehicle Operations team, and will share the SVR moniker with other vehicles to come from the team.
Torque is also impressive at 502 lb-ft. and the SUV can go from 0-to-60 in a sports car class 4.5 seconds, besting the Range Rover Sport by half a second. Top speed is 162mph, but we're not sure you'd want to go that fast in such a high profile vehicle anyhow. You'll also notice that the Sport SVR has some minor visual changes from the standard Range Rover Sport, including an all-honeycomb grille and larger, matching honeycomb air intakes up front, as well as SVR exclusive 21-inch alloys. The rear spoiler and front bumper have seen changes to improve aerodynamic performance as well. Its quad exhaust pipes offer two-stage active exhaust and larger pipes for a more visceral soundtrack.
Additional performance refinements include a tuned version of the eight-speed ZF transmission which has up to 50% faster shift times, and increased torque in lower gears. Both the active locking rear differential and torque vectoring systems have been tuned for performance, as well as the steering and active roll control. The SVR's suspension system has also been upgraded for a sportier feel and better handling.
The Range Rover Sport SVR will be available in 2015. Pricing will start at $110,475(USD).