Aston Martin Showing Four New Q Cars at Pebble Beach
aston martin | pebble beach | August 11, 2014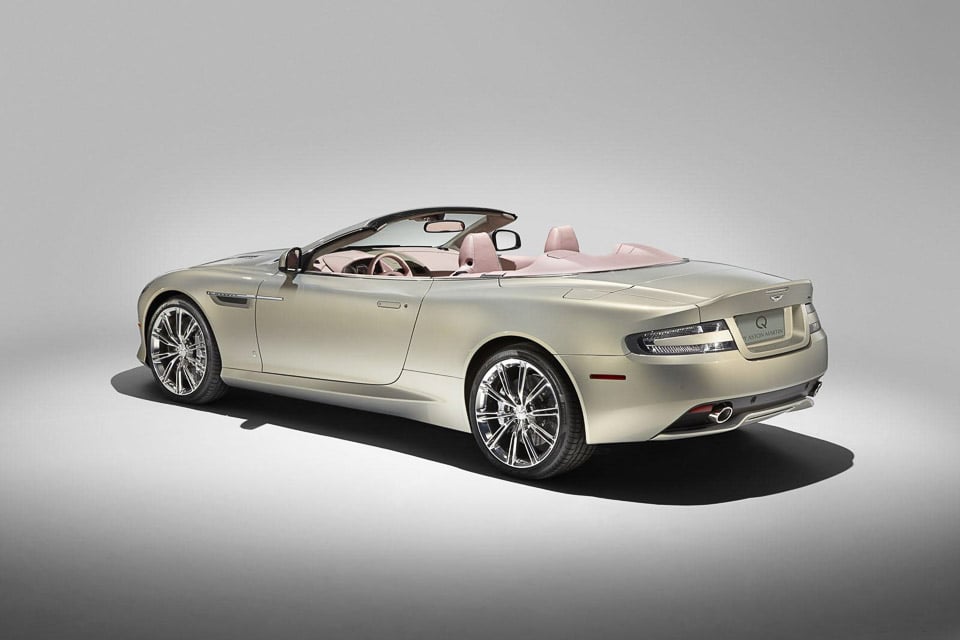 Aston Martin will be showing a new collection of four bespoke commissions from its Q by Aston Martin division at the 2014 Pebble Beach Concours d'Elegance. The collection is commissioned by Aston Martin's dealer partner, Galpin Aston Martin of Los Angeles.
Q by Aston Martin DB9 Volante
With a beautiful, custom Ashen Blonde exterior and highly polished alloy wheels, this feminine DB9 Volante is complemented by a blush pearl interior, Piano Ice Mocha facia with a blanket stitch running along the central spine of the interior. The car is finished with a pink Rhodochrosite stone inlaid in the Q buckle badge strapped to the console.
Q by Aston Martin Vanquish Coupe
This eye-catching version of the Vanquish Coupe is done in bold Abor Orange, exclusive to the Q program, which is rich orange red emphasized by a shimmering pearl effect. The color is set off with black wheels and carbon fiber aerodynamics with an amplified carbon fiber weave that's double in size of the typical weave, magnifying its holographic depth. Inside, the Obsidian Black leather interior matches the carbon theme with a printed Helix pattern on the upholstery and also running down the spine of the car's interior.
Q by Aston Martin Vanquish Volante
This Volante also shows off a new Q exterior finish: Frosted Silver, which has a bold light-to-dark contrast. Complemented by 10-spoke alloy wheels, polished brake calipers, and Solid Sterling Silver Aston Martin wings and Q badges. Inside, the interior is done in Chestnut Tan leather with a styled fluted seat pattern is paired with authentic equestrian saddle leather. It also comes with matching luggage in the same leather.
Q by Aston Martin V12 Vantage S
The purple amethyst exterior of this V12 Vantage S certainly won't be seen as subtle when you pull up to the country club, but it's nicely offset by the bright painted Monterey Pearl front grille and rear diffuser. Inside, the Obsidian Black interior carries over the purple colors with Vivid Purple leather details on the seats, headliner, steering wheel, and glovebox lining. There are also special carbon fiber accents such as the rotary controls which are each hand wound from a single filament of carbon fiber.