Review: 2015 Hyundai Genesis 3.8 AWD
2015 Hyundai Genesis 3.8 AWD

Powertrain: 311 hp, 3.8L V6, 8-speed automatic transmission w/paddle shifters
0-to-60 Time (secs): ~6.8
Top Speed (mph): 149 (governed)
City/Hwy/Combined MPG: 16/25 (19 combined)
Curb Weight (lb): 4,295
Wheelbase (in): 118.5
Total Length (in): 196.5
Base Price (USD): $41,450
Price as Tested (USD): $52,450
The 2015 Genesis sedan marks a major milestone for Hyundai, with a major redesign that launches the value-minded carmaker into the luxury automotive sector with great success. Unlike other cars (including past efforts by Hyundai) which just load up on premium features to call themselves "luxury", the Genesis backs it up with performance, comfort, and excellent driving characteristics. And if you've ever driven a Genesis before, you'll want to drive this one too, because it's a totally new car.
Exterior
The first thing you'll notice about the 2015 Genesis is its enormous grille. In fact, it's so big that it almost completely occupies the front of the car. It's a bold statement, but clearly Hyundai's designers wanted a signature element that will distinguish the Genesis from every other car on the road. One thing to note about the grille is that there's a rather large smoked plastic thingie in the center, which breaks up the clean lines of the design. This houses the sensors required for some of the car's safety features.
By going with an elongated hood and short trunk, the Genesis does have a sportier look from the side than other full-size sedans. The rest of the body is smoothly contoured and sophisticated, if a little unadventurous. But as an overall package, the Genesis is a very substantial looking car. The V6 model rides on 18-inch premium alloy wheels, while the V8 gets 19-inch wheels. HID headlights and LED running and taillights help punctuate the premium look.
Drivetrain & Performance
The Genesis sedan is available here in the U.S. in two powertrain configurations. I drove the DOHC 24-valve, 3.8-liter V6 with the all-wheel drive option. This engine puts out a more-than-sufficient 311 horsepower and 293 lb-ft. of torque. Those looking for even more power can go for the 5.0-liter V8, which pushes out 420 horses, and 383 torques  – though the V8 only comes in rear-wheel drive. I'm usually one to go for the highest power option on a car, but in all honesty, the V6 is more than sufficient unless you plan on taking the Genesis to the track.
Shifting is achieved with a Hyundai-designed 8-speed automatic transmission with paddle shifters. The car shifts just fine all on its own, with smooth transitions between gears, and higher shift points in Sport mode. You can definitely get the car to feel more fun if you push the revs higher with the paddles.
Where the Genesis really shines is in the handling department. Steering is tight and responsive, providing just the right amount of road feel for a car designed for luxury and comfort. There's a decent amount of understeer in the turns, but overall the steering feel is top-notch in daily driving. In Sport mode, the steering tightens up a bit more, and the shift points rev higher.
The chassis feels incredibly stiff, with only moderate body roll, the multi-link suspension system does a great job offering a smooth and quiet ride. If you opt for the 5.0-liter model, continuous damping control is also available, which dynamically adjusts the suspension based on driving conditions.
If there's any complaint at all, it's that fuel economy isn't that hot. The sticker on the V6 model says 16 MPG city and 25 MPG highway, with a 19 MPG combined fuel economy, but my real world numbers were about 14 in the city, 22 on the highway and 17 combined.
Interior
While I can't speak for the stock Genesis – mine was outfitted to the nines with every possible option – when fully equipped, it's a very upscale vehicle. The dashboard is tastefully appointed with real aluminum and matte-finish wood trim, as well a leather-wrapped, heated steering wheel. The seats are covered with premium-grade leather, and perforated to work in concert with the heated and ventilated seat feature.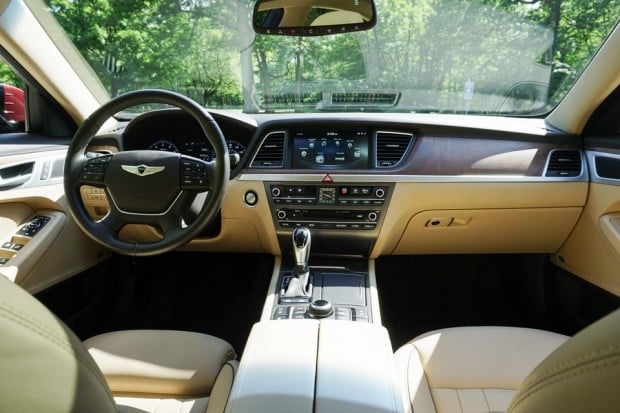 Both driver and passenger seats offer 12-way power controls, and the driver's seat has a really welcome feature – an extendable leg cushion and side bolsters to provide added support and comfort. The center console is serviceable, offering three concealed compartments – a small one in front for accessing USB and 12VDC charging ports, as well as cupholders and a large bin for CDs or a tablet.
Legroom and headroom is exceptional for both front and rear seat passengers, even for tall occupants. The rear seat can also be equipped with heating and the controls are built into a large, padded armrest that doubles as a cupholder for rear seat passengers. And the cabin is made extra light and open with a large panoramic moonroof, which partially opens to provide ventilation.
Trunk space is very good. At 15.3 cubic feet, there's enough room for at least two sets of golf clubs and luggage. There's also a pass-through for skis and other long objects, thought the rear seats don't fold down. Under the trunk lining, you'll find a full-size spare tire too. If you opt for the power trunk lid, you also get a whiz-bang feature, which automatically opens the trunk when you stand behind the car for three seconds with the key fob in your pocket. This is very convenient when your hands are full with packages or suitcases.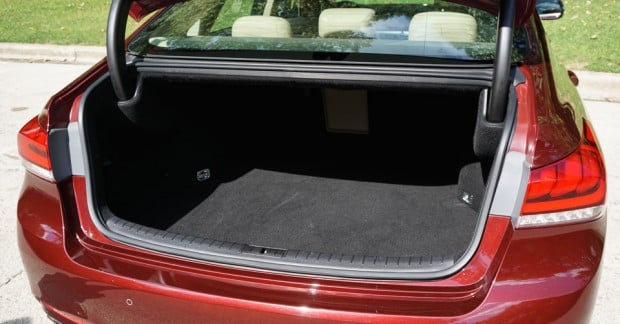 Technology & Safety Features
There's a ton of technology in the fully-loaded Genesis, highlighted by the top-of-the-line 9.2″ infotainment and navigation system. The touchscreen offers smooth iPad-like touch operations, and provides an intuitive user interface throughout all applications.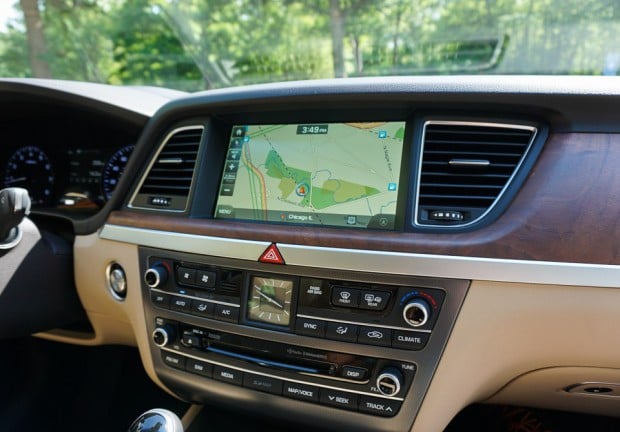 The system also includes Hyundai's Blue Link feature, which provides the ability to upload destinations from Google Search, as well as apps like Pandora, and in-car emergency services. The top-of-the-line 17-speaker Lexicon audio system offers plenty of punch and clean sound even at low volume levels.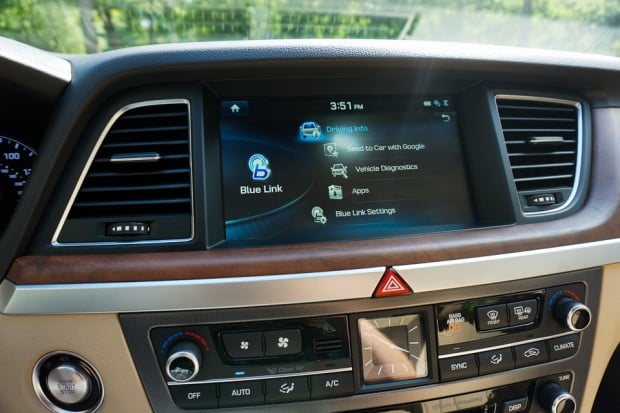 Everything integrates very well with the 7″ driver information screen in the instrument cluster, which displays a variety of user-selectable information including turn-by-turn directions, media track information, speedometer and fuel economy, as well as configuration of car preferences.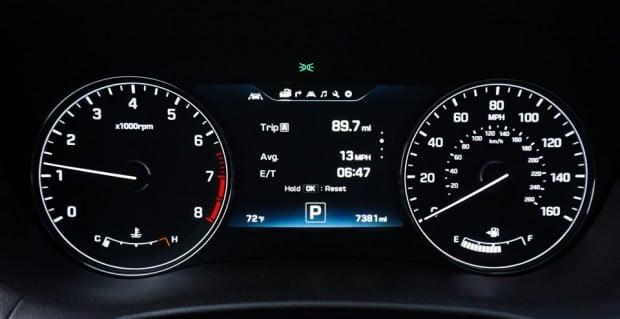 Safety and convenience features include rain-sensing wipers and automatic defogging, blind spot monitoring and rear cross-traffic detection, a backup camera, and front and rear parking sensors.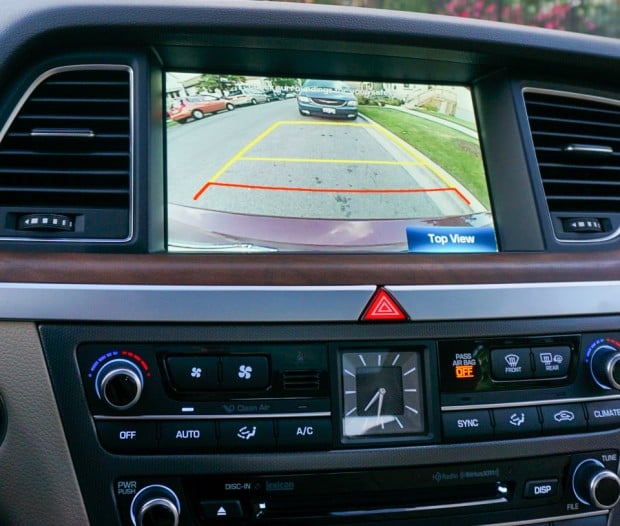 I was particularly impressed with the Smart Cruise Control system, which can even handle stop and start traffic with aplomb. In fact, I turned the Smart Cruise Control on for a crowded stretch of road with numerous traffic lights, and the only intervention needed was flicking the resume switch whenever the traffic light turned green. All I had to do was steer, and the car did the rest of the work. This same core technology powers an emergency braking feature, which can kick in if a rear-end collision is imminent.
I also like this car's lane departure warning system more than others I've tried, as it provides haptic feedback through the steering wheel to indicate when you start drifting out of your lane, instead of just an annoying beep. The heads-up display option is also quite handy, showing speedometer and GPS-based speed limit data, blind-spot monitor, lane departure and pre-collision warnings, and GPS turn information without needing to take your eyes off the road.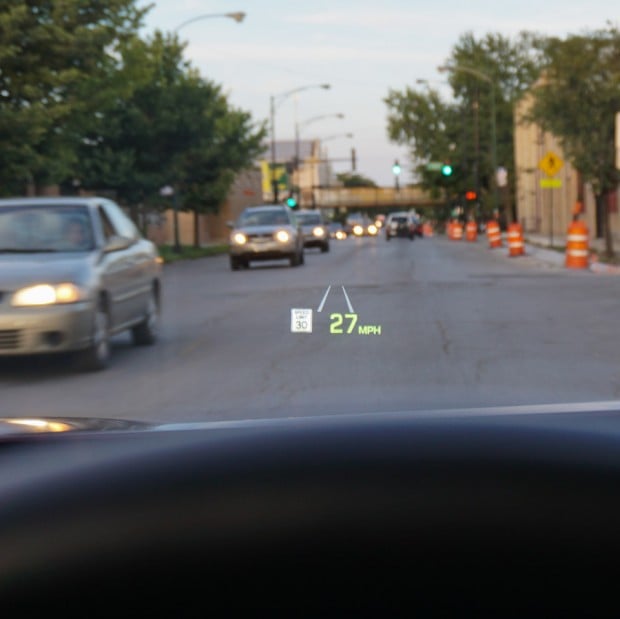 There are a few other niceties like heated mirrors, which automatically fold in when you park and unfold when you approach the car, and a Genesis logo that projects on the ground by your feet at night.
Pricing & Options
Base price for the 2015 Hyundai Genesis 3.8 AWD is $41,450(USD), including freight and delivery. The Signature package ($4,000) adds the panoramic sunroof, seat and steering wheel memory, HID headlights, power-tilt and telescopic steering, auto dimming outside mirrors, blind spot and cross traffic alert, power rear sunshade and manual side shades, and a 14 speaker Lexicon sound system. The Tech package ($3,500) upgrades to premium leather seats, driver seat cushion extender and side bolsters, lane departure warning and lane keep assist, smart cruise control, haptic steering wheel, automatic emergency braking, electronic parking brake, high-beam assist, front and rear parking sensors, and a 7-inch touchscreen. Add to these the Ultimate package ($3,500) and you get the wood and aluminum trim, power trunk lid, heads-up display, dual mode vents with CO2 sensor, and the all-important 9.2-inch navigation system and 17-speaker Lexicon audio system. In total, the car I drove had a sticker price of $52,450.
With so many of the features that make the car feel luxurious being sold as options, I'm not sure I can fairly comment on the base model Genesis. However, when fully-equipped, it's quite luxurious, and loaded with premium features for comfort, safety and convenience. On the other hand, I'm sure it handles and drives just as well even without all the add-ons.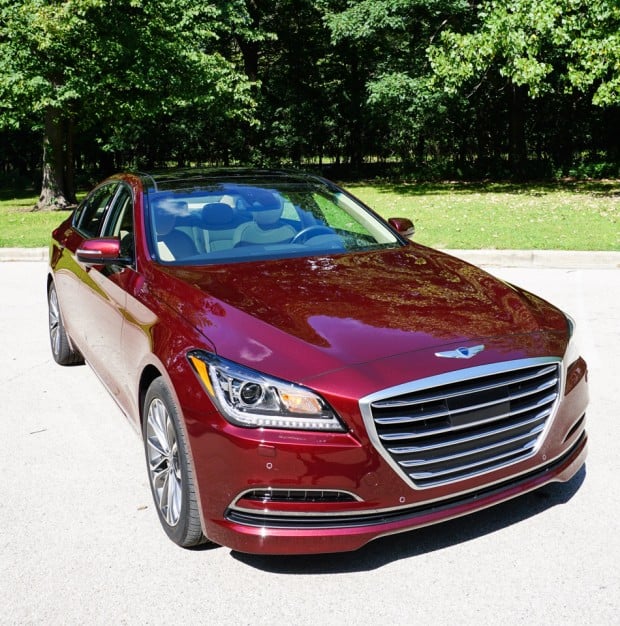 Overall Opinion
I'm extremely impressed with the 2015 Hyundai Genesis. In fact, it's one of the best overall cars I've driven this year. Hyundai has really stepped up its game this year, making major strides with both the redesigned Genesis and Sonata. What impresses me most about the Genesis isn't Hyundai's ability to throw lots of features in their car – everyone is doing that these days. It's that the car truly drives like a luxury car, with a smooth ride, excellent handling, quiet cabin, and plentiful power under the hood. The premium finishes and tech bells and whistles are just icing on the cake.
Hyundai has a real winner on its hands here, with a car that can keep up with luxury sedans from Lexus, Infiniti, Audi, BMW, Mercedes-Benz and Cadillac, offering substantially more bang for the buck than most of its competitors.