Audi First to Test Self-Driving Cars in Florida
audi | autonomous | technology | August 17, 2014
Although we've seen tests of autonomous vehicles in places like Silicon Valley and Sweden, only four states in the U.S. currently allow any sort of testing in this area on public roads. Florida's Governor, Rick Scott, signed legislation into law in 2012 making testing legal in the state, joining California, Michigan, and Nevada.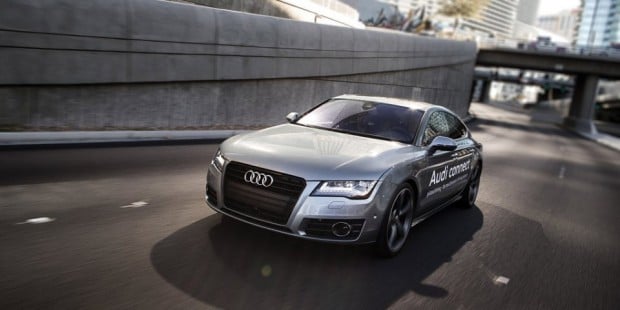 Audi is the first automaker to test its cars on Florida's roads, bringing its Piloted Driving 2012 Audi A7 to the Sunshine State. Riding along on the early tests was the Governor himself, and the Tampa Bay Times caught his drive on video, seen above. Audi's Piloted Driving system allows the car to take over the mundane task of not crashing at speeds of up to 40 mph. The vehicle can steer, brake, and control its own speed.
The test itself was done on part of Tampa, Florida's Lee Roy Selmon Expressway, which is seen as an ideal testbed because the roadway has reversible lanes used during rush hour that can be closed down while the automakers run their tests. Audi tested its car outside of normal rush hour, between the hours of 10:00 am and 3:30 pm over a four-mile length of the road.