Mercedes Unimog KiraVan: World's Greatest Camper
kiravan | mercedes-benz | unimog | August 19, 2014
The KiraVan Expedition Vehicle is based on a heavily modified Mercedes-Benz Unimog. And it makes your puny Unimog look like a toy while it laughs at your cute Toyota Hilux 6×6 Antarctic Expedition Vehicle.
This awesome vehicle has a crazy amount of technology at the ready, from the cabin of the tractor back to the luxurious, tech-laden accommodations of the trailer. In back, there's sleeping room for three, a bathroom that has its own skylight, a loft bed with its own television, a full kitchen, and a dining table seating area. The trailer cabin has myriad devices like exterior lighting controls, a personal rescue beacon, an intercom system, CB radio, satellite communications, even a rechargeable flashlight.
Created by inventor Bran Ferren of Applied Minds, LLC, the vehicle is still a work in progress. It's expected to be completed around the end of 2014.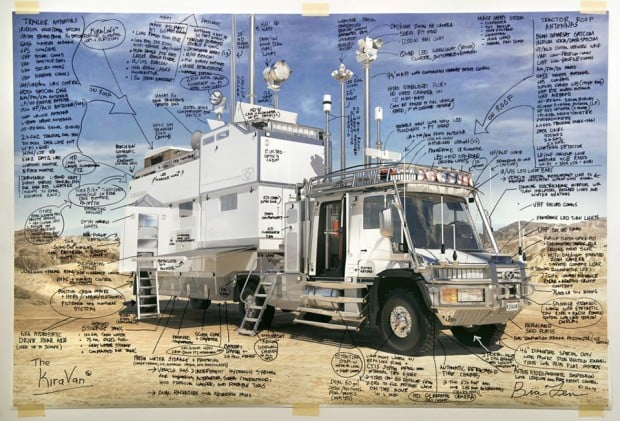 Powered by a six-cylinder 260hp diesel engine with 700 lb-ft. of torque and an 8-speed transmission, this brute will pull you and all your gear through just about any terrain. Traveling on 46 inch Kevlar-shielded tiers, the vehicle will be capable of traveling for up to 2,000 miles without refueling and can traverse rivers and climb slopes of up to 45 degrees. In back, the trailer has a 25kW diesel generator to power all the electronics, including the TV and satellite communications.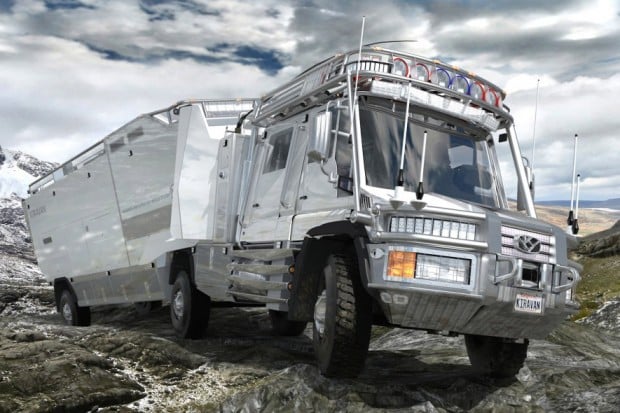 We're guessing the guys from longest around-the-world journey ever would've loved to have had a KiraVan instead of their much smaller Toyota Land Cruiser.