Concepts from Future Past: 1957 Aurora Safety Car
buick | September 4, 2014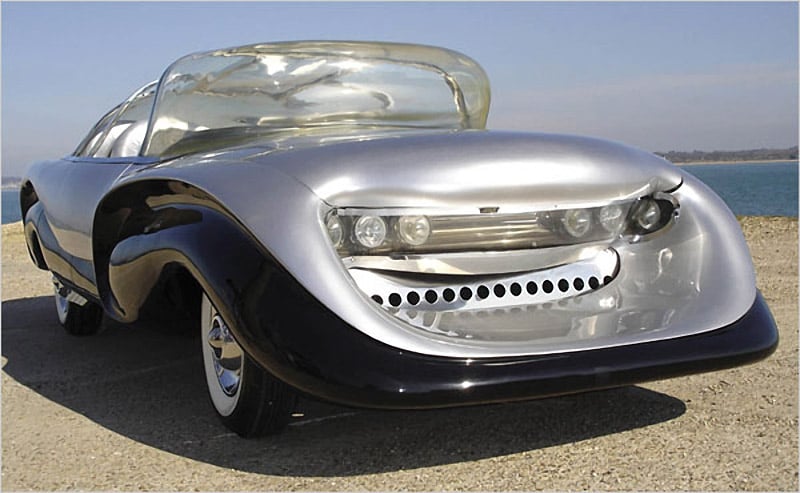 Dubbed by quite a few writers as one of the ugliest cars ever built, the 1957 Aurora prototype was designed by Father Alfred Juliano, a Catholic priest. Not necessarily the product of divine intervention, Juliano's purpose was to create the world's safest automobile. With money contributed by his Connecticut congregation, Fr. Juliano wanted to build the car and make it available to American automakers to put into production. As it turns out, the gods were not with him and the project went bankrupt after creating just a single prototype.
The Aurora prototype was built on a 1953 Buick frame using fiberglass over a plywood superstructure with plastic windows. The body would therefore be corrosion and dent proof. On the safety side, the car had a built-in roll cage, seat belts, a padded instrument panel, a collapsible steering wheel, and side-impact bars. Even the spare tire was housed under the front end of the vehicle to help absorb impacts. The front end had a "cow catcher" sort of design, filled with foam, to scoop up pedestrians instead of running them over. Perhaps most innovative was that the seats were designed to swivel 180 degrees and face backwards should a collision be imminent.
Apparently, when Fr. Juliano brought the car to New York City in 1957 for its reveal, he didn't consider that the Buick engine hadn't been started for more than four years and the car broke down multiple ties during the journey. After declaring bankruptcy, the Aurora was forfeited to a garage where he had unpaid repair bills, where it lay rotting for decades. The car was eventually purchased and restored by Andy Saunders, an auto enthusiast. The car is sometimes shown at the National Motor Museum at Beaulieu, Hampshire, England.